Wuzhen Water Town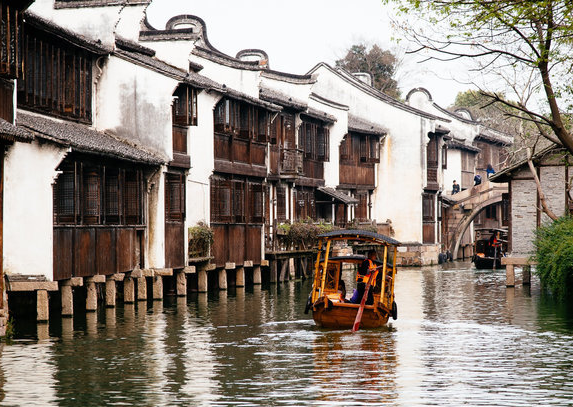 Brief Introduction of Wuzhen
Wuzhen Water Town is located in Tongxiang City, Jiaxing. Wuzhen is one of the Historical and Cultural towns, Top-10 Charming Towns and Towns with Beautiful Environment. It is known as "The Last Riverine Town in China". In 2003, it was given the Asia-Pacific Heritage Award for Cultural Heritage Conservation by UNESCO. In 2006, it was shortlisted as a World Heritage Site by the UN and the Chinese government. In 2010, Wuzhen was rated National AAAAA Tourist Attraction, the first one in Jiaxing City.


History of Wuzhen
Wuzhou is a town with a long history which over 6000 years, it was established in the late 9th century. According to historical records, Xinchun Village in the East Village district of Wuzhen has relics from the Neolithic Period, belonging to the Majiabin civilization. Over more than 1,000 years, Wuzhen still keep it's name, water system and local lifestyle. For hundreds of years, its residents have been building houses along the rivers and trading near the bridges, the ancient docks and waterside pavilions. One of the main attractions for the visitors is the "Bridge within a Bridge", created by two ancient bridges, the Tongji Bridge which crosses the river from east to west and the Renji Bridge running from south to north that joins the former at one end. In 1991, Wuzhen was authorized as the Provincial Ancient Town of History and Culture. And Wuzhen has become the permanent venue for the World Internet Conference after 2014.


Wuzhen Scenic Area
Wuzhen Scenic Area is divided into two scenic area, Dongzha scenic area and Xizha scenic area. Each part has it's own unique style, Dongzha Scenic Area still maintains the original water town lifestyle. Workshops display many traditional crafts. You can enjoy the beautiful scenery while shopping and tasting delicious local food. Compared with Wuzhen West Scenic Zone, Wuzhen East Scenic Zone is for you to experience the water town style in a day or two.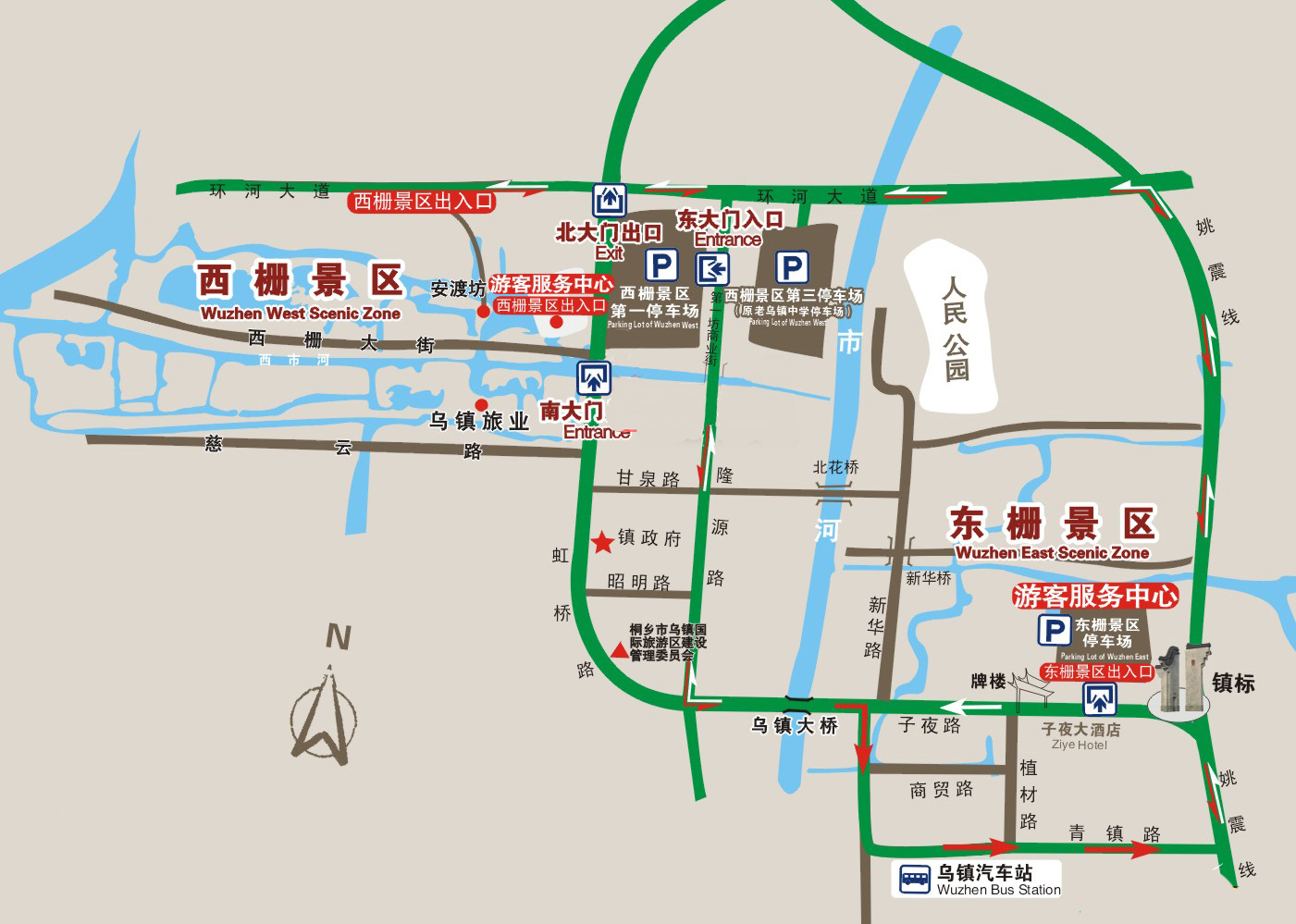 Xizha Scenic Area is bigger than Dongzha, it is composed of twelve islands that represent original Chinese water town. In this part, still keep many buildings and streets in Ming and Qing dynasties. These buildings have ancient outer appearances but modern facilities inside. That improves local people's lives while providing good facilities for tourists. Wuzhen West Scenic Zone is an oasis away from the hustle and bustle of the city, offering you a perfect vacation resort.


Top Things to Visit in Wuzhen Water Town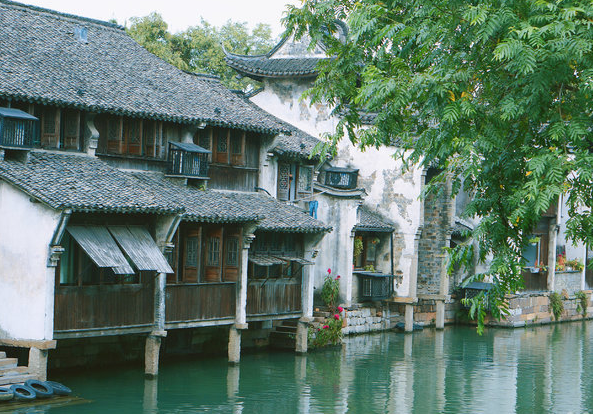 Indigo Fabric Workshops
The Indigo Fabric workshops can be founded in both Dongzha and Xizha, since the local blue-dyed fabric is a specialty product made throughout Wuzhen. The workshop features exhibits where you can read about the original methods of fabric dyeing used as far back as the Tang dynasty (618-907). The products made by Indigo Fabric is one of Wuzhen local specialty, you can buy fabrics, bags, scarves, hats, table clothes etc.

Jiangnan Hundred Bed Museum
It is the first and only museum in China to collect and display beds from the Jiangnan region. In addition to beds from the Ming and early Qing periods, the exhibition also includes more modern beds from the late Qing dynasty, which, however, are based on the old style. The Yangtze River Delta region in which Wuzhen is located was famous for its large beds. Despite this fame, the artisans did not strive to build such a bed, it is said that the creation of such a bed took a craftsman several years of his life. The old, wonderfully carved beds delight visitors with superbly executed craftsmanship, their great decoration and their impressive size.

Sanbai Wine Workshop
You can visit Sanbai Wine Workshop in Dongzh Scenic Area, here produces about 200 liters a day of San Baijiu or literally ("three white wines" including bai jiu (55% alc/vol), sticky rice wine (12% alc/vol). and sweet rice wine (4% alc/vol). Wuzhen has a long history to make traditional wine, you can learn how to make, how to taste the local Wuzhen wine here.

Chinese Wedding Museum
When you enter the Wedding Museum in the Xizha Scenic Area through the red entrance door, the first thing you notice is the colorful, elaborately crafted silk wedding dresses. These can be borrowed by visitors so that you can have your picture taken as a bride in a chair or as a bride and groom in the bridal chamber in front of the bridal bed. Many visitors are already turning around and leaving the museum. In this case, only a small part of the exhibition was seen. There is much more to see.

Chinese Footbinding Culture Museum
The museum shows the culture of Chinese foot binding and displays some samples inside. For a thousand years, between periodic bans and until it was entirely abolished in the 20th century, millions of Chinese women had to bind their feet with cloth or silk to make them small, pointed and tiny, sometimes as tiny as three inches: Yes, a pair of three-inches feet was considered the hallmark of sophistication and beauty for the woman in China a few hundred years ago.


Wuzhen Tranditional Performances
Bamboo Acrobatic Show
As Wuzhen is one of places to produce the silk in Jiangnan area, it is performing on a boat used for praying for the harvest of "silkworm cocoon" in the area of mulberry and silkworm breeding in Wuzhen. Artists can perform on the pole top, which is a traditional folk cultural activity. It was begun in the Qing Dynasty. You can find this performance near the entrance to the Wuzhen East side, a bamboo pole acrobatic performance happens twice a day. It's 10 minutes of Crouching Tiger, Hidden Dragon-esque stunts–pretty cool if you are wandering by!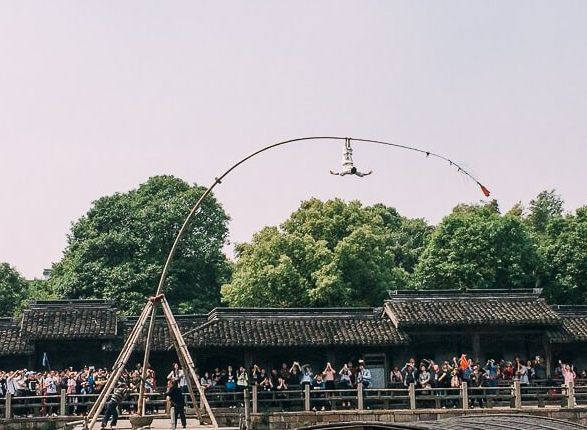 Boat Boxing or Kungfu Performance
The history of Boat Boxing in Wuzhen can date back to the Southern Song Dynasty, and is very popular in the Taihu Lake Basin. In the old days, the water system in Wuzhen was well-developed, and bandits in Taihu Lake were prevalent. Government officials were often helpless and unable to guarantee local security. Therefore, the boat people and fishermen prepared their own blades, hired martial artists, and practiced martial arts in public, both to strengthen the body and resist the lake bandits. Gradually developed into a fist boat. The current fist boat no longer has the effect of training martial arts and banditry, but practicing martial arts on board has become a traditional activity that has spread to the present day.


Basic Information
Location: Wuzhen Town, Tongxiang City, Jiaxing.
Entrance fee: CNY110 for east part; CNY150 for west part; CNY190 for combation ticket; Half price for child above 1.2m under 1.5m; Free for child under 1.2m.
Opening Hours: 07:00am-17:30pm(east part); 09:00am-22:00pm(west part, please kindly note the museums will close on 17:30pm)
How to get to Wuzhen from Nearby Cities
Shanghai--Wuzhen: 1) If you travel on your own, the direct bus is the best way travel from Shanghai to Wuzhen, you can take bus from Shanghai South Bus Station; 2) The Tongxiang Railway Station is the closest one near Wuzhen water town, the trains from Shanghai to Tongxiang station are available, but it still takes around 40 mins from railway station to Wuzhen scenic area once you arrive at Tongxiang railway station; 3) If you want to make your Wuzhen tour easier, you'd better book a tour package or priavte transfer with Shanghai local tour company.

Hangzhou--Wuzhen: Travel from Hangzhou to Wuzhen is very easy, it take around 1 hour from Hangzhou downtown by car. 1)By Bus: You can take scenic bus from Hangzhou East Railway Station, Hangzhou Railway Station Bus Terminal, Hangzhou Jiubao Long-distance Bus Station, Hangzhou Xiaoshan Bus Station and Huanglong Tourist Center; 2) By Train: High-speed train is also available between Wuzhen & Hangzhou, but not as convenient as direct bus. It takes around 20 mins from Hangzhou East Railway Station to Tongxiang Railway Station, another 40 mins to get to Wuzhen scenic area. 3) By Private Vehicle: It is the most popular way for tourists do Wuzhen day tour from Hangzhou, picked up from Hangzhou downtown hotel or train station directly.

Suzhou--Wuzhen: 1)Taking direct bus is the most recommended transportation for travelling from Suzhou to Wuzhen, it is the cost-effective way if you travel in a budget. It takes around 1.5 hours and costs CNY35, many buses are leaving from Suzhou South Bus Terminal, Suzhou North Square Bus Terminal; 2) There is no train station in the Wuzhen town, you can take high speed train from Suzhou train station or Suzhou North train station to Tongxiang train station, then take public city bus No.282 to reach the Wuzhen Scenic Area. 3) Use the private vehicle transfer from Suzhou to Wuzhen is also highly recommended.


Are the above sample tour programs not suitable for you? Please contact us for a custom Shanghai Wuzhen Tour based on your requirements and budget to create unique Shanghai experiences that allow you to interact with the local people and culture. Our enthusiastic tour expert will promptly reply you in details within 24 hours.