Tongli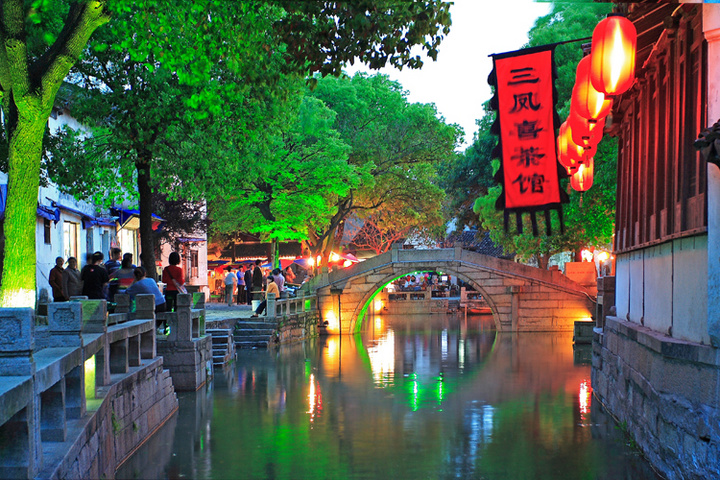 Introduction to Tongli Water Town
Tongli is an aged town located a short drive from Suzhou, which is about a hour drive outside of Shanghai. Tongli is over 1000 years old and has only recently been changed into a tourist attraction. The town is characterized by stone bridges and well preserved ancient architecture including private gardens, temples and houses. True to its reputation, Tongli is a really wonderful travel destination where you can spend a marvelous holiday or experience traditional Chinese culture.
History of the Tongli Water Town
Built from the Song Dynasty, the town already has a history of over one thousand years. There are hundreds of gardens, temples, mansions and the former residences of celebrities built from 1271 to 1911 during the Ming and Qing dynasties. Amongst the famous gardens are Tuisiyuan, constructed between 1885 and 1887 by an imperial scholar, Chongbentang, and Jiayin Tang garden.
Located on the bank of Taihu Lake and east of the ancient Canal, Tongli Water Town is 18 kilometers from Suzhou and 80 kilometers from Shanghai. As one of the six famous water towns, it occupies an area of 33 hectares and surrounded by 5 lakes.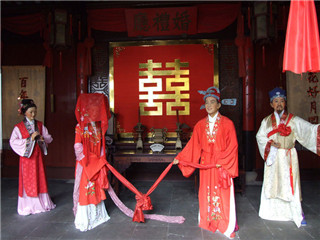 Attractions of Xitang Old water town

Three Bridges
Three bridges here indicate Taiping Bridge, Jili Bridge and Changqing Bridge which are arranged in a triangle at the convergences of three rivers, forming ring roads in the town. Especially when the residence of Tongli celebrates marriage, the celebration group will walk across the three bridges full of joy accompanied by hilarious drum music and fireworks, praying aloud," peace, auspiciousness and everlasting happiness!". During the occasion, residents along the street will come out to view the occasion while extending their congratulations. According to the traditional culture of Tongli people, for people who celebrate their 66-year-old birthday, they will certainly walk across the three bridges after lunch for auspiciousness. No one knows when the custom of "walking across three bridges" started, but for Tongli people, three bridges symbolize auspiciousness and happiness.

Residential House
Tongli Town deserves its reputation of a 'museum of ancient architectures' as there are good many houses and temples dating from the Ming and Qing Dynasties. Built along the riversides and decorated with flying eaves, carved windows, porcelain furniture, figured clay bricks, dapper gardens and small stairs leading down to the water, these complexes mean Tongli is a shining pearl among the water-towns south of Yangtze River. Retreat and Reflection (Tuisi) Garden, built by the retired official Ren Lansheng during 1885 and 1887, is the most spectacular in Tongli. Its name is derived from an aphorism expressed in a very famous biography called Zuo Zhuan written by Zuo Qiuming in the Eastern Zhou period (770 BC - 221 BC):'Be loyal to the emperor when in officialdom; be meditative upon the previous faults while away from officialdom.' The ingenious design for Tuisi Garden conforms to the local landforms and conditions and covers about 700 square meters (one fifth acre). Compact and harmonious, the garden is in two parts. The residential area to the west consists of an outer house and inner house including the sedan hall, the tea hall, a main reception hall and two buildings forming the actual dwelling. The garden in the east has ponds, Marble Boats, waterside pavilions, halls, kiosks, verandas, rockeries and bridges. Together with flourishing trees and colorful flowers the garden greets visitors with its beauty and charm whatever the season.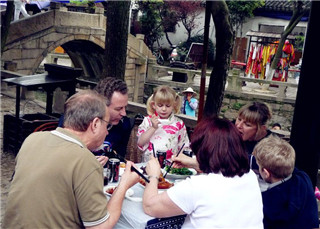 Food
Never miss the chance to taste fresh aquatic plants and fish. Most of the food is sweet. famous snacks include smoked fish, dried bean curd, cakes made of glutinous rice and spring rolls (fried stuffed rolls).
Information
Ticket time: 7:30 - 17:30
Opening time:
Day Tour:7:30-17:30
Night-time:18:30-21:30

Admission Fee: CNY 100 yuan.More than 70 years of age and the children free of charge; students with valid documents (ID) and more than 60 years of age to buy tickets in half
Transportation
Bus Routes: Take the Wujiang, 205 Road and get off Tongli bus Station
take the Wujiang, 107 Road and get off sanhuhuayuan Station
Address:Suzhou Wujiang City, Jiangsu Province, Tongli Town