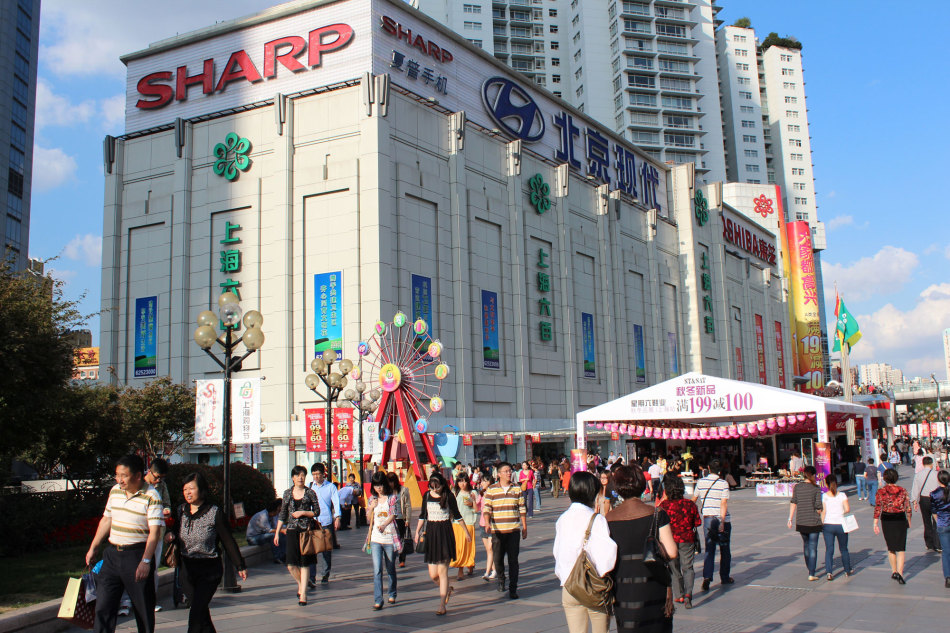 Shanghai Shopping
Shanghai has been called the "Shopping Paradise" . So you can imagine how rich Shanghai business can be. business street and market seem to be everywhere.Shopping in these markets with cultural specialty you can also see traditional facet of Shanghai.
What to buy

Local products
Shanghai silk
Shanghai has long been one of the most important manufacturing and exportation places for Chinese silks due to its geographic location and waterways. The silk products such as robes, throws, tapestries, and more are so popular among customers home and abroad because of the various categories and fine quality. In particular, the "Jing San Cup" style has become a household name for those who are interested in silk products. Jing San Cup is a flowery print silk which focuses on replicating or being influenced by traditional Chinese paintings, earning it a beloved worldwide reputation of having wonderful colors, typical features, and the latest delicate technique.
Chongming Hairy Crab
Chongming Hairy Crab, also called Chinese Mitten Crab, got its name as it has fluffy claws.There are over 300 species of crabs in the rivers and lakes around the world. Among them, only about 20 species are edible. And the most famous one is Chinese Mitten Crab. The most renowned Chinese Mitten Crabs are Shengfang Crab of Baiyang Lake, Qingshui Crab of Yangcheng Lake and Chongming Hairy Crab.
Chongming Hairy Crab is so special because the baby crabs are born in the estuary of the Yangtze River near Chongming Island. Due to the tidewater, the baby crabs enter the inland rivers of Chongming Island. The water quality there is much like that of the Yangtze River's estuary because of the tidewater (The salt density of the water is slightly lowered). The water of the Yangtze River's estuary has rich nutritive salts and various planktons, which greatly contributes to the growth of the baby crabs and tightness of the crab meat. On the island, there also exist field snails, mussels and bottom dwellers, which are the natural baits for the crabs. Thanks to the excellent environment, the crab meat becomes very delicate. Unlike Shengfang Crab and Qingshui Crab, Chongming Hairy Crab has almost got the incomparable natural advantages.
Jiading Yellow Grass Knitting
Yellow grass weaving in Jiading has a history of more than 1,000 years. Yellow grass woven products became a tribute to the imperial court as early as the Tang Dynasty (AD 618 -907). Using wild yellow grass as raw material, the woven products are light in color and tough in texture and can be dyed.
Yellow grass can be woven into diverse varieties and novel patterns. Colorful and exquisite, yellow grass woven products are not only naturally and artistically beautiful but also have practical value.
In 1953, yellow grass slippers won an art medal at the Leipzig Trade Fair. In 1956, the Central Studio of News Reels Production produced a film about Jiading's yellow grass weaving. In 1957, the grass weavers from Xuhang attended the Congress of Chinese Craftsmen and were received by Party and government leaders.
Famous Shopping Streets
Nanjing Road
Nanjing Road is the most prosperous shopping street in Shanghai. Whether or not you have money to burn, consider visiting Nanjing Road to witness the hustle and bustle of Chinese commerce. Nanjing Road stretches six miles total and boasts retailers from all over the world in addition to local shops and department stores. Nanjing road offer countless famous brands, gorgeous restaurants, superior quality, and new fashions. In the daylight, you'll admire the graceful architecture of the surrounding buildings. At night, you'll marvel at the illuminated logos and brand names that line the avenue.Over in the former French Concession you'll find Huaihai Road, brimming with boutiques and up market shops, a magnet for the young and fashion conscious.
Yu Market&Bazaar
Yu Market, or Yu Bazaar, is located next to the Yuyuan Garden. Originally there was just a temple (the City God Temple) that was built in the 15th Century. Today the area is also home to a lively market that specializes in traditional Chinese arts and crafts. Yu Market has always been the "must-see' destination in Shanghai,visitors can pick some antiques, silk fans, bamboo articles, shell carvings, paintings, or you try some Shanghai Xiao Long Bao (Soup Dumplings), vegetarian buns, chicken soup to experience a little of the Shanghai culture. It is surely pleasing, and you will get back home with great souvenirs.

Pedestrian Streets
Xujiahui
Xujiahui, also spelt Zikawei or Ziccawei from Shanghainese, is a locality in Shanghai, China. It is a historic area of commerce and culture administratively within Xuhui District, which is named after the locality. The area is a well-known precinct for shopping and entertainment in Shanghai. It is served by the Xujiahui Station of the Shanghai Metro.
Huahai Road
Huaihai Road or Huaihai Lu is one of the two major shopping streets in Shanghai, China; the other is Nanjing Road. Compared with the more touristy Nanjing Road, Huaihai Road is more upscale, and is the preferred destination of local residents. Huaihai Road comprises three sections, the main section being Middle Huaihai Road in the former French Concession of Shanghai. Middle Huaihai Road is also well known by its former French name Avenue Joffre.