Zhouzhuang Water Town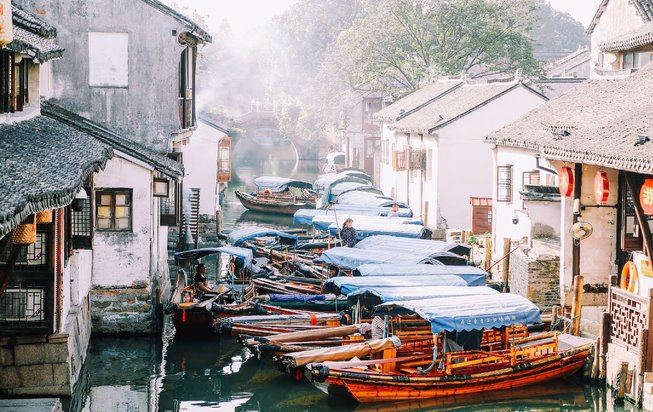 Brief Introduction of Zhouzhuang
Zhouzhuang is one of the six famous water towns around Shanghai city, it's very easy to reach Zhouzhuang from Shanghai. If you have the chance to visit Zhouzhuang water town, you should simply walking the town's pretty streets and the charming stone bridges that cross its rivers and waterways is a pleasure in itself. But the 900-year-old town is also home to plenty of sights bound to please history buffs. The medieval town has a history of more than 900 years and the first accommodations were built during the 14th century. Today the town is home to over 1000 households in old dwellings and most of the houses are well preserved until date and are excellent examples of traditional Chinese architecture.


History of Zhouzhuang
The history of Zhouzhuang can date back to Spring & Autumn Period, the town was built that time. In Northern Song Dynasty, Zhou Digonglang settled down here, and he was a devout believer in Buddhism. Later he and his wife donated all their properties to Quanfu Temple. Then the local people renamed the town to Zhouzhuang to show the appreciation and respect to this generous contributor. The town benefits from the beauty of rivers and lakes. The 14 ancient bridges on the river were built during the Yuan (1271 - 1368), Ming (1368-1644) and Qing (1644 -1911) dynasties. Double Bridge is one tourist clamor to visit, where two bridges positioned to form a right angle over the stream. Another noteworthy bridge is Fu'an Bridge, which is the oldest bridge in Zhouzhuang, was built in 1355. And over 60% of the local dwellings date back to either the Ming (1368-1644) or Qing (1368-1644) dynasties.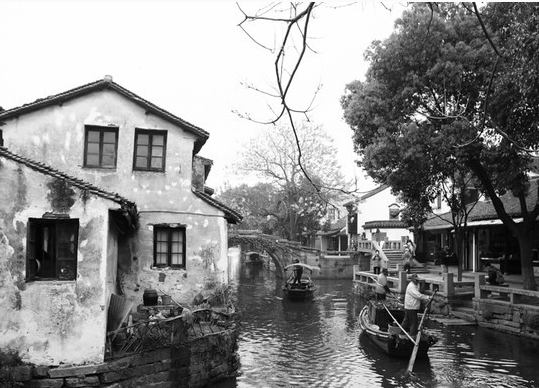 Top Thinsgs to Visit in Zhouzhuang
The most outstanding feature of Zhouzhuang Water Village is its distinctive water lanes which are the main roads of the town. Here are some breathtaking sights that you will encounter when you travel to Zhouzhuang Water Town.

Double Bridges
They are known as the key bridge and the symbol of Zhouzhuang Water Town, which composed with Shide Bridge and Yongan Bridge. The reason why it called Double Bridge is the Shide Bridge is east-west and has a round arch, and Yongan Bridge is north-south and the bridge arch is square. It looks like the key that used in the ancient times. These two stone bridge, built in the Ming Wanli before AD 1573 - 1619,Shide Bridge was funded by Xu Songquan and Xu Zhuxi, and Yongan Bridge was funded by Xu Zhengwu. The double bridges attract many tourists come here for photography.

Fu'an Bridge
Fu'an Bridge is a unique construction bridge that linked to the old houses in Zhouzhuang Town, and this kind of architecture is the only one left in water town of eastern China. This bridge was built in 1935 during the Yuan dynasty. The meaning of the name given to this bridge is that Zhouzhuang residents wished for prosperous and peaceful lives. It is recommended for tourist to try to chill in one of the teahouse and enjoy the beautiful scenery
of the renown bridges. It would be a very overwhelming experience.

Shen's Residence Hall
It was built in 1742 and it was the private property of the descendant of Shen Wansan, who was the first millionaire of the south of Yantze River in the early Qing Dynasty. His property was envied by the king and he personally funded to repair one-third of the Nanjing Ming city wall. He has many industries in various places, but he always made Zhouzhuang as his foundation. The whole building is Qing-style. The whole hall with an area of over 2,000 square meters and over 100 rooms. The residence divided into three parts, each part has it own function and unique design.

Zhang's Residence Hall
It was Built by Xu's family in the Zhengtong era (1436 – 1449) of the Ming Dynasty and bought by Zhang's family in the early Qing Dynasty. Located to the south of the Twin Bridges, Zhang House has more than 70 rooms and takes up about 1,800 square meters. With Ruojing River flowing through, Zhang House is a dapper and graceful residential house; has a tranquil courtyard and pond. Deep halls all represent the life of the quondam owner.

Quanfu Temple
It was a set of ornamental and practical antique-shaped water tower which was built in 1987. The temple has 5 layers and 33 meters high. There is stairs up to the tower roof. Visitors can see the whole landscape of Zhouzhuang. It is a landmark in Zhouzhuang.

Milou Tower
It is one of the landmarks of Zhouzuang water town, it was called De's Tavern in the old times. It is famous for being a rallying place of literary scholars in old times.


What to Eat in Zhouzhuang
There are many special snacks in Zhouzhuang and the most famous one is Wansan's pig shank, locally called "Wansan's elbows" or "Wansan's hoof", which originated in Wansan Shen's family in the Ming Dynasty. It is commonly eaten when entertaining guests. The other local snacks are Wansan cake, Sesame cakes, peanut cakes, walnut cakes, salt and pepper cake, green cake, tiny cucumber, shrimp and a water vegetable called "Chuncai" commonly used in soup.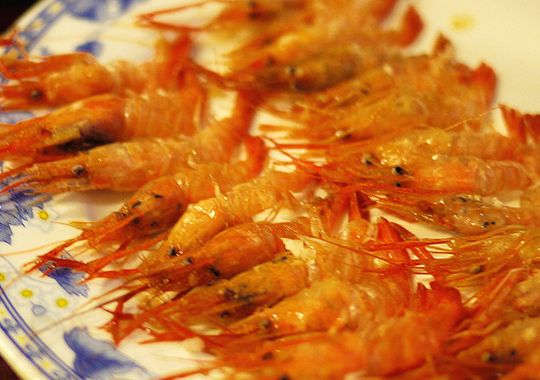 "Wansan's Family Feast" restaurant is one of the best restaurants in Zhouzhuang Water Town, featured with the classical style food and still retains the Ming-style. Specialties include Wansan's pig shank, glutinous rice balls, steamed mandarin fish, steamed eel stew, bass soup with Shuncai, ginger snail, Cypriot meat oil wrap, Venetian meat package, stewed dried tofu, steamed lotus root and more.

There are also lots of river fresh and lake fresh can be founded in Zhouzhuang, Fish and shellfish are available all the year round and the best of them are perch, white clams and freshwater whitebait.


Best Time to Visit Zhouzhuang Water Town
Actually, Zhouzhuang Water Town can be visited all year around, but the best time to visit is spring and fall. Summer is hot and humid with lots of domestic tourists, winter is cold and wet in souteastern part of China.
Do not recommend to visit Zhouzhuang during Chinese holidays since there are many local tourists from other parts of China go to Zhouzhuang, such as Labor Day (the first weeek of May); National Holiday (first week of October) and Chinese New Year in February, the streets are jammed with tourists. Try to visit ZhouZhuang during weekdays instead of weekends.


Basic Information
Location: No. 43, Quanfu Road, Kunshan, Suzhou City, Jiangsu Province; About 85KM from Shanghai.
Entrance Fee: CNY100/p.p (Day Ticket) & CNY80/p.p (Night Ticket); Half price for child 1.1m--1.4m; Free for kid under 1 meter and senior people above 70 years old.
Opening hours: 08:00am-21:00pm (please kindly note the night ticket start from 15:00pm)
Time for Visiting: Half day or whole day

How to get to Zhouzhuang Water Town
From Shanghai: 1) You can take the buses from the Shanghai South Long Distance Bus Station, the buses are available for morning and afternoon departure. For more frequent service, head to the long-distance general bus station; 2) You can take the 30 mins high speed train from Shanghai to Suzhou, then transfer to the Suzhou public transportation to Zhouzhuang; 3) Book a priavte car service from your Shanghai hotel to Zhouzhuang.

From Suzhou: 1) Take buses from Suzhou city to Zhouzhuang, the buses depart from Suzhou North Bus Station, Suzhou Wuzhong Bus Station and Suzhou North Square Bus Station. The most frequent bus service is available from Suzhou, which is the nearest major city. Buses run every 30 to 40 minutes from morning to evening. 2) Rent a private vehicle in Suzhou downtown.

Tour Zhouzhuang Water Town with Shanghai Private Tour
We will provide a private & spacious car and a local professional tour guide with over 5 years guiding experience only work for you or your group. You will be escorted during the tour from picking up service at your hotel in Shanghai to the ends droping you off at your hotel. Transport, ticket, and dining (At some local restaurants popular with locals) all we will arrange for you according your requirements. Please check our most popular Shanghai Tours including Zhujiajiao as below:


Are the above sample tour programs not suitable for you? We have more Shanghai tours. Our tours can be tailor-made based on your requirements and budget to create unique Shanghai experiences that allow you to interact with the local people and culture. Our enthusiastic tour expert will promptly reply you in details within 24 hours.