More winter sport venues to be built in Shanghai
Post Date: 2018/12/18 16:46
Share to: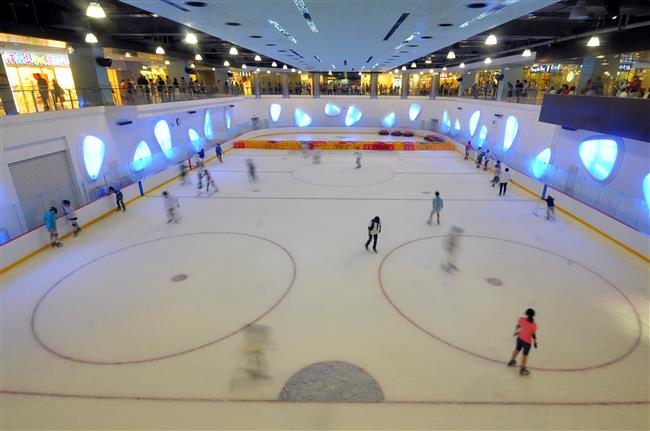 As winter approaches, thoughts turn to 2022 when Beijing will become the first city to welcome athletes to both summer and winter Olympic games.
National winter sports fervour began four years ago when Beijing got the nod to host the 2022 winter games, but compared to northern parts, winter sports are obviously less developed here in the warmer south.
That imbalance is set to be redressed as more local schools introduce ice and snow sports.
"Shanghai has always been a pioneer in the south regarding winter sports," said Xu Bin, director of the city sports bureau.
There are currently 15 ice rinks, four of competition standard, and six indoor skiing arenas around the city. Over 40 schools and colleges have introduced ice sport, with snow sports in more than 30 primary and middle schools.
According to Xu, the ice and snow sport venues will increase to 50 by the end of 2025, and 500 schools and colleges will have winter sport courses.
"We are moving forward in two ways," said Xu. "One is to cultivate more professionals in skating, skiing, hockey, curling and bobsleigh. The other is to get more ordinary people involved."
Near 300,000 people take part in winter sports in Shanghai every year, and the goal is to raise the number to one million by 2025.
Shanghai is the host of a few competitions including short track speedskating and figure skating. There are currently about 1,000 registered winter sport athletes, roughly half of whom play hockey with 200 figure skaters. Former shot putter Shao Yijun became a bobsledder and at Pyeongchang was the first Shanghai athlete to take part in a winter games.
On Thursday, at the launch of the country's fifth National Ice and Snow Season, performances will be given by star skaters and skier, the first time for the launch has been held in a southern city.
There are some popular tours during the winter:
https://www.tripstoshanghai.com/tours/show/two_days_shanghai_to_wuyi_hot_spring_tour.htm
https://www.tripstoshanghai.com/tours/show/one_day_hot_spring_tour_in_jiangnan_tianchi_from_shanghai_by_high_speed_train.htm
https://www.tripstoshanghai.com/tours/show/winter_tour_in_shanghai_hot_spring_bathing_with_hot_pot_dining_experience.htm

Source: SHINE