Shanghai World Financial Center
Introduction
The Shanghai World Financial Center (SWFC; Chinese: 上海环球金融中心) is a skyscraper located in the Pudong district of Shanghai, China. It was designed by Kohn Pedersen Fox and developed by the Japanese Mori Building Company. It is a mixed-use skyscraper, consisting of offices, hotels, conference rooms, observation decks, and ground-floor shopping malls. Park Hyatt Shanghai is the hotel component, containing 174 rooms and suites. Occupying the 79th to the 93rd floors, it is the second-highest hotel in the world, surpassing the Grand Hyatt Shanghai on the 53rd to 87th floors of the neighboring Jin Mao Tower.
It is 492 metres high, has 104 floors (101 above ground, 3 below ground), and three platforms for visitors on floors 94, 97, 100 (Sky Bridge, 474 metres). The prices vary for the different platforms. From the highest platform one can enjoy the view of the skyline and the Jinmao Tower.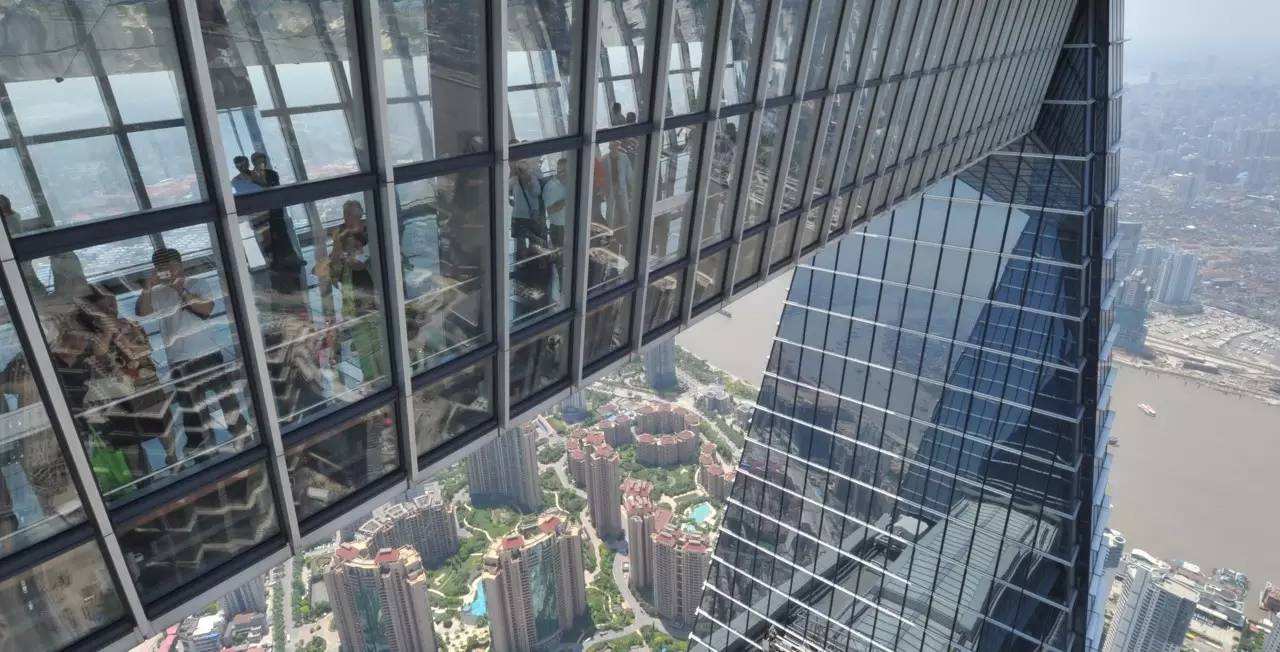 Observatories in the center
94F- 423m high
It is a sightseeing hall occupies an area of 700 square meters with a height of 8 meters. It is this floor for a fabulous city view of Shanghai as well as for hosting various exhibitions and events against background of beautiful sceneries of both banks of Huangpu River with a totally different audio-visual effects and unprecedented spirit convulsion.
97F- 439m high
It is a platform bridge, which looks like an overbridge suspended in the sky. Standing at the platform and looking up the sky, the design of the open style glass ceiling can bring the freshest air and the color of blue and white in the sky that almost close at hand.
100F- 474m high
It is a suspended sightseeing verandah with a length of 55m. It is the highest sightseeing facility currently around the world. Walking on the glass floor to touch the grand vigor skyscraper is also the experience of the lofty sentiments just as the same of Dufu (712-770, famous poet of Tang Dynasty) the moment he was in the top of Mount Tai "When shall I reach the top and hold, all mountains in a single glance".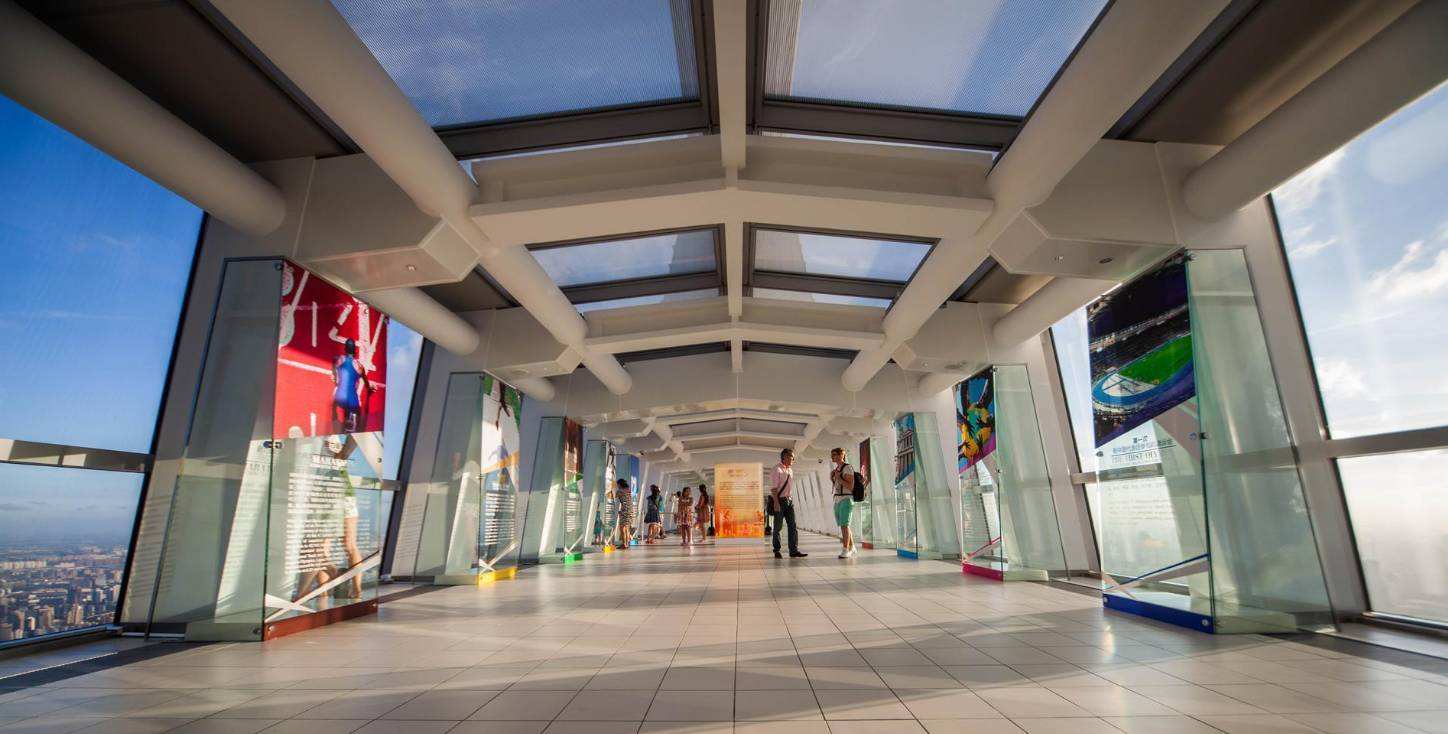 History & Background
The foundation stone was laid on August 27, 1997.
In the late 90's, the Japanese Mori Building Corporation had a fund shortage caused by the Asian financial crisis, this halted the project after the foundations were completed.
On February 13, 2003, the Mori Group increased the buildings height to 492 meters and 101 stories from the initial plans for a 460-meter, 94 story building.
The Shanghai World Financial Center was planned to be the tallest building in the world when it was designed in 1997. The 97 Story building would surpass the spires of the Petronas Towers in Malaysia. When Construction was restarted in 2003, the 508 Meter Taipei 101 in Taiwan was already underway to becoming the World's Tallest Building. Plans where changed but the Tower couldn't be built any higher than its present height at 492 meters since the already done foundation was meant to support a 460 meter tall building.
After the events of September 11th, 2001, the building was redesigned to withstand a disaster such as a plane crash including 12 fireproof refugee areas, and two external elevators.
The trapezoidal hole atop the Tower was originally a sphere, designs where changed after the Chinese Government made claims in 2005 that the Japanese Funded Building's circular hole was too similar to the rising sun on Japan's Flag.
On August 14th, 2007 a few of the upper floors caught on fire during construction, the blaze was put out and nobody was hurt.
The final steel girder of the building was installed on September 14th, 2007 when the building reached its full height of 492 meters.
At 492 meters, the Shanghai World Financial Center is the second tallest building in the world as of 2008. It is 16 meters shorter than the 508 meter Taipei 101 in Taiwan, although this is because of the spire atop Taipei 101. Counting by roof height the Shanghai World Financial Center is a full 44 meters taller than Taipei 101.
Inaugurated on August 28, 2008.
Transportation
Bus routes:
No 1, 85, 454, 584, 783, 798, 799, 992, Tunnel Line 3 or Tunnel Line 4 and get off at Century Ave. East Hospital Station. Walk about 300 meters to SWFC;
No 455, Shangchuan Line, Cailu Line or Airport Shuttle Bus Line 5 and get off at Lujiazui Ring Road East Hospital Station;
No 86, 795 or Hunan Line and get off at Pucheng Rd/Dongchang Rd Station;
No 85, 313, 630, 774, 783, 797, 799, 935, 981, 983, Tunnel Line 6, 8 or 9 and get off at Pudong Ave. East Hospital Station;
No 82, 314, 339, 454, 584, 607, 783, 796, 798, 818, 977, Taigao Line or Tunnel Line 3 and get off at Pudong South Rd/Dongchang Rd Station;
No 82, 583, 875, 961 or 985 and get off at Lujiazui Ring Rd/Pucheng Rd Station.
Subway routes:
Line 2 and get off at Dongchang Road Station, get out of the station from Exit 4; or get off at Lujiazui Station and get out of the station from Exit 6. Then walk 10 minutes towards the building.
Information
Address: Financial Trading District, Z4-1, Lujiazui, Pudong, Shanghai
Entrance Fee:
CNY 100 for 94th,
CNY 110 for 94th and 97th
CNY 150 for 94th, 97th and 100th
Opening Time: 08:00-23:00 every day (last entry at 23:00)
Tour Shanghai World Financial Center with Shanghai Private Tour
We will provide a private & spacious car and a local professional tour guide with over 5 years guiding experience only work for you or your group. You will be escorted during your tour. Transport, ticket, and dining (At some local restaurants popular with locals) all we will arrange for you according your requirements. Please check our most popular Shanghai Tours including Shanghai World Financial Center as below:


Are the above sample tour programs not suitable for you? We have more Shanghai tours. Our tours can be tailor-made based on your requirements and budget to create unique Shanghai experiences that allow you to interact with the local people and culture. Our enthusiastic tour expert will promptly reply you in details within 24 hours.