Anti-terrorism and fire drill held at Shanghai World Financial Center
Post Date: 2017/11/03 14:37
Share to: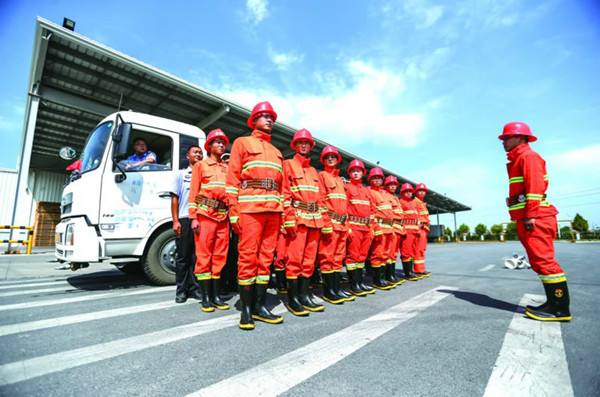 A fire and anti-terrorism drill was held in Shanghai's second tallest building in Pudong's Lujiazui area yesterday to train workers' responses in an emergency.
The drill at the Shanghai World Financial Center simulated an attempt of two terrorists trying to drive into the building, having started a high-story blaze in the 492-meter-tall skyscraper as a distraction.

Some 2,000 employees from 79 firms took part in the drill, which was jointly conducted by the management of the center, along with the anti-terrorism office, police and fire brigade of the Pudong New Area.

During the drill, armed security guards stopped the terrorists' vehicle near the building's garage with a "tire killer" and prevented the terrorists from getting out of the vehicle by using their bulletproof shields until the arrival of the Pudong police.

Firefighters then located the blaze via the building's alarm system and put out the fire. An evacuation was held among the white-collar employees working in the building to get them accustomed to the skyscraper's evacuation routes.

The building has eight "refuge levels," one between every 12 stories, where air pressure can prevent smoke and fire, according to the building's management. In an emergency, people are required to stay in the levels and wait for rescue.

The local fire brigade also tested a high-pressure water canon for quenching flames in skyscrapers.

Other training, such as dealing with smog, using extinguishers and carrying out first aid were carried out after the drill.
There are some popular tours including Shanghai World Financial Center:
https://www.tripstoshanghai.com/tours/show/2_days_classic_shanghai_tour.htm
https://www.tripstoshanghai.com/tours/show/3_days_shanghai_essential_tour_with_zhujiajiao_water_town.htm

Source: SHINE