Shanghai Sheshan National Holiday Resort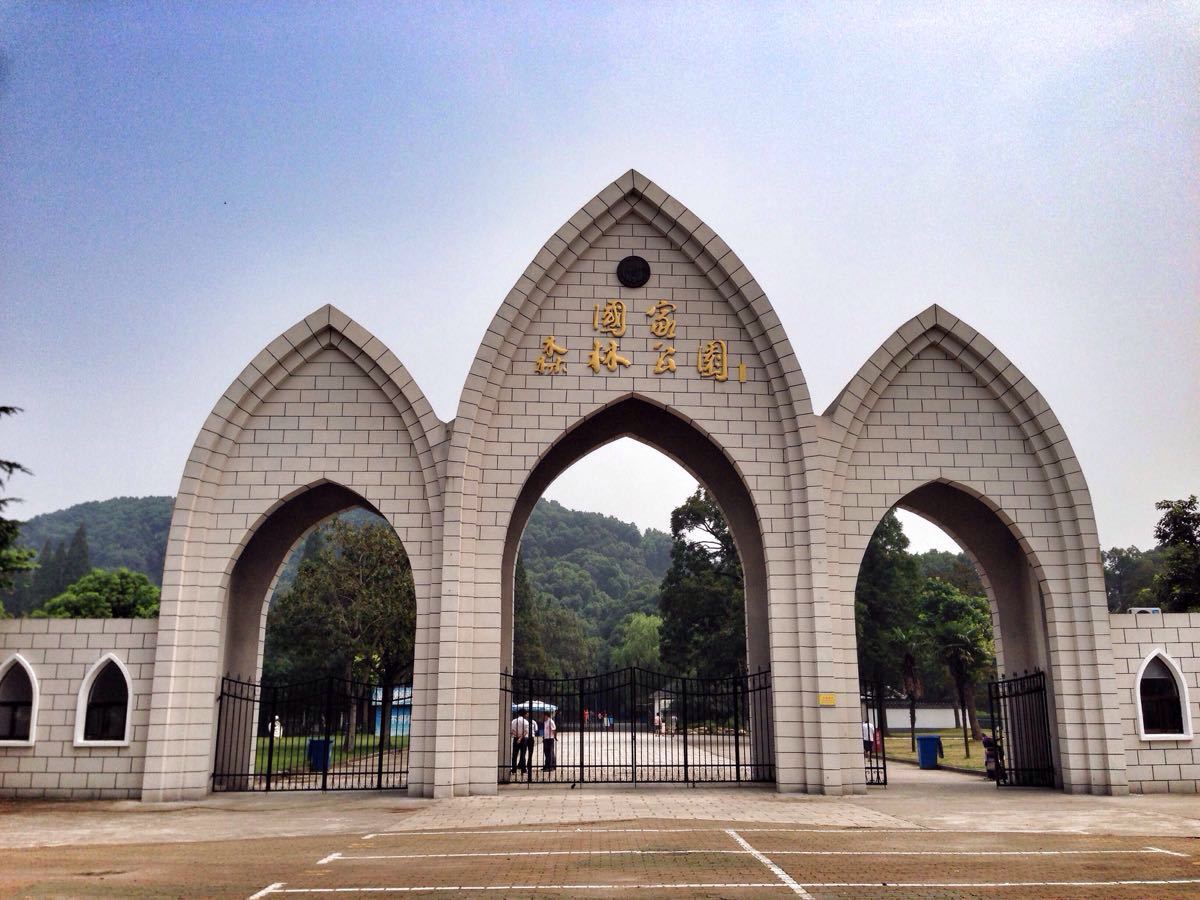 Overview
Shanghai Sheshan National Holiday Resort is located at the northwest of Songjiang District, 30 kilometers away from downtown area. From northeast to southwest lie 12 mountains ranging 13 kilometers and covering an area of 401 hectares. As the only natural forest resource in Shanghai, Sheshan National Tourist Resort in Songjiang district has been luring visitors to its unique scenery since 1995. Although Shanghai is famously flat due to its proximity to the Yangtze River Delta plain, Sheshan prides itself on its dozen or so hilltops - the largest measuring 99m above sea level - which give the area an undulating landscape that distinguishes it from the rest of the city.
Five popular places

1、The Happy Valley Amusement Park
After a long wait, Shanghai Happy Valley in Sheshan National Tourist Resort formally opens its doors to thrill-seekers today. At 900,000 sq m, it is 10 times bigger than Jinjiang Amusement Park in Minhang district to rank as the largest amusement park in eastern China. Its free-fall coasters are the main attractions. It also presents China's first 4K theater, exciting reality shows and a nocturnal boat parade. The featured Driving Coaster is China's first free-fall roller coaster. It takes riders on a 60-m journey upwards, the equivalent of 20 stories, then leaves them hanging there for a gut-wrenching three seconds before shooting them back to down to earth at break-neck speeds of 120 km/h. The Fireball adds a touch of nostalgia as it is China's first wooden roller coaster. The 1,200-m-long ride required more than 120,000 pieces of wood and 80,000 rivets during its construction. It looks set to win the hearts of riders looking for a rough ride and prolonged "airtime" - accomplished by the pull of negative forces at the top. During its trial operation from Aug 8, visitors had to wait four hours before they could get a ride due to its soaring popularity.
2、 The East Sheshan Park
Animals and plants abound here. There are wild sika deer, pangolin scales and about 100 kinds of birds. Besides, there are about 2,000 types of plants such as cinnamomum camphoras and moso bamboos.
The main attractions here are the Bird Center, the Butterfly Garden, the Plant Fossil Forest and the Wonder Stone Cave. There is also a funicular for entertainment, which is called 'Sledge on Mock Skiing Land'. There is also a 22.4-meter-high (about 73 feet) tower on the south peak which is a wonderful place for tea drinking and sightseeing.
3、The West Sheshan Park
There are also many attractions on the West Sheshan Mountain. The Church of Our Lady of Sheshan is the biggest church in Southeast Asia as well as the landmark architecture of Sheshan Mountain. The Sheshan Observatory is one of the earliest and largest observatories in China. The Astronomy Museum is a National Science Education Base. The Seismographic Station is one of the earliest institutes for earthquake research. The tower on the hillside is also one of the famous historic monuments of Sheshan Mountain. The newly built Bamboo Park is a place for entertainment, extreme sports and body building.
4、The Shanghai Astronomical Observatory
Established in 1962 following the amalgamation of the former Xu Jiahui and Sheshan observatories that were founded by the Catholic French Mission in 1872 and 1900 respectively, SHAO sits on the top of Sheshan hill.A 40-cm double astrograph was built in 1900 at a cost of 100,000 French francs to stand as the largest telescope in East Asia at that time. It is one of only a few telescopes to have since observed Halley's comet both in 1910 and 1986.In the 1980s, SHAO built a 25-m radio telescope, which was used as a station for the VLBI (Very Long Baseline Interferometry) network. It also built a 1.56-m optical telescope and a 60-cm satellite laser-ranging system.These three facilities are still in frequent use today in the research fields of astrophysics, astrometry, geodynamics and satellite positioning. SHAO also has a variety of guest programs that attract accomplished scientists from all over the world.Apart from its outstanding scientific achievements, SHAO has built an astronomy museum and library as part of the government's public education program
5: Exploring "Sheshan Monastery"
At the southwestern foot of West Sheshan Mountain and on the former site of Xuanmiao Temple, there are a few buildings. Here lies Sheshan Monastery – a cradle of Catholic priests in China. The monastery is well equipped and covers 8.1 hectares of land. Its building area is 6,000 square meters. The main buildings in the monastery adopted a style of the European Renaissance. The layout is reasonable and harmonious. The environment is quiet and tasteful. Sheshan Monastery trains 160 five-year seminarians from East China each year. In the 1990s, it introduced subjects for 10-year seminarians. In addition, it also sends excellent seminarians to the United States, France, Germany and other Western countries for advanced study and training at the public expense. After graduation or returning to China, the seminarians will comply with national unified assignments and become high-level management personnel and professionals dedicated to religious activities in China.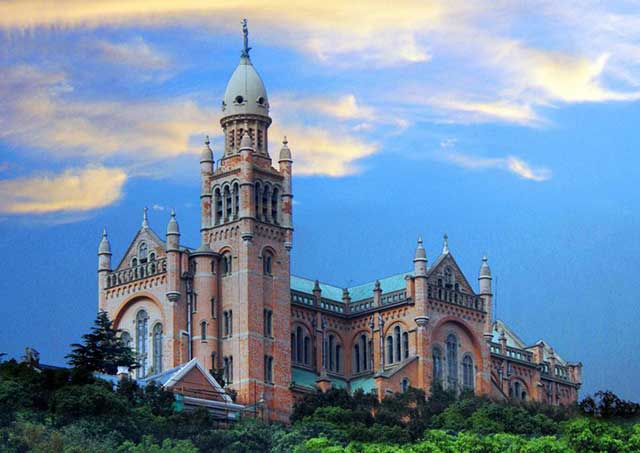 Sheshan Specialties

1、Royal Spicy Pig's Hoof:
Being the specialty of Dazhong International Conference Hotel, Royal Spicy Pig's Hoof is ordered in every feast. Choosing the best pig's forehoof as raw material, only after eight procedures which includes marinating and stewing can the dish be completed.
2、Shrimp Seeds and Bamboo Shoots:
Shrimp Seeds and Bamboo Shoots is the specialty of Lan Sun Mountain Villa. It is completed by the specialty of Sheshan-"Lanhuasun"(bamboo shoots in spring) stir-fried with shrimp seeds.
3、Fresh Shepherds' Purse Balls:
It is in Sheshan Forest Hotel. It is made with local bitter cress, clam meat and chopped pork heart.
Other famous things
Sheshan is also famous for its bamboo shoots, honey peaches and Lan Tea. The bamboo shoot here was named 'Lan Sun (Orchid Shoot)' by Kang Xi (an emperor in the Qing Dynasty, because it smells like an orchid. Lan Tea is known as 'Shanghai Longjing Tea.'
Information
Opening Hours: 8:00am-17:00pm
Admission Fee: free
Transportation
Bus Routes:
Nanshe Special Line (Nanpu Bridge - Sheshan);
Tourism Line 1 (Gate 4 of Shanghai Stadium - Sheshan);
Gongshe Special Line (Starting Station of Line 65, North Zhongshan Road - Sheshan);
Xishe Tourism Special Line (Shanghai West Railway Station - Sheshan);
Shangshe Line (Shanghai Indoor Stadium - Sheshan);
Huchen Line (Bus Station of West District - Chenfang Bridge);
Hushekun Line (Bus Station of West District-Xiaokunshan Mountain)
Subway Routes: Take Subway Line 9 and get off at Sheshan Station, and then walk or rent a bycicle to different scenic spots.