Shanghai Science and Technology Museum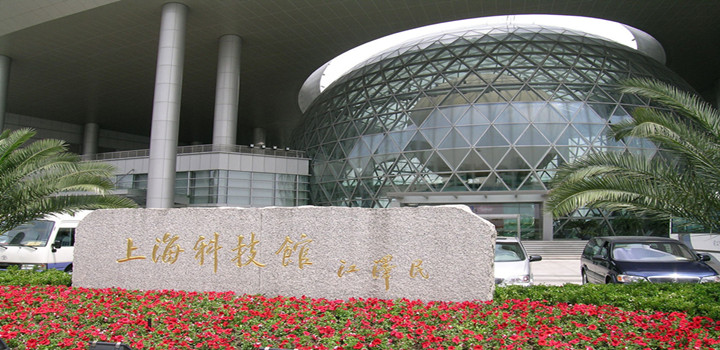 Introduction to Shanghai Science and Technology Museum
Shanghai Science and Technology Museum is located at No. 2000 of the Century Avenue (Shiji Dadao). It promotes science, education, cultural and ideological progress. It aims at offering visitors a unique experience in the modern scientific discipline under the theme of 'Nature, People and Science'.
Shanghai Science & Technology Museum opened to the public on December 18, 2001. The original design of the museum and its core exhibits was managed by Shanghai based high tech and multimedia firm Creative Star Digital. The construction of the museum cost 3.75 billion RMB, and now features over 14 interactive multimedia exhibits open to the public.
The museum covers an area of 68,000 square metres, a floor space of 98,000 square metres and an exhibition space of 65,500 square metres with planned visiting flow of 2,000,000 to 3,000,000 visitors per year and investment of RMB 1.755 billion Yuan. As of July 2010 the museum will have attracted over 23,000,000 visitors making it one of China's most visited modern museums.
Introduction
The museum is composed of a basement and four floors above ground. It rises in a spiral, symbolizing scientific progress. A huge glass sphere embedded in a pool of clear water, at the building's midpoint, gives the theme of life renewed.
1、The basement floor houses the Temporary Exhibition Hall, IMAX Dome Theatre, IMAX 3-D Large-Format Theatre, Collection Exhibition Area and Popular Science Department Store. The IMAX Dome Theatre stages educational entertainment for 280 audiences. It can play dome digital movie and also do celestial demonstration. The tilting silver screen makes spectators afloat while watching the films. The IMAX 3-D Large-Format Theatre, with a silver screen measuring 60 x 81 feet, is the first Chinese 3-D large-format Theatre, and it can hold 441 viewers.

2、The first floor houses the Hall of Widest Spectrum of Life which captures the scenery in Yunnan Province. The Earth's Crust Exploration Hall reveals the secrets of the earth and Shanghai's physical geography. The Light of Wisdom Hall demonstrates chemistry, biology and maths with a large number of interactive items. The Children's Techno-Land is designed for children between one and twelve years old, to interest them early in scientific matters. Besides, the Cradle of Designers and the IWERKS 4-D Theatre are also worth visiting.

3、The second floor includes the Hall of Earth Home, the Hall of Information Age, the Seeker Corridor, the Robot World and the Spider Exhibition Hall, all of which are full of wonder and excitement. The third floor is the place of the Hall of Exploration Light, the Astronavigation World, the Hall of People and Health, and the Space Theatre. The fourth floor is the conference hall.

Exhibitions
Robot playing the piano in the World of Robots exhibition.The museum has 13 main permanent exhibitions and 4 science theatres. The theaters constitute the largest science education cinema in Asia with 10,000 annual films shown.The exhibitions are:
1.Spectrum of Life: A natural exhibit which imitates the scenery of Yunnan Province and displays its diversity of creatures.
2.Light of Exploration is an exhibit which showcases human scientific achievements of the 20th century.
3.Home on Earth
4.World of Robots
5.Human and Health
6.Earth Exploration
7.Light of Wisdom
8.Space Navigation
9.Information Era
10.Cradle of Design
11.Children's Rainbow Land
12.Animal Hall
13.Spiders Exhibition
There are also two temporary exhibition halls, the Chinese Ancient Science and Technology Gallery which showcases ancient Chinese inventions and works, the Explorer's Gallery featuring Chinese and foreign explorers and the Academician's Gallery featuring contemporary scientists from Shanghai.

The four science theaters are:
1.IMAX 3D Theater
2.IMAX Dome Theater
3.IWERKS Theater
4.Space Theater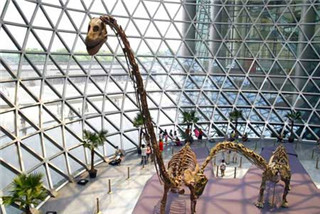 Information
- Admission Fee:
Admission Fee: CNY 60
CNY 20 (for Children below 1.2 meters tall and accompanied by an adult)
IMAX 3-D Large-Format Theatre: CNY 40
IMAX Dome Theatre: CNY 30
4-D Theatre: CNY 30
Space Theatre: CNY 20
- Opening Time:
9:00 - 17:15 (The ticket window opens from 9:00 to 16:30. The museum is closed on Mondays, except the Golden Week from Oct. 1 to 7)
8:45 - 18:30 in national holidays (The ticket window opens from 8:45 to 17:30)
- Phone No.: +8621-68542000, 95005500.
- Website: http://www.sstm.org.cn/structure/english/index
- Location: 2000 Century Avenue, Pudong, Shanghai, People's Republic of China.
Transportation
- Bus Routes:
640, 794, 936, 983, 593, 788, 638, 815 or Dongzhou Line (Donggao Road-Zhoupu Hospital) and get off at Shanghai Science & Technology Museum Station.
- Subway Routes:
Line 2 and get off at Shanghai Science & Technology Museum Station Station
Line 4 get off at Pudian Rd. Station.