Shanghai Ocean Aquarium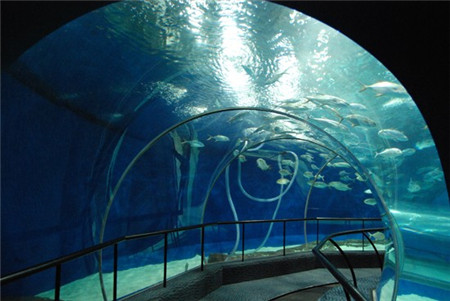 Overview of Shanghai Ocean Aquarium
The Shanghai Ocean Aquarium is located in Lujiazui, the commercial district of Pudong, and is adjacent to the famous Oriental Pearl Tower. The Shanghai Ocean Aquarium, the biggest aquarium in Shanghai , is a unique world-class must-see leisure destination in Shanghai.
The Shanghai Ocean Aquarium,founded in 2001 , is currently one of the largest aquariums in Asia with the world's longest underwater viewing tunnel spanning 155 meters. The aquarium is built with an investment of $50 million and spans over five levels with nine major exhibition zones with 28 exhibition halls that display a collection of various marine species from all around the world and over 36 thematic areas. Here visitors are able to experience the wonders and beauties of the underwater world and the uniqueness and charm of each different continent. Upon entering the aquarium visitors will find themselves immersed in an amazing aquatic world home to more than 15,000 fishes from over 360 species. Besides being able to see some of the rare and endangered aquatic animals from China, visitors can also be see different species from other oceans and continents, such as sawfish, leafy and weedy sea dragons, sand tiger sharks, electric eels, seals, penguins and many more.
Shanghai Ocean Aquarium consists of two pyramid-shaped buildings - a main building and an annexe. The covered area is 20,500 square meters (about 263,910 square feet). As well as the large exhibition area, there is a gift shop and a restaurant that can seat 300 persons.
The main building is divided into different exhibition zones: China Zone, South America Zone, Australia Zone, Africa Zone, Southeast Asia Zone, Cold Water Zone, Polar Zone, Sea and Shore, Deep Ocean Zone and Special Exhibitions. The exhibits include more than 300 types and 15,000 water creatures and rare fishes, such as poison dart frogs, jellyfishes, moonfish, leafy sea dragons and emperor penguins.
The Ocean Aquarium also displays the geography and culture of their native places by pictures, voices, etc. Overall the aquarium provides visitors with a tour covering the world's five Continents and four Oceans.
Exhibits of Shanghai Ocean Aquarium

China Zone
Shanghai Ocean Aquarium is the only aquarium in the world which has a separate area to display endangered Chinese aquatic animals. Exhibit species include, for instance, the Chinese Sturgeon, Chinese Suckerfish, Yangtze Alligator and Chinese Giant Salamander.

South American Zone
The Amazon River of South America is 6,480km in length and has the most number of tropical fresh water fish species in any river of the world. It also contains some of the world's largest aquatic animals. It is also surrounded by the largest tropical rain forest in the world.
Australian Zone
There are hundreds of different species of fresh water fish in Australia and most of them cannot be found in any other country in the world. This is because millions of year ago the Australian continent has been separated from other land masses, thus the fishes living there could not crossbreed with the fishes from other continents. This has led to the development of unique species and characteristics of Australian fresh water fish.
Africa Zone
Africa has rich water resources including the Nile River, Congo River and the Great Rift Valley Lakes with many species of fish. The Cichlid is the most famous species in Lake Victoria, Lake Tanganyika and Lake Malawi. The lakes were formed 500 thousand to 2 millions years ago. After so many years of evolution, the fishes here have adapted themselves perfectly to the water world.
Sortheast Asia Zone
The Tropical Rainforest in Southeast Asia is one of the most ancient tropical rainforests in the whole world. The dense forests, spectacular natural scenery and the variety of creatures supply the animals here with abundant food and an ideal habitat.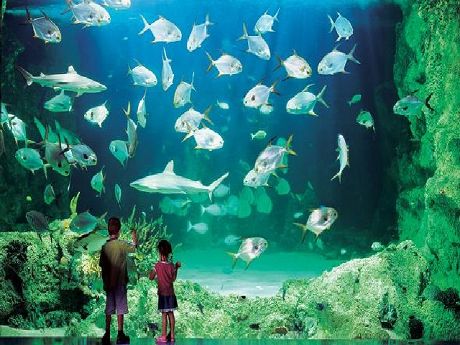 Cold Water Zone
The Cold Water Zone is made up of one single display tank that houses our spotted seals. The half-arch shape of this acrylic tank is another unique design in our aquarium, and enables visitors to observe the spotted seals from an underwater viewing environment.
Polar Zone
With the cold icy wind blowing across your face as you climb over the white-snow-covered mountains, you know you have arrived at the Polar Zone to meet our cute and cuddly penguins.
Sea And Shore
This display contains an astonishing variety of marine species, many of them very colorful and each with their own unique characteristics. Among them you will find the Horseshoe Crab also known as a "Living Fossil", the shy but beautiful Weedy Seadragon. Also, the "Secrets of Jellyfish" Exhibition will lead you into the world of jellyfish to uncover the many secrets of this beautiful species.
Deep Ocean Zone
Descending into the depths of the ocean you are transported along one of the world's longest travelators as you enjoy the panoramic view offered by our underwater viewing tunnels. Experience the spectacular marine life in close proximity as you complete the final leg of your "underwater journey".
Special Exhibitions
SOS–Save Our Sharks Exhibition
You will always find something new and different whenever you visit Shanghai Ocean Aquarium (SOA). Besides seasonal changes to various exhibits in our 9 different thematic zones, special exhibitions are also held to introduce new species and displays to entertain and educate our visitors.
Since earliest times, human beings have relied on wild resources for survival. However, with the ever-expanding populations and advanced development of technology, human beings have become a super predator with few of nature's checks and balances. Leading marine biologists recently warned that sharks are likely to be in the first round of marine extinctions caused by human activity.
Transportation
Public Bus:Take bus 81, 82, 85, 583, 774, 795, 798, 799, 870, 961, 971, 985, 992, 993 or 996 and get off at Lujiazui Subway Station or Lujiazui Ring Road
Subway:Take Subway Line 2 and get off at Lujiazui Station. Get out from Exit 1. Shanghai Ocean Aquarium is about 200 meters (about 219 yards) from the station.
Information
Opening Time
9:00 am - 6:00 pm (enter before 5:30 pm)
9:00 am - 9:00 pm (during summer holidays and Golden Week holidays; enter before 8:30 pm)
Admission Fee
Adults: CNY 160
Children (1–1.4m tall): CNY 110
Elders (over 70 years old): CNY 90
Handicapped people: CNY 70
Phone Number +8621-58779988.