Shanghai Huaihai Road Commercial Street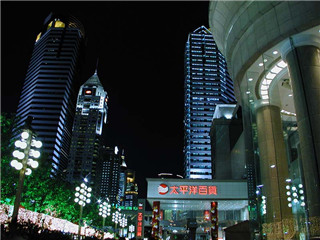 Introdution
Huaihai Road is a bustling commercial street and one of the busiest shopping areas in Shanghai. It sells clothing of every kind and is the epitome of Shanghai's modern history, a showcase of its prosperity and the latest fashions. Hundreds of shops display a myriad of styles, including Western and international name brands.
Huaihai Road is one of the two most famous shopping streets in Shanghai, China; the other is Nanjing Road. Compared with the more touristy Nanjing Road, Huaihai Road is more upscale, and is the preferred destination of local residents.Huaihai Road comprises three sections, the main section being Middle Huaihai Road in the former French Concession of Shanghai. Middle Huaihai Road is also well known by its former French name Avenue Joffre.

Paved and built in 1901 and originally named Avenue Joffre, Huaihai Road developed into a fashion commercial street in the 1930s known as the "fashion street of the Eastern Paris". The early 21st century saw the well-planned renovation, the protective development of the scenic buildings on the street and the completion of some new modern buildings. Currently, gathering along the Middle Huaihai Road are Hong Kong Plaza, Lippo Plaza, Golden Bell Plaza, the Hong Kong New World Tower and other famous commercial buildings, including 11 buildings with a revenue of over RMB100 million. In the business area of 1 million square meters, quite a few Fortune 500 multinationals have been introduced such as Bridgestone and Accenture and in the business area of 500,000 square meters, more than 2,000 famous brands including 1,600-plus international brands have been brought in. The Middle Huaihai Road is home to more than 200 well-known commercial buildings and department stores such as Shanghai Times Square, Parkson Plaza, Pacific Department Store, Orient Commercial Building and Printemps.
Highlights
Huai Hai Road is a 6 kilometers long street located at the center of the urban area of Shanghai. It is divided into East, Middle and West Huai Hai Road. It is a famous street for shopping and entertainment since the beginning of the 20th century.
Middle Huai Hai Road is definitely the best part of the whole Huai Hai Road. There are quite a few department stores here such as Parkson, Isetan. And Xin Tian Di, the best place to look for a bar in Shanghai is also close to Middle Huai Hai Road.

As Champ Elysees in France, Huaihai Road Shopping Street is the paradise for shopping and traveling in Shanghai City. This street boasts some 400 stores and shops. Famous for selling numerous female goods, Huaihai Road is lined with classical and elegant architecture, as well as modern buildings. The exterior appearance and interior layout of buildings demonstrate a strong cultural flavor of a city, selling exquisite goods in the world.

Huaihai Road and Nanjing Road are two famous commercial shopping streets in Shanghai. Nanjing Road represents the bustling commerce in Shanghai, while Huaihai Road symbolizes more of a taste, style and fashion.

1、Profound Cultural Connotation
Huaihai Road is a noble and elegant street with profound cultural connotation. Famous historical sites can be found on the street or near the area. The prestigious former residence of Soong Chingling, Zhougongguan(former residence of Zhou Enlai), as well as the site of the first national congress of China are all situated here. In the end of 1996, the New Shanghai Library was established on Huaihai Road.
2、Exquisite Manner
Huaihai Road was French concession during the war time, so the buildings along the street, even the chinars make the street full of European customs. The Huaihai Road embraces with numerous boutiques, many of which are world-famous brands. Walking in the street, you can appreciate more than 400 exquisite shops with first-class goods, as well as the most fashionable people with best taste of Shanghai.

3、Lingering on Huaihai Road
When you came to Huaihuai Road for one time, you will expect the next visit. It is a rather comfortable to walk in the road, appreciating delicate display windows or the beauties passing by. The Time Square is the place to count down the New Year in every 31st December, you can also find a quite seat near the window in Starbucks and waiting for someone, or just listen to music. If you like hidden yourself in crowds, you can go to the little garden, sit on the bench, enjoy the sunshine and watch different people. Anyway, you can find a comfortable moment here, at never want to return.
Information
- Admission Fee: free
- Opening Time: vary by business
Transportation
- Bus Routes:
42、926、24、126、320、911 get off near Huaihai Road
- Subway Routes:
Line 1 and get off at Huangpi South Road,Shanxi South Road or Shangshu Road Subway Station.