Shanghai Century Park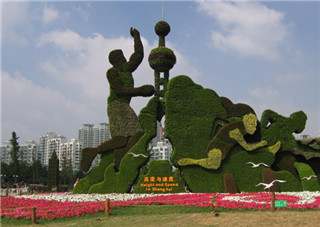 Overview
Century Park is the largest echo-city park with natural characteristics. it covers an area of 140.3 hectares and is designed by british luc company, which embodies the combination of eastern and western cultures, human and nature and with a feature of Chinese gardens. with large areas of grassland, forests and lakes as its main part, there are scenic spots like islands in the lakes, meeting square, country gardens and grasslands and facilities like birds reservation, scientific experience and experiment, children's park etc. tourists may enjoy fishing, kite-flying and picnic to the farthest extent.

Introduction in details

1.About the spot
Century Park is situated in the Flowers and Trees Administrative Cultural Center of Pudong New Area, Shanghai. The Park is 8 kilometers from the downtown area, 24 kilometers from Hongqiao International Airport and 28 Kilometers from Pudong International Airport, really boasting the largest ecological city park rich in natural features in the central area of Inner Ring Ling of Shanghai.
The overall plan is designed by British LUC Company, with a land area of 140.3 hectares. The total investment is one billion RMB. The Park highlights large-area lawn, woods and lake, embodying the integration of oriental and occidental landscape art, human being and nature. According to the design plan, seven scenic areas are set up, including pastoral area, scenic area, beach area, sparse-trees-dotted lawn area, birds protection area, international garden area and small golf court. The Park also includes outdoor music theater, meeting plaza, children recreation place, fishing along with such landscape spots as high post fountain, music pavilion fountain, century flower clock, colossal relief, woods stream, peddle sand-beach, ginkgo road and green pond. Inside the Park, there are crisscrossing paths, undulating hills, evergreen trees, limpid lake water and meandering woods stream. When visitors walk through it, peace and placidity surround them. So it is the best place for recreation, holidaying and commercial exchange.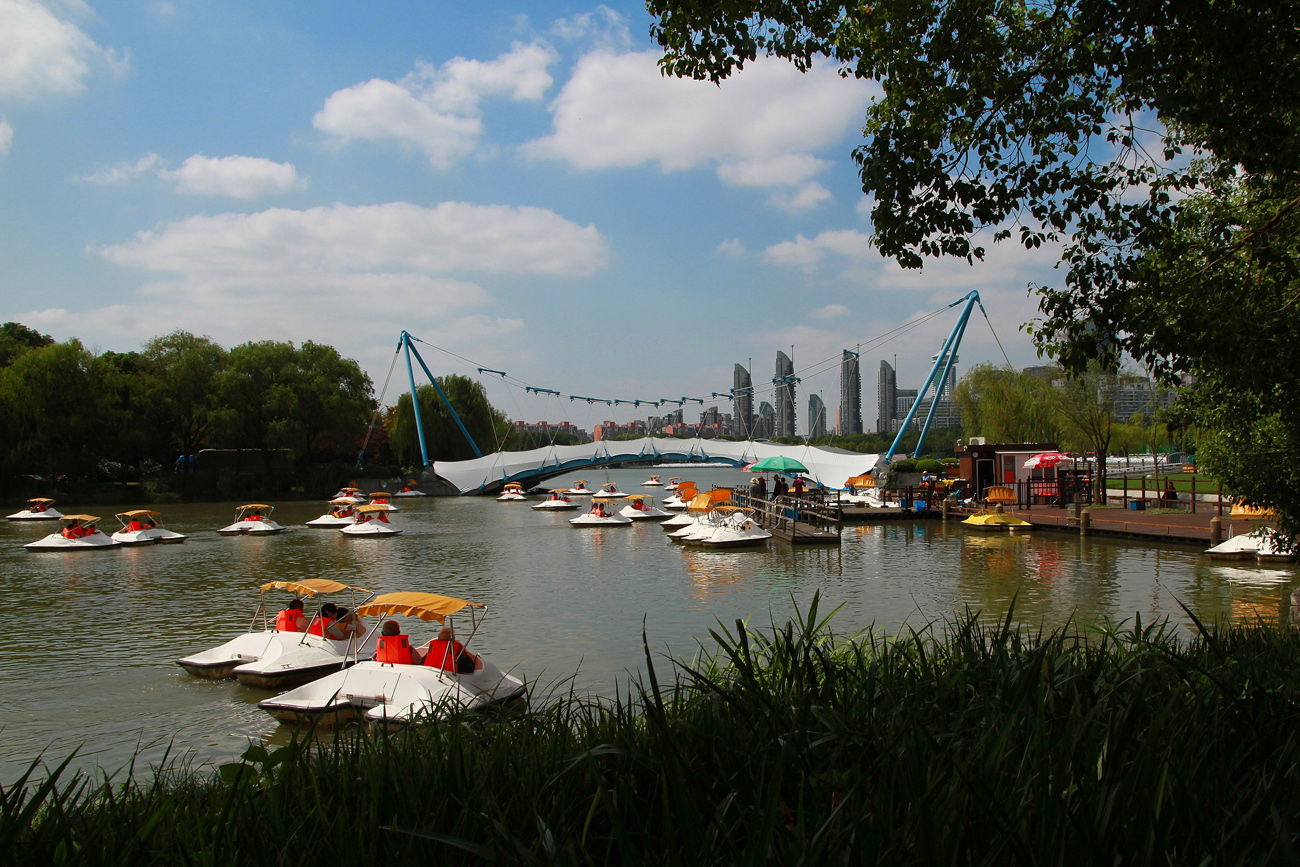 2、About the landmark
One of its hallmark sceneries is the Century Flower Bell with back on Jingtian Lake and face to Century Avenue. The sprinkled material is flower so the whole seems to floweriness. The Flower Bell is timed by the Secondary Planet so it is not only scientific, handsome, but also practicability. Spring Garden is in the southwest corner of Jingtian Lake. With an area of 0.6 hektare, it grows clubs, calyx canthus, peach blossom, bamboo, willow, etc. When the spring is coming, the park will emit thick awaken of spring.
Golf Course, in the west of the Century Park, is composed of Rest Hall, Coffee House, Bathroom, Ball Let.
Park Activities:
The largest park in Shanghai, a runner's loop of Century Park is somewhere between 4-6 kilometers depending on the route you take. The park's 140 hectares are landscaped with a combination of British, Japanese, and Chinese gardening styles--so there is everything from traditional Chinese gardens, to open grasslands, to forest areas to lakes and rivers.

1、Boating: You can rent 4-seater motorboats at the park for 30 RMB per hour (100 RMB deposit) or 6-seater boats for 50 RMB per hour. The boats obviously don't go very fast, but if you pack a few beers, you can have your own little booze cruise on the lake and the river around the park.
2、Cycling cars: You can also rent cycling cars which will seat from 4 to 6 people. These things also don't go high speeds, but can be a semi-lame way to get around the park.

3、Amusement park rides: One area of the park has children's rides. So if you've got kids, this is going to be where they might want to go.

4、Picnics: Obviously you have to take care of this yourself, bring a blanket, some wine and your favorite snacks. A lot of people seem to like to pitch day tents on the grass to keep out of the sun.

5、Running: Century Park is probably the best place to run in Shanghai as it provides cleaner air, a number of routes to choose from and a variety of scenery.

6、Concert stage: While I have never heard of a concert in the park, there is a concert stage that looks like it would be decent for summer concerts.

Information
- Address:
No. 1001 Jinxiu Road, Pudong, Shanghai CHINA.
- Admission Fee:
CNY 10 a person (children under 1.2 meters tall and senior citizens above 70 years old are free of charge).
- Opening Hours:
Daily, 7am-6pm
- Phone:
021-38760588
Transportation
- Subway Routes:
Take Line 2 and get off at Century Park Station or Shanghai Science and Technology Museum Station.
- Bus Routes:
A. Take water-tourism line and get off at Jingxiu road dock for Zhangjiabang;
B. Take tunnel line 4, Yangzhu line and get off at the terminal for metro Yanggao south road line;
C. Take no.637 and 983, bridge line 2 and get off at the terminal for metro century park stop;
D. No.788, 794, 640 buses pass it and dongzhou line and jiangyuan tourism line reach there too.