Dongtai Road Antique Market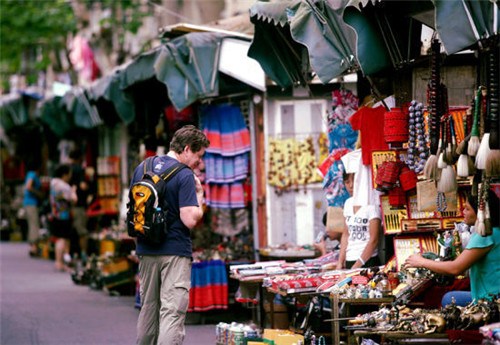 Introduction
A house, a shopping mall and a street (一楼一城一条街) are the major three antique markets in Shanghai.
A House---TREASURE HOUSE MARKET (藏宝楼)
Teasure House Market"Treasure House", the true name of "FUYOU ROAD CRAFTS MARKET"(福佑路工艺品市场), it's used to be Fuyou Antiques Market. This market attract crowds of amateur collectors every Sunday morning on the lookout for a wide variety of objects such as paintings and calligraphy, pottery and all sorts of curios.
Add: Fangbang Lu 457, Shanghai
Tel: 021- 63262733
A Shopping Mall--JING'AN TEMPLE JEWELLERY & CURIO MARKET (静安寺珠宝古玩城)
Jing'an Temple Jewellery & Curio MarketIt offers the best and the most complete range of antiques in the city and located at No. 1829 Beijing West Road. The first floor - jewelry jadeite, the craft class, the jade carving, the antique miscellaneous items. Interlayer - celebrity calligraphy and painting, the jade carving antique. The second floor - jade carving area, antique areas. The third floor - antique miscellaneous items, the calligraphy and painting celebrated work, the purple sand clay modelling, the ancient furniture four building -- antique miscellaneous items, the auction demonstrate the hall .The fourth floor - miscellaneous pieces of antique auction hall display.
Add: NO.1829 Beijing West Road, Jing'an District,Shanghai
Opening Time: Everyday from 8:00 a.m. to 8:00 p.m.
A Street---DONGTAI ROAD ANTIQUE MARKET (东台路古玩市场)
Dongtai Road Antique Market Shanghai is a great place to go treasure hunting, and it's official name is Liuhe Road Old Handicraft Market. It's a nice change of pace from the large department stores and malls on and around Dongtai Road, just south of Hua Hai Zhonglu, near Hua Hai Park. Outdoor vendors line several streets on the outskirts of the Old Town. Antiques are few and far between and replicas, or fakes, abound but you will find plenty of vintage items, traditional crafts, curios and assorted knick-knacks. Among the stalls with embroidered slippers for bound feet, chopsticks, lanterns and furniture you will also come across Communist-era posters, calligraphy brushes and copies of The Little Red Book in several languages. Experienced antique collectors will be able to pick up some excellent buys.The metro stop closest to the market is South Huangpi Road. Add:Dong Tai Road,Shanghai
Tel: 021-64393615
Open Time: 10 a.m. - 4:00 p.m. Sat & Sun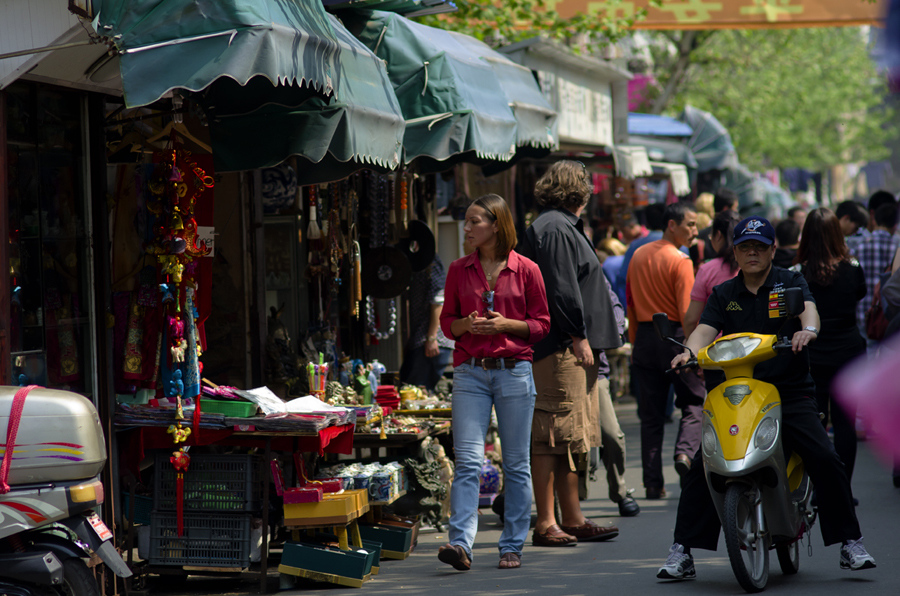 How to Bargain
Cut the price in half, then half again. Expect to bargain ruthlessly; haggling can take hours. Antique buyers should be extremely cautious; copies are far more plentiful than authentic items across China.
How to get there
The metro stop closest to the market is South Huangpi Road. Taxis are abundant and inexpensive in Shanghai and while most cab drivers know the market they do not speak English. Ask the reception at your hotel to write down the name of the market in Chinese so you can hand it to the driver. Most hotels have business cards with their address in English and Chinese and a space on the back where the Chinese name of a destination can be filled in.We introduce shanghai subway station map for you.