Chinese Martial Arts Museum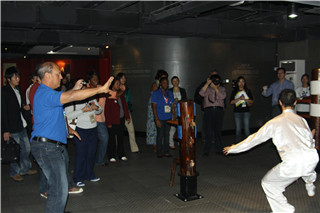 Introduction to Chinese Martial Arts Museum
Chinese martial arts is an important component of Chinese culture. It has a long history and is one of the valuable cultural heritages of the Chinese nation. It is the crystallization of national wisdom.
Chinese martial arts, also referred to by the Mandarin Chinese term wushu (simplified Chinese: 武术; traditional Chinese: 武術; pinyin: wǔshù) and popularly as kung fu or gung fu (Chinese: 功夫; pinyin: gōngfu), are a number of fighting styles that have developed over the centuries in China. These fighting styles are often classified according to common traits, identified as "families" (家, jiā), "sects" (派, pài) or "schools" (門, mén) of martial arts. Examples of such traits include physical exercises involving animal mimicry, or training methods inspired by Chinese philosophies, religions and legends. Styles that focus on qi manipulation are called internal (内家拳, nèijiāquán), while others that concentrate on improving muscle and cardiovascular fitness are called external (外家拳, wàijiāquán). Geographical association, as in northern (北拳, běiquán) and southern (南拳, nánquán), is another popular classification method.

Chinese martial arts museum located in the Shanghai Sports Institute occupies the total area of 2000 square meters. It is currently the first one to show the all-round display of martial arts history and culture museum in the world. It has more than 2,000 pieces collections showed the profoundness of the Chinese martial arts from different angles. Some very old weapons from various parts of China are displayed in the museum. Interesting exhibits are of gunpowder weapons and guns.

The second phase of Chinese Wushu Museum was completed on Nov. 11th in 2007. The museum is separated into Styles and Weapons Hall, History Hall, Temporary Exhibition Hall, Tridimensional Cinema and Multimedia Interaction Area.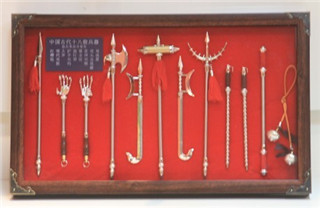 Wushu Schools and Weapons Hall
Materials of all kinds of Wushu schools and weapons are collected here. Vivid Wushu practicalities and videos can help the audience to experience the dignity and shake brought by this special art.
History Hall
As one of the main halls, the History Hall covers six zones which exhibit respectively the originating, developing, flourishing and maturing progress of Chinese Wushu. Each of the cultural relics images the movements, accumulation and multiple functions of Chinese Wushu.
Multimedia Interaction Area
Multimedia technological products, for instance, the electronic touch screen, spectra vision, virtual books, virtual fighting and tridimensional videos, are widely applied in the museum, producing an interacting condition for the audience.
Information
Opening Time:Wednesdays and Saturdays from 9:00 am to 11:00 am; and 1:00 pm to 4:00 pm
Admission Fee: free but need to make a reservation(Adult/Child)
Transportation
Subway routes: line 8 and get off at nengjiang road station
Bus routes: 851, 90, 966, 866. and get off at nengjiang road station
Address: Shanghai Physical Education Institute, No. 399 Changhai Lu, Yangpu District.