Traditional handicrafts a feature of tourism resort project
Post Date: 2020/06/05 11:05
Share to: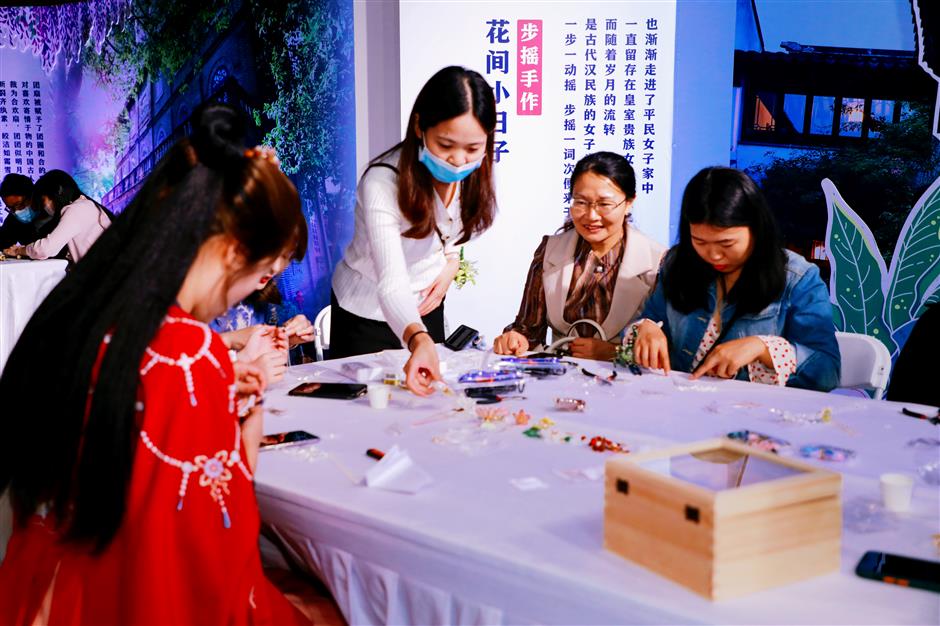 People make traditional Chinese-style hairpins during the weekend market at the tourism resort complex operated by Blossom House in Zhujiajiao water town.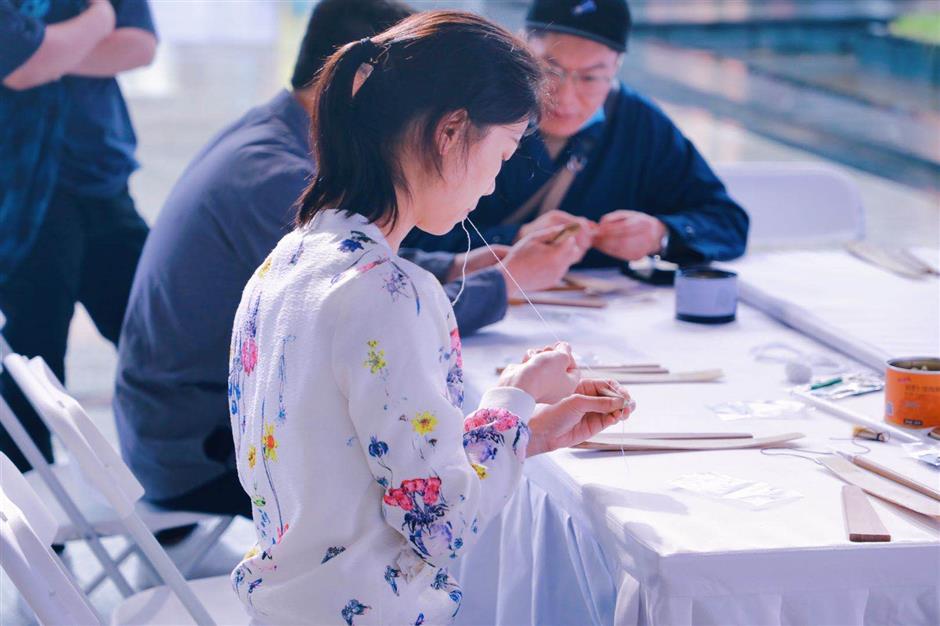 Crafting traditional Chinese brushes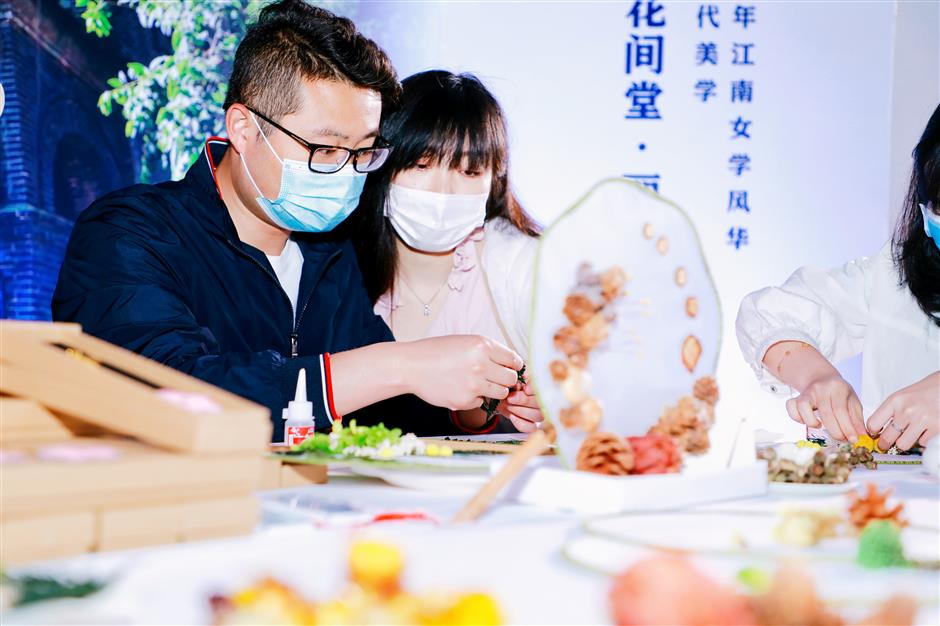 Handcrafting tuanshan (circular fans)
A tourism resort project in Zhujiajiao ancient town, an 4A tourist attraction in Qingpu District, went into operation over the weekend.
The complex features minsu (a Chinese version of B&B) with private gardens, MICE venues, catering, hotsprings and weekend markets.
Its design draws inspiration from depictions of the flourishing scenes of the Zhujiajiao market in the Song Dynasty (960-1279) and Yuan Dynasty (1279-1368), and the prosperous views of the water town as a granary distribution center at that time.
The unique structure of local gucang used to store grain in ancient times was introduced into the design of the project.
Zhongnan Group, a leading construction and engineering company which developed the project, and Blossom House, a high-end resort brand of Huazhu Group, one of China's biggest multi-brand hotel chain management groups, inked a cooperation agreement over the weekend in Zhujiajiao to promote industry upgrades and bring about a leisure lifestyle vacation experience to tourists.
A weekend market inviting tourists to handcraft sachets, tuanshan (circular fans), traditional Chinese-style hairpins, and Chinese brushes was held at the complex in Zhujiajiao over the weekend. The craftsmenship of ancient water towns in the Yangtze River Delta region was displayed.
Tea, souvenir and snacks with Jiangnan (regions south of the Yangtze River) flavor are also featured at the market, which will be held regularly.
Source: SHINE
Editor: Cai Wenjun

Tip: Hassle-free Shanghai Guided Tours recommended by Shanghai Private Tour during the COVID-19

Due to safety concerns over the Covid-19 virus, Shanghai Private Tour hand-picked some Shanghai Tour Packages with Zhujiajiao water town, where you can try the traditional handicrafts tour as below for your reference to make sure that you will travel safely during Covid-19.

Shanghai 1 Day Tour: Incredible Shanghai Highlights from US$50 P/P
(Yuyuan Garden, The Bund, Nanjing Road, Jade Buddha Temple, Old French Concession)

Shanghai Day Tour: Shanghai City Highlights & Zhujiajiao Water Town Tour from US$80 P/P
(Zhujiajiao Ancient Water Town, The Bund, Yu Garden & Bazaar)

Shanghai Vacation Packages: 3-Day Shanghai Essential with Zhujiajiao Water Town Tour from US$175 P/P
(3-Day Shanghai Essential with Zhujiajiao Water Town Tour experience Shanghai's most incredible city attractions and the remarkable "Oriental Venice" water town Zhujiajiao with your knowledgeable local shanghai tour guide. This private tour is particularly designed for first-time travelers to Shanghai to get an insight into its people, culture, history and the dynamic urban life.)