Shanghai plans more intelligent Metro system
Post Date: 2018/06/21 09:38
Share to: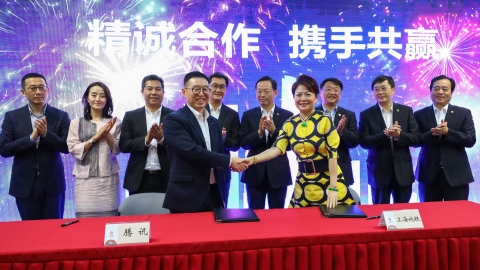 Shanghai Shentong Metro Group have signed up with China's Internet giant Tencent to jointly work on more cutting-edge technologies to make the future Metro more efficient and intelligent.
Passengers who use the app Metro Daduhui to get through the turnstiles have been able to pay using their WeChat wallet since May 28. According to Jin Tao, general manager of the Metro's information management center, this is only the very first step of the Metro's plans to get smarter.
"Tencent's big data and social media platforms are a great resource for us to provide information to passengers more efficiently," said Jin.
Jin said in the future, passengers will receive customized information about passenger flow congestion, Metro timetables and daily service around Metro stations via the LBS (Location Based Service) function of WeChat.
"You don't have to look up online to see what's going on when you're stuck in a station where a technical glitch has hit a certain Metro line," Jin said.
"The system will provide all that information before you get to the station."
Metro operators have also set up an innovation lab in which many technologies are being developed and tested, such as facial recognition technology and an artificial intelligence ticket vendor.
"We consider the Metro as a platform open to all solution providers who can make public transportation better," Jin said of the lab. "Both Tencent and Alibaba have projects with the lab."
Meanwhile, an English version of Metro Daduhui will be updated before the end of this month, according to the Metro operators.
More information about metro system serch: https://www.tripstoshanghai.com/shanghai/transportation.htm