Passengers enjoy the beautiful Huangpu River Cruise at night
Post Date: 2020/03/18 16:18
Share to: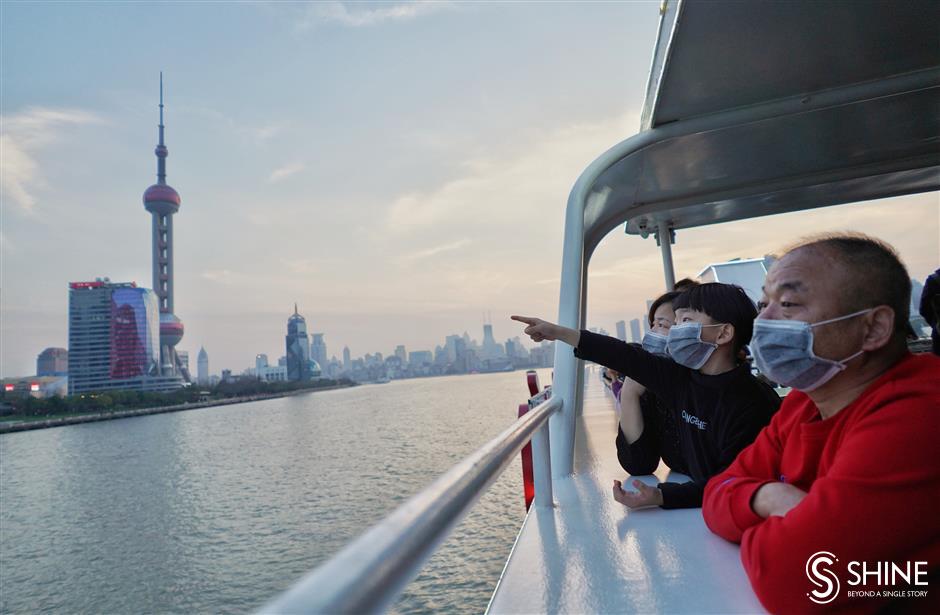 Hu Qiaokun, a tourist from Kunming, Yunnan Province, said he was amazed by the beautiful view of the Huangpu River when he boarded the first cruise ship to resume operations since the coronavirus outbreak on Sunday night.

There will be four tours each day between March 15 and 22, with ships departing from the No. 1 cruise pier at Shiliupu from 5:30pm at one-hour intervals, the Shanghai Huangpu River Cruise Co announced. Each trip lasts 50 minutes.
Hu and his wife were the first passengers to board on the first ship at around 4:45pm.
"We just arrived in Shanghai this morning and took a stroll on the Bund in the afternoon," Hu told Shanghai Daily.
He said the travel plan was set late last year and they felt lucky that tourist attractions are reopening.
"The night view of the Huangpu River is glamorous and the skyscrapers on both sides of the river look magnificent," said Hu. "The tour is very pleasant."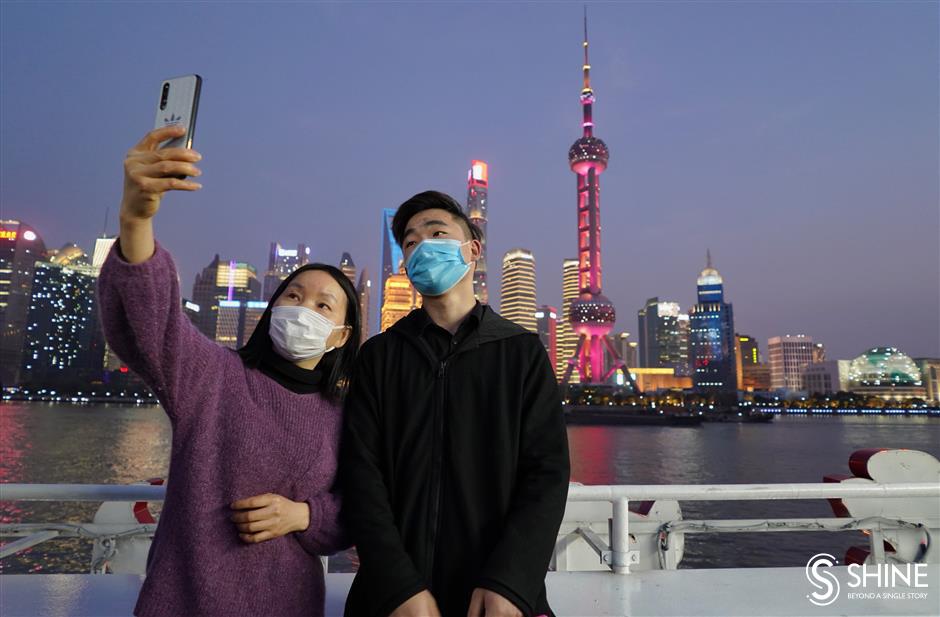 Lin Haiqing, a Shanghai resident, bought ticket at the scene with his son.
"The weather is good and we want to breathe some fresh air onboard," said Lin, who lives in Hongkou District.
"I only visited places near my home during the epidemic," said Lin.
"I took a river tour many years ago which impressed me and the view is even more beautiful now," he said.
"I learnt the news of the resumption when I took the hop-on and hop-off bus today," said Xi Qing who works at a medical company in Shanghai. "
"We haven't dared to go out for almost two months so I took my son out today to enjoy Shanghai's spring," he said. "The Huangpu River's night view is more beautiful than daytime from the ship, and it is really worth a visit."
Si Nan who works in suburban Jinshan District boarded the ship with his son and wife.
"My son said he wanted to take the ship because we have been kept at home for almost two months," he said.
"I am excited about the tour and I am eager to get out," added the 8-year-old boy.
"The disinfection on the ship is thorough, which eliminates our concern," said Si.
The number of passengers is kept below half capacity, or 125, for now. The actual number on the first ship was only 20.

"We currently only operate form the No. 1 dock at Shiliupu with four tours daily," said Hou Wenqing, chairman of Shanghai Huangpu River Cruise Co.
"Passengers must make real-name purchases to ensure their information can be traced," he said.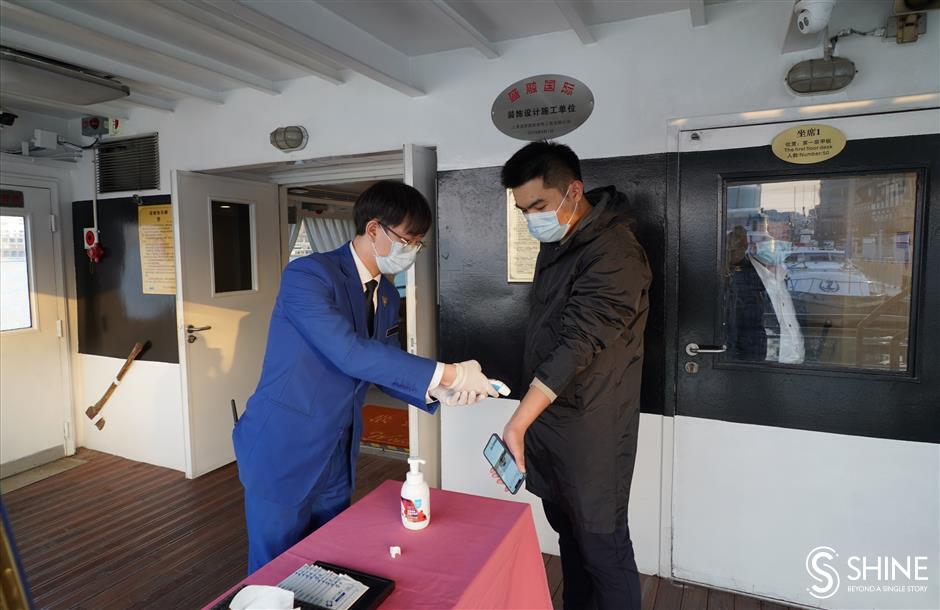 Passengers are required to register their contact details to ensure that they can be tracked when an emergency occurs.
"They need to have their temperatures checked twice and present their health QR code before boarding," said Hou. "They are also required to wear masks throughout the trip."
Those with a temperature above 37.3 degrees Celsius will not be allowed onboard.
"Tourists are guided to board the ship in batches to prevent gathering," he said.
"We have reduced the number of seats by 50 percent to ensure passengers sit separately with vacant seats between them," said Hou.
Li Wenjun, service director of the company, said air-conditioning on the ship was suspended to ensure good ventilation.
"A table can accommodate four seats in the past but now it is cut to two, and passengers are still reminded to keep their distance and sit separately," he said.
"Each ship is disinfected thoroughly before and after each operation," he said. "Windows are kept open to ensure good ventilation, and disinfection is enhanced on public areas like handrails with frequent contact. "
"Toilet cubicles are disinfected upon each use," said Li.
Hou said Huangpu River tours will be resumed gradually.
"We will make an evaluation of passenger traffic and gradually increase ship numbers and open more docks," said Hou.
At present, each tour lasts 50 minutes and they capture essence views of the river.
Hou said more routes of longer duration or catering reopened after two weeks.

"We will restore the iconic Huangpu River cruise tour to normal operations gradually," said Hou.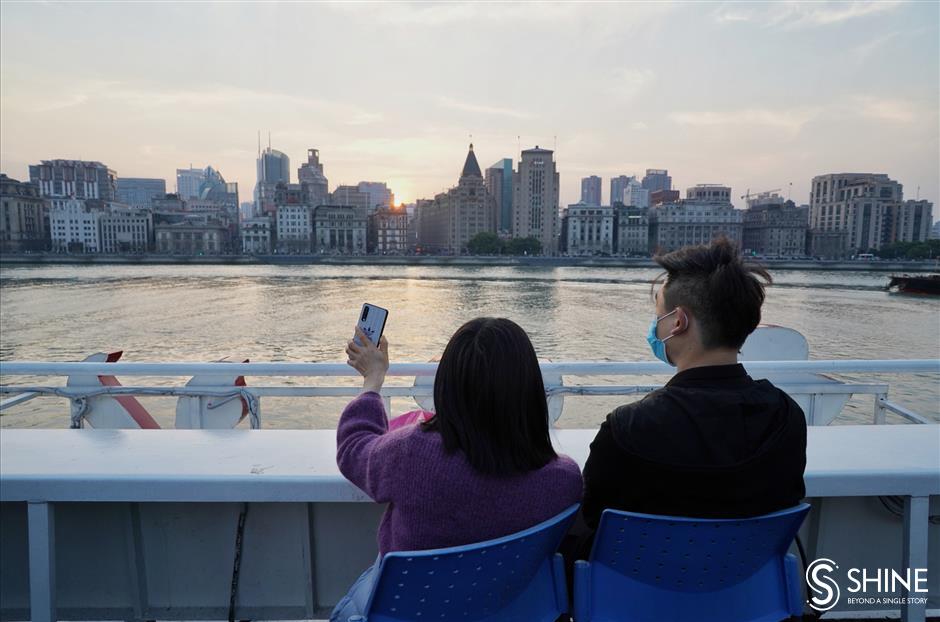 Source: SHINE
Editor: Liu Qi
Tip: Hassle-free Shanghai Guided Tours include the Huangpu River Cruise recommended by Shanghai Private Tour

To experience the best way to enjoy the scenery along Huangpu River, a cruise has to be the top choice. Stand on the deck to get a feel for the city, and take pictures of the incredible skyline.
Shanghai Day Tour Package: Night Tour with Huangpu River Cruise from US$60 P/P
(Nanjing Road, The Bund, Boat Cruise on Huangpu River)

SKIP THE LINE: All Inclusive Shanghai City Highlight Day Tour from US$70 P/P
(Yuyuan Garden & Bazaar, Shanghai Jinmao Tower, Boat Cruise on The Huangpu River)

Shanghai Vacation Packages: 2 Days Shanghai City Tour with Old and New Landmarks from US$100 P/P
(Shanghai Museum, Yuyuan Garden & Bazaar, Tianzifang, Jade Buddha Temple, Shanghai World Financial Center (SWFC), Nanjing Road, The Bund, Boat cruise on the Huangpu river)