First batch of civil engineering divers certified
Post Date: 2018/06/21 14:16
Share to: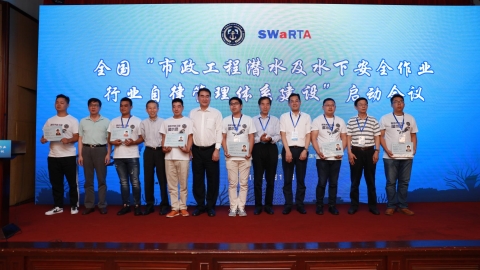 Seventy-eight people became China's first batch of certified divers for urban engineering programs, such as underwater pipeline maintenance and sludge cleaning.
They got the certificates after finishing two months of training at Shanghai Jiao Tong University Underwater Engineering Institute.
Liu Qingbo, one of the first certified urban divers, said the training not only taught them skills of copping with different challenges in the underwater environment, but also the awareness and habits of safe operation.
"The teachers were so strict that they would shout at us if we forgot to check the equipment before diving," he said. "Now we would naturally check the interphone, the oxygen valve and other devices every time before diving."
The training was the first of its kind in China to provide professional and systematic instruction for underwater workers in municipal utility industries.
Song Jiahui, director of the drainage committee of China Urban Water Association, said the training is extremely essential as there are about 750,000 kilometers of municipal drainage pipelines in China and the work on their maintenance, cleaning and overhaul is important to ensure quality of city life.
"The work is difficult for frogmen in the area due to the narrow and sometimes poisonous environment, such as in the pipes, pump stations, sewage disposal plants and bilge wells," he said. "As we lacked standard and systematic training, we saw injuries and even deaths every year in the past 20 to 30 years."
He said the training system developed by Shanghai Jiao Tong University and China Diving and Salvage Contractors Association deserved to be promoted nationwide.
Source: SHINE