Shanghai Wild Animal Park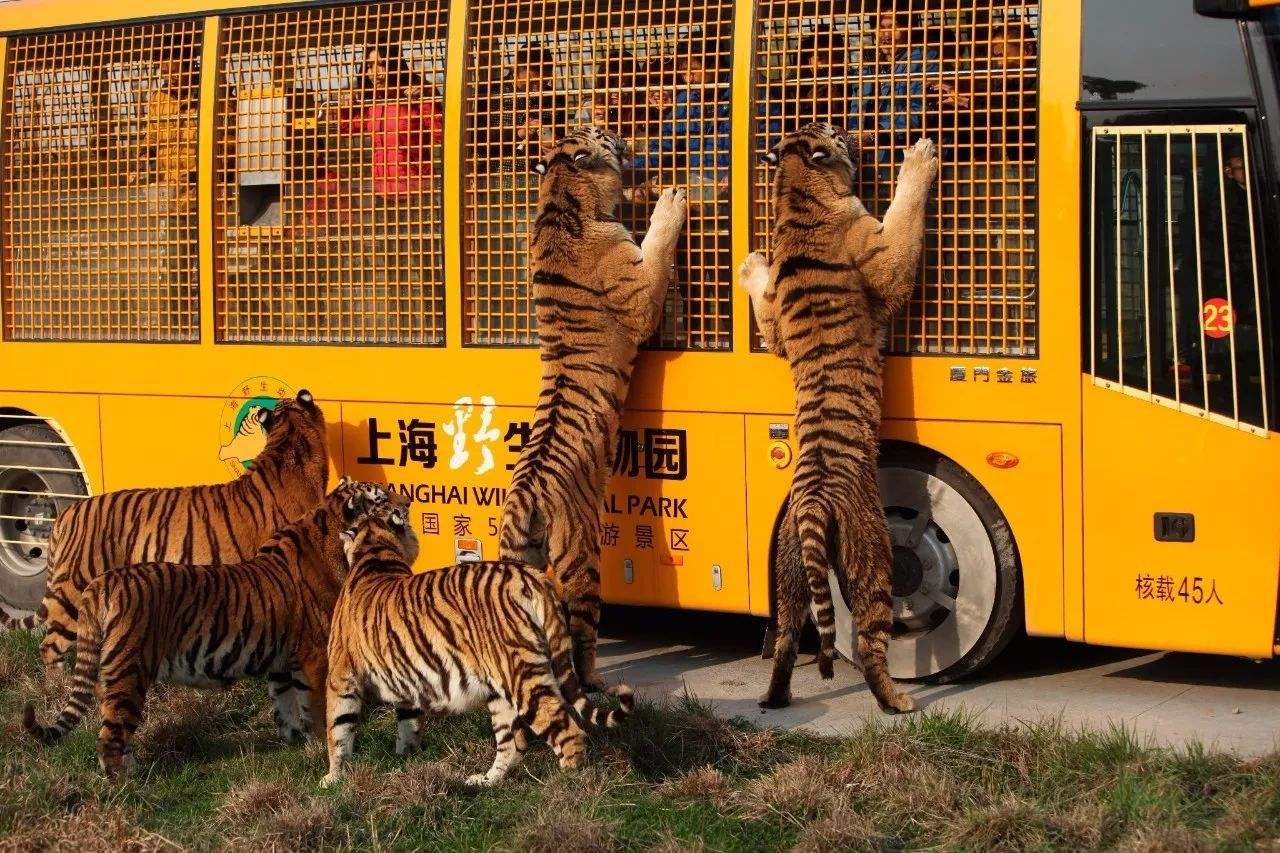 Introduction
Shanghai Wild Animal Park is the first national wild animal park established by Shanghai City Government and the formal National Forest Department. It is located in Sanzhao Town, Nanhui District, Pudong New Area, Shanghai, 35km from Shanghai downtown. There are more than 200 kinds of rare animals totaling over 10,000 from all over the world, such as giraffe, zebra, white rhinoceros and hunting leopard that are from abroad, and giant panda, snub-nosed monkey, south China tiger and other domestic rare animals. The park is divided into two parts: bus area and walk area. There are herbivore zone, free zone, aquatic bird lake, birds zone, animal kindergarten, pet monkey park, rare animal park, animal performance zone, sea lion performance zone and other spots in the Park.

Occupying an area of 153 hectares(2300Mu), 300 millions Yuan was invested in Shanghai Wild Animal Park which is the first national wild animal park in Shanghai. The Park was opened to the public on November 18, 1995, also SWAP is one of the first AAAA national visiting spots.
Introduction
There are more than 200 kinds of representative and rare animals from all areas of the world, such as giraffes, zebras, antelopes as well as the endangered giant panda, the snub-nosed monkey and the Chinese tiger.
There are five main sections: animal performing hall and areas for wild beasts, herbivores, penned animals and other animals.

The park consists of two parts, a bus visiting area and a walking area.
1、In the bus visiting area, you can see a gentle giraffe, elongating his neck and in expectation of your visit. You also can see an elephant, the biggest land animal, greeting the guest gently; what is more, you can find you are among golden antelope, one of the 3 national treasures. Meanwhile, here you can see the fastest animal in the world, the cheetah, which can run 110 km per hour; the African lion, the king of beasts, showing his regal deportment; and a clumsy bear, begging food from the passing buses…
2、In the walking area, you can enjoy the world's rarer animals, such as the white lion, white tiger, white kangaroo, giant panda, and Chinese alligator. And in the small animal garden, you can hug the smaller animals, feed lovely monkeys, and have the experience of the zoo keeper to see personally the miraculous world of a working zoo.
In addition, the park also offers animal performances, showing the charm and skill of the animals and their gift in performing.
Animal Show Time:
1. Animal's Welcoming Performance: 08:30 - 09:30 at the square inside the main gate of the Wild Animal Park
2. Sea Lion Show: 10:00, 15:15 at Sea Lion Hall
3. Large Square Show: 13:00 at animal performing hall
4. Show of Lions and Tigers: 11:00 at Animal Traning Ground
5. Horse and Dog Racing: 14:15 at Dog Racing Circus.
Information
Admission Fee: CNY 130 for adults;CNY 65 for children between 6~18 years old
Free for children under 1.3 meters high or under 6 years old
Opening Hours:
8:00-17:00 (stop selling ticket at 16:00) from Mar. to Nov.
8:00-16:30 (stop selling ticket at 15:30) from Dec. to the next Feb.

TEL: 021-6118 0000
Address:178 Nan Liu Gong Lu, (S 6th Highway), near Xiayan Expressway
How to Get to Shanghai Wild Animal Park
Bus Routes:
Tourism Bus at Shanghai Stadium (Parking Lot No. 4) only on weekends: 9:30 from Shanghai Stadium and 16:00 back from the zoo. Reservation is necessary.
Nan Xin Special Line: From Shanghai Railway Station to Nanhui University Town passing the Shanghai Wildlife Park.
Hui Song Line: from Songjiang Railway Station to Nanhui Bus Station passing the animal park.
Zhang Nan Line: From Zhangjiang Subway Station and get off the bus at Shanghai Wildlife Park.
Subway Routes: Line 2 and get off at Zhangjiang High Technology Park Subway Station. Get out from Exit 5 and find the bus stop for Zhangnan Line. Then get on the bus and get off at the wild animal park.