Shanghai Maglev Train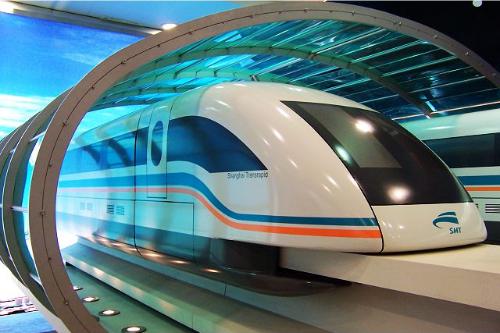 A brief introduction of Shanghai Maglev Train
Shanghai Maglev Train (Shanghai Maglev Demonstration Line) is the first commercial maglev line in the world. The line runs between Longyang Road Station on the Shanghai Subway Line 2, to Pudong International Airport, and the journey takes no more than 8 minutes to complete the distance of 30 km (19 miles). It can reach up to 431 km/hr (268 mph) during the journey. In 2003, it was enrolled by Guinness Records to be the fastest train in the world in commercial use.
Inside the train, it is very modern, clean and comfortable, much like that in an airplane. Trained attendants are present. There is enough sitting space, since there are only 2 or 3 seats in a row. Air-conditioning is available and passengers can adjust the temperature by themselves. There is an LCD screen indicating the current running speed of the train. Many passengers pay close attention and some even take a picture, when the number of "431" appears on the screen.

History Of Shanghai Maglev Train
It is the first commercially operated high-speed magnetic levitation line in the world and only the second Maglev line to be commercially operated. The train line was designed to connect Shanghai Pudong International Airport and the outskirts of central Pudong where passengers could interchange to the Shanghai Metro to continue their trip to the city center.
Construction of the line began in 1 March 2001,and public commercial service commenced on 1 January 2004. The top operational commercial speed of this train is 431 km/h (268 mph), making it the world's fastest train in regular commercial service since its opening in 2004, faster than TGV in France and also faster than the latest CRH conventional wheel train in China at 350 km/h (217 mph). During a non-commercial test run on 12 November 2003, a maglev train achieved a Chinese record speed of 501 km/h (311 mph).The top operational speed of 431 km/h (268 mph) is also faster than the top speed of any Formula One car and Motogp prototype.

Introduction
Shanghai - a booming metropolis in east China - is the first stop of many people when they travel to China. Want to feel the pulse of the city immediately? It is recommended to take the maglev train if you are just arriving at Pudong International Airport of the city. You will be impressed by the amazingly fast speed of the train and have an exciting first experience in the city.
Build with the technological help from Germany, Shanghai Maglev Train (SMT) has been operated since the end of 2002. It is the world's first and only commercialized maglev train line in operation. It runs from Pudong International Airport to Longyang Rd. Station located at the intersection of Longyang Road and Baiyang Road in Pudong New Area. The whole journey takes only eight minutes.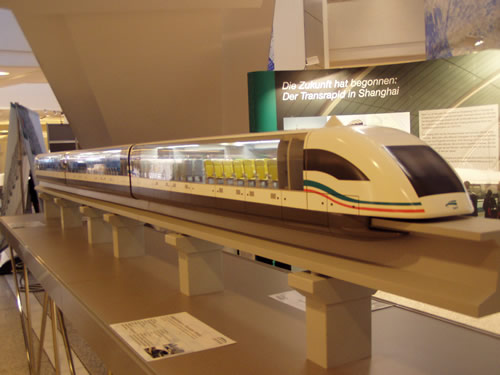 Comfortable Carriage of Maglev
The fast and convenient maglev train is operated by Shanghai Maglev Transportation Development Co., Ltd., which was set up in 2000. Any questions or complaints, you may go to the Maglev Service Center established by the company on the second floor of the station.
Operation Time:
The service operates every 15 - 20 minutes.

| | | |
| --- | --- | --- |
| Starting Station First Train Last Train | First Train | Last Train |
| Longyang Rd. Station | 06:45 | 21:40 |
| Pudong Int. Airport Station | 07:02 | 21:42 |
Tips
1. The maglev ticket has date printed on it. Please be sure to get to the ticket examiner in the maglev stations at least five minutes before the departure time of the train you plan to take on the day.
2. If you are curious about the maglev train, you can go to Shanghai Maglev Transportation Science and Technology Museum at the bottom of Longyang Rd. Maglev Station in Pudong New Area. The museum opened in the summer of 2007 is built to exhibit the history, actuality and future of maglev technology as well as the advantages of Maglev Train.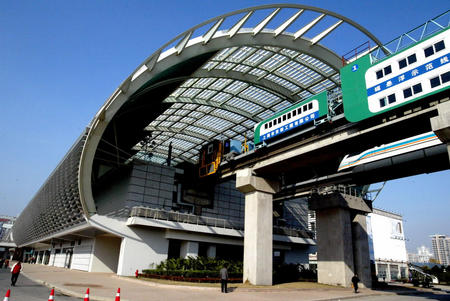 Information
- Ticket Purchase
Passengers can buy tickets on the day they want to take the train.
1、Longyang Rd. Station Ticket Center: 2nd floor of Longyang Rd. Station
2、Pudong Int. Airport Ticket Center: 2nd floor of Terminal 2 at Pudong Int. Airport.
- Admission Fee
1、Single Trip: (standard class)
Valid for a single trip of the purchase day
CNY 50
2、Round Trip: (standard class)
Valid for a round trip within 7 days since purchase day
CNY 80
3、VIP Single Trip: (VIP Class)
Valid for a single trip of the purchase day
CNY 100
4、VIP Round Trip: (VIP Class)
Valid for a round trip within 7 days since purchase day
CNY 160
Note:
Passengers can buy a single trip ticket (standard class) at 40 Yuan, if they show their airplane tickets (or boarding pass) arriving or departing Pudong Int. Airport of the same day of taking the maglev train.
A child at or shorter than 120 cm (3.9 feet) can ride the train free of charge, only when accompanied by an adult. Children taller than 120 cm (3.9 feet) should buy full-price tickets.
- Maglev Hotline:
021-28907777
- Official Website:
http://www.smtdc.com/en/
Transportation

Longyang Road Station
- Subway Routes:Line 2, get off at Longyang Rd. Station, and use exit #3 or exit #4.
- Bus Routes:Airport Bus # 3 and #7; Bus # 983 and #976.