Shanghai Happy Valley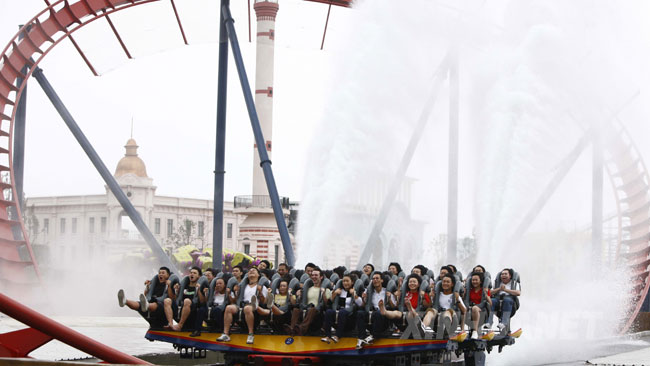 Overview of Shanghai Happy Valley
Happy Vally is Shanghai's first big amusement park. It is one of a chain of Happy Valley parks built by OCT Group. It is notable for its ride boasting the biggest one of its kind in China.
It opened on 16 August 2009.The park is approximately 40 kilometers (25 mi) from downtown Shanghai. It covers an area of 863,500 square metres (213.4 acres). Happy Valley contains seven themed areas including Sunshine Beach, Happy Times, Typhoon Bay, Gold Mine Town, Ant Kingdom, Shanghai Beach and Shangri-la Woods. There are more than 100 attractions in the park.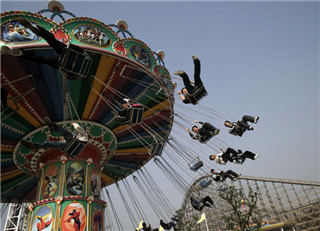 Introduction in details
Shanghai Happy Valley is renowned as a theme park of beautiful scenery, huge areas to explore, superb scientific and technological content with breathtaking and exciting amusements. It is located in the central area of Shanghai Sheshan National Holiday Resort, Songjiang District, about 40 kilometers (25 miles) west of the downtown area. Covering an area of 863,500 square meters (213 acres), it is composed of seven major areas, each with different themed zones, such as Sunshine Beach, Happy Times, Typhoon Bay, Gold Mine Town, Ant Kingdom, Shanghai Beach and Shangri-la Woods. There are more than a hundred attractions and 12 top recreational distractions.

1、Sunshine:
- Souring Dragon
Comparable to the world top hanging ball movie screen in Saudi Pavilion at Shanghai Expo, the Souring Dragon is the international first-class entertainment apparatus. Hollywood production team creates such most fantastic flying journey, the most stunning visual feast.
- Arthur Palace
A set of parties, shows, restaurants and exhibitions in one large multi-functional hall can accommodate 1400people gathered.
2、Happy hour:
- Wooden Coaster-Fireball
The first wooden roller coaster in China, the oldest roller coaster in the world, honored as "First Ancestor of Roller Coaster". The wood originates from U.S. importing southern pine, bringing visitors more than 10 times experience of zero gravity in space, 1200meters roaring trip, challenges of life!
- Space Shot&Turbo Drop
Asian adventure tower—Space Shot&Turbo Drop, one tower ejects with high speed from bottom to top, the other one falls rapidly from up to down. Such two pole, ejection and landing, perfectly integrates.
3、Shanghai bund:
- Gyro Swing
Pirate ship within comprehensive upgrade reaches you to 15-floor high sky at the speed of 110kilometers per hour where you can overlook the beautiful scenery.
- Diving Coaster
The global new dropping roller coaster, Diving Coaster, enjoys the reputation of "King of Roller Coaster" bringing you feeling of vertically dropping from 60-meter-high peak and magical acceleration of free falling!
4、Shangri-la:
- Mega-lite
30 meters diving from the sky, nearly 100km/h, the stunning train speed, bringing you the wonderful feeling of flying free and appreciating the opening stimulating experience!
- Disco Coaster
Roller Coaster will be not like it to rotate, gyro will be not like it to dive, but it can reach center hump within one second, bringing an incredible feeling of weightlessness.
5、Ants kingdom:
- Ants Kingdom
The largest national indoor heated children's home, a fantastic and changing ants kingdom, a children's fairy tale home.
- Splash Battle
In the water, people hold pistol to shot, which is bound to be a duel between speed and strength, collision between wisdom and courage.
6、Goldmine town:
- Mine Train Coaster
Rapid slide, swerve, and slide with high speed again! Tunnel Mine Train Coaster being famous for its speed , height and more turnings, will bring adventure experience.
- OCT Theatre
Capacity of 4500people,a never-ending feast of art, OCT Theatre mixes acrobatics, dancing, clowns and music such world art elements with technique, bringing visitors top-high art enjoyment.
7、Typhoon bay:
- Shoot the Chute
The world largest drop height with 26meters,"Shoot the Chute" is braver's journey who rapidly skydive along the slide-way causing huge waves.
- Splash Over
Two rotation gondolas fly in the sky mixing with music fountain perfectly, bringing dizziness wave after wave. Instant upgrade, drop, stop and roll make you feel dizzy pleasure.
Information
- Address:
18 Linying Dadao, Songjiang, Shanghai.
- Admission Fee:
All Inclusive Ticket: CNY 200,
Half-Price Ticket: CNY100 (for kids1.2-1.4m tall)
Free for kids under 1.2m.
It is also free for women who can show that they are over the age of 65 and for men who can show that they are over the age of 70.
- Opening Time: 9:00-18:00
No evening hours.
Most rides close by 5 or 5:30 pm.
- Food:
There are KFCs and McDonalds, but most of the snacks available are Chinese snacks. You probably won't find western snacks. There are long lines at meal times at the fast food places, so to avoid waiting in long lines for more than half an hour, bring your own food.
Transportation
- Subway Routes:
Take Line 9 from Xujiahui Station to Sheshan Station. Cross the overpass and find the free shuttle bus in orange color to the park directly.
- Transportation Inside Happy Valley:
You can take a battery powered car or other means of transport to travel around. There is an additional charge for these services.