Xitang Old water town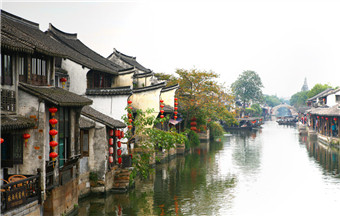 Introduction to Xitang Old water town
Xitang Water Town was a place of strategic importance on the boundary of the Wu and Yue states. Its flat terrain is marked by a quiet, natural environment with rivers running through it. From a bird's-eye view of the whole town, one sees blue water sparkling almost in every point the eyes touch and reflections of the houses in the water. The quiet water, handsome bridges, and the reflections in the early morning and the rosy sunset, fishing boats and the glistening lights in the evening, form an amazing picture full of a sense of poetry which can only be seen in the south lower reaches of the Yangtze River. People in Xitang, whether local residents or travelers, feel that this is fairyland. They even have no idea as to whether people are wandering in the picture or the picture is moving in their hearts.
History of the Xitang Old water town
Xitang is a famous town with thousands of years of history, lying in Jiashan County in Jiaxing City, Zhejiang Province. It dates back to the Spring and Autumn Period (770 BC-476 BC) and the Warring States Period (476 BC-221 BC).
The feature of Xitang Old water town
Xitang has its old buildings, arch bridges and cobbled streets that are quite similar to other water towns. However Xitang does have its unique claim to fame: its button industry. One of the town's main attractions is a button museum, which features antique and new buttons made from an incredible variety of materials: horn, ivory, silver silk, brass, mother of pearl and bamboo to name a few.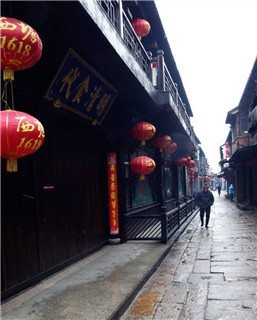 Attractions of Xitang Old water town

Ancient lanes
Ancient time-worn streets crisscross Xitang town. In total, the town has about 122 small lanes, and all are paved with stone slats. Along these lanes sit hundreds-years-old houses that still serve as homes to the locals. Of the 122 lanes, the Shipi Lane is the best preserved. Located on the west side of Zhongfu Hall on West Street, it has a total length of 68 meters, is about 1 meter at its widest, and its narrowest point is only 80 centimeters wide. Shipi Lane is paved with 166 stone planks, each only 3 centimeters thick, making them difficult to be chisel from granite. This is why the lane is called Shipi (which means "the skin of the stone") Lane. Walking through these long, quiet lanes with tall, stained walls is like traveling through the town's long history in a spatio-temporal tunnel.
Xiyuan Garden
In Xiyuan Garden, trees, grass, flowers, towers, bridges, lakes, and waterfalls are harmoniously integrated.
Xue's House
Xue's House is a typical wooden building owned by a rich merchant of the region during the later years of the Qing Dynasty.
Wangxian Bridge
Wangxian Bridge was built during the Song Dynasty more than a thousand years ago. The name of the bridge is associated with an interesting legend in which a Taoist once stood on the bridge to watch immortal spirits. Wangxian means "to watch immortal spirits."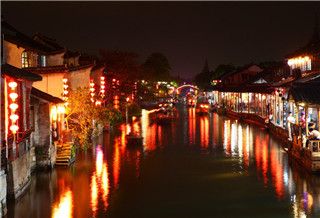 Information
Opening Time: whole day
Admission Fee: (Adult/Child) CNY 100 (tickets include both the scenic region and 11 sightseeing spots);
CNY 50 (tickets for the scenic region only)
Transportation

Normal Bus Timetable:
In Shanghai, you can wait in the waiting hall of the side of No. 5 gate of Shanghai gymnasium of Xuhui District, the bus to Jiashan County will start on time at 09:00 am in every Saturday and Sunday.
Note: There are buses from Jiashan County to Xitang about every 10 minutes and the whole journey will take you about 30 minutes.

Special Travel Bus Line:
In Shanghai, you can wait in the Travel Collecting and Distributing Center of Shanghai (address: under the No. 5 escalator of Shanghai Stadium (waiting hall of traveling route)). Here the bus will deliver at 08:35 am (every day, including the guide service) and return at 16:30 pm or it will deliver at 09:00 am (only weekend, excluding the guide service) and return at 16:00 pm.

Address:Jiashan County in Jiaxing City, Zhejiang Province