Dragon boat marked by traditional festivity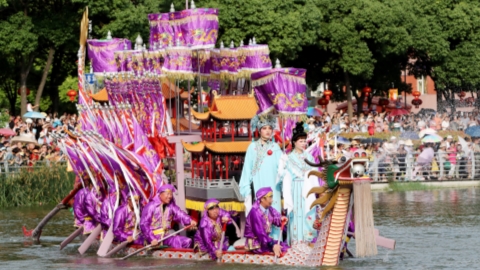 Xinhua
Rowers and other participants in traditional costume take part in a dragon boat performance on the Meilan Lake in Luodian Town in Shanghai's Baoshan District yesterday.
Shanghai joined the rest of the country in celebrating the Dragon Boat Festival with traditional cultural performances and events during the past three days.
Four colorful dragon boats, listed as national intangible heritage and dating back to early Ming Dynasty (1368-1644) period, were on display at the artificially built Meilan Lake in Luodian Town in the city's Baoshan District.
More than 10,000 visitors attended the annual Luodian Dragon Boat Culture Festival, which was part of the celebrations in the ancient towns in the Yangtze River Delta region.
With performers dressed in traditional costumes, a traditional ceremony was held before a boat race to ward off "evil" in the town.
"The annual festival aims to promote and protect local culture," said Zhou Qi, director of Luodian's community culture activity center.
The Luodian dragon boats were decorated with colorful flags with musicians sitting in the middle of the boat and playing instruments.
The boats are unique in appearance with flat bottoms to handle the narrow, shallow river waters. Painted white, blue, yellow and purple, they are about 12 meters long, wide in the middle yet with very narrow fore and aft.
The dragon boats have been a part of the Luodian life for centuries. It was used initially as a means of transport in the watertown, and later became part of popular traditional culture, Zhou said.
It was listed as a national heritage in 2008.
The township government has also been making efforts to preserve the dragon boat making techniques.
Zhang Guozhong has been making the boats since 1992. Along with his father, they have made eight dragon boats. Four of their creations were displayed during the festival.
"The boats are extremely complicated to make. The painting process alone takes nearly a month," said Zhang. He is teaching the skills of dragon boat making to young carpenters in the town.
Apart from the dragon boat ceremony, over a dozen traditional skills — from cooking, painting, paper-cutting, weaving — were highlighted by the masters at the festival.
Many of these district-level skills — part of city's heritage — were developed over a century ago by local villagers.
Visitors were invited to try out local pastry named Tianhua Yulu, or Sky Flower and Jade Dewdrop. The process of making the pastry was nearly lost but has been revived by old masters of the town.
Other popular cultural heritage on display included the making of Sixi, or Four Happiness Cake, in Luojing Town, bamboo basket weaving in Yuepu Town as well as cloth painting and paper-cutting in Gaojing Town.
Elsewhere in the country, two dragon boats paddled through a paddy field to the beat of drums, racing 100 meters before reaching the finish line. They were part of the celebrations in northeast China's Liaoning Province.
The dragon boat race was held by members of the local Xibe ethnic group.
"Paddling in the mud consumes more energy than in the waters. It's tiring but also very interesting," one of the participants said.
Liu Chunli, researcher with a Shenyang-based institute on the Xibe ethnic group, said that Xibe people pick a handful of young crops during a ceremony and hang a ball-shaped bundle of red ribbons on the dragon's head, praying for a good harvest. The athletes are either local villagers or tourists.
"I've seen lots of dragon boat races on the river or lake, but it was the first time I was seeing boats on the mud," said Zhang Yun, a tourist from Shenyang.
Chinese got a three-day break from work for the festival, and many like Zhang chose to travel.
It put pressure on transport infrastructure. China was expected to see 47 million trips made by rail from Friday to yesterday, said state-owned railway operator China Railway. Daily trips were expected to hit 11.75 million, a year-on-year increase of 7.8 percent.
Cities such as Beijing, Dalian, Qingdao, Hangzhou and Xiamen were among the most popular destinations and departure locations, the company said.
On the first day of the holiday alone, 26 tourist attractions in central China's Hubei Province received more than 540,000 visitors and earned revenue of 36 million yuan (US$5.6 million) in tickets, up 10.8 percent and 10.2 percent, respectively, year on year.
Various activities ranging from knowledge contests, zongzi making competitions to temple fairs were being held across the country. Traditions such as eating zongzi, glutinous rice dumplings with various fillings wrapped in bamboo or reed leaves, are observed during the holiday.
Zhou Fang, a resident in Wuhan, Hubei Province, bought two boxes of zongzi online. "In the past, I had to wait in a long queue at the store to buy them. Now, I just tap my phone and they are delivered to my door," said Zhou.
The Dragon Boat Festival commemorates the death of Qu Yuan (340-278 BC), a well-known Chinese poet and minister of the State of Chu during the Warring States Period (475-221 BC).
Yesterday, China Post held a ceremony in Hubei's Zigui County to mark the issuing of a set of stamps commemorating Qu. The set of two stamps, together with a sheetlet, has a total face value of 8.40 yuan.