Shanghai Duolun Road Cultural Celebrities Street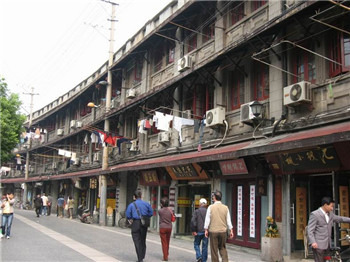 Overview of Shanghai Duolun Road Cultural Celebrities Street
"Find the last 100 years of Shanghai history on Duo Lun Road" is a saying among local Shanghai people. Duo Lun Road is a very short and small road. The whole length is only 550 meters but it definitely takes a long time to walk the whole street. Duo Lun Road had been a famous road in the beginning of last century when China was seeing the greatest changes that had happened in the last two thousand years. Quite a few great minds stayed on the Duo Lun Road in the 20's and 30's of the 20th century and a lot of books and articles that affected China much were written on this road. There are many sculptures of these great minds on the street such as Lu Xun(鲁迅), Mao Dun(茅盾), Ye Sheng Tao(叶圣陶), etc.
The villas which line this pedestrianized road are attractive examples of the Chinese and International architecture styles of this former American concession area. Today the road is home to a fascinating selection of art and antique shops as well as the more usual souvenirs stalls selling Chinese curios and collectibles. Duolun Road was once a popular haunt of many eminent figures from Shanghai's past. Life size bronze figures of some of the road's former patrons are poised at intervals around the beautifully paved road and add some extra historical perspective.

Many famous left-wing writers including LuXun, Qu Qiubai, Guo Moruo and Mao Dun had met here to engage in revolutionary activities in 1930's. The life-like copper statues at street side vividly depict the unique features of the literati and a tour of their former residences helps to learn about their stories in the old days. Duolun Lu is also called "An Outdoor Museum on Shanghai style Architecture" represented by famous Hong De Church and multi-featured residences of Kong XiangXi, Bai ChongXi and Tang Enbo. Besides, People may linger in the halls of collections inducing those of newspapers, porcelain wares, book, currencies, bizarre rocks, chopsticks, jade wares, SuZhou embroidery, etc.

With its archaic sights and elegant cultural atmosphere, Duolun Road has become one of the top tourist attractions in Shanghai. It is considered a must-see in the Shanghai trip.
History of Shanghai Duolun Road Cultural Celebrities Street
Duolun Road was built by the Municipal Committee of Shanghai, which was at that time the construction administration of the Shanghai International Settlement. However the road was located outside the international settlement. Such events often happened in the semi-colonized Shanghai, which was called "constructing the roads beyond the settlement area". At that time, the road was named Darroch after a British missionary, who went to China and met with the emperor Guangxu of Qing Dynasty. It was in 1920s and 1930s when the road met its golden time. A lot of writers and social elites lived there, which made the area vibrant with thoughts and literature. Not until 1943, was the road changed to the name "Duolun" used today, by the government of the Republic of China (1912-1949). In the end of the 20th century, the road was turned into a pedestrian street for its cultural influence and commercial potential by the government of the People's Republic of China (1949-). Duolun Road is no doubt a historic road which witnessed the modernization of Shanghai.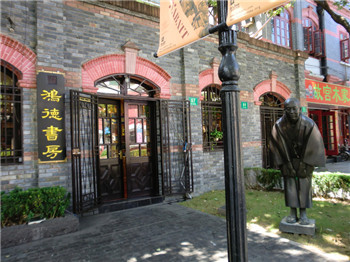 Masterpieces of Buildings, Literary Remains of Former Residences

Hongde Tang Church
Located in No.59, Duolun Road. Build in 1928 in memory of Jones Fiels (transliteration), and American missionary. It is a building of church of Christianity in the form of Chinese temple, a building of the kind hardly seen in our country. Now it is included in the?"Protected Buildings in Shanghai".
Kong Residence
Now it's No.250, Duolun Road. Formerly it was private residence of Kong Xiangxi, built in 1924. It's of brick-wood and mixture structure and of Islamic building style. In 1989, it was ranged in the line of "Excellent Modern Buildings of Shanghai City".
Bai Residence
Now it's No.210, Duolun Road, of the same style as Tang Residence. After the Anti-Japanese War it became Bai Chongxi's private residence, and thus called "Bai Residence"
Museum of the Left-wing Authors Alien
On March 2, 1930, the Inaugural Meeting of the Left-wing Authors Alien was held in No.2, Lane 201, Duolun Road. It's sign of the flourishing development of the Left-wing Cultural Movement with Lu Xun as its standard-bearer. The meeting wrote a brilliant page in the history of Chinese revolution and in the history of modern literature.
Tang Residence
Now it's No.35, Lane 2023, Sichuanbei Road, Built in 1920s. It is a building in French fashion and of New Classicism style with a graceful appearance and a vast manner. After the Anti-Japanese War it became Tang Enbo's residence. Besides, Chen Yi, the first appointed Head Officer of Taiwan, once livd here.
Jinyun Lane
Now it's Lane 35, Hengbang Road. In the lane are Shikumen houses of brick-wood structure, built in 1925. In 1920s and 1930s, a lot of famous cultrual persons such as Lu Xun, Chen Wangdao, Mao Dun, Ye Shentao, Feng Xuefeng, Zhou Jianren and Roushi dwelt in the lane and were engaged in works of writing, of editing magazines and of leading and organizing revolutionary literary activities. It is called as famous historical and cultural lane.
How to go to Shanghai Duolun Road Cultural Celebrities Street
Though most listings will tell you to take a bus directly to Duolun Rd. (No. 21, 939, 231, 47, 854, 79, 18), the nicest way to go is actually by subway. If you take Metro Line 3 (yellow) and get off at Dongbaoxing Rd., it's only a 5-10 minute walk to the entrance to Duolun Rd. at Sichuan Bei Lu and is a pleasant way to see some of the authentic residential backstreets of Shanghai.
Use Exit 1 and go right, following Hailun Xi Lu west to Sichuan Bei Lu, where you'll turn left. You'll know you've reached Duolun Rd., again on the left, by the large historic stone gate that marks the entrance to the street.
Information
Admission Fee: free
Opening Time: 24hours