Day 1. Huangshan
Place&Transport: Huangshan (Yellow Moutain)
Today's Activities: Mt. Huangshan,Beginning-to-believe Peak,Brush Pen Peak,Bright Summit,Flying-over Rock and Cloud-dispelling Pavilion
Accommondation: NO
Meal: NO
Meet in Huangshan downtown hotel (or Railway Station, Bus Station), you will be driven to Huangshan Mountain (1 hour). Upon your arrival, take the cable car to the top of the mountain.

You will visit Beginning-to-believe Peak, where you can find many ancient pine trees. The beginning-to-Believe Peak, 1668 meters above the sea level, is the fifteenth of the thirty-six minor peaks of Mount Huangshan. Its fancy name comes from this story. Many years ago someone wandered to this place on his way back from the Cloud Valley Temple and was immediately stunned by its unworldly landscape. He then improvised a couplet: "Inexplicable, unbelievable; admirable, no idea until arrival" The peak has many bizarre-shaped pines. As a saying goes, "One wont see the best of the Mount Huangshan pines until they come to the Begin-to-Believe Peak".
Followed by a tour to the Brush Pen Peak. After lunch, pay a visit to Bright Summit, the second highest on the mountain and see Flying-over Rock and Cloud-dispelling Pavilion.

To the northwest of Brightness Summit lies the famous Rock from the sky, or the Peach of Immortality Rock when it is seen from the Unity Pine. This monolith, 12 meters high, 7.5 meters wide, 1.5-2.5 meters thick and 350 tons in weight, was erected hazardously on a flat-headed cliff, which is 12-15 meters long and 8-10 meters wide at the top. Only nature had the power to do this. So locals have passed down this story: When Nuwa(goddess who patched up the sky and created human beings) smelted the ores to patch up the sky, two were left behind. One turned into the jade that Jia Baoyu (leading character in the classic A Dream of Red Mansions) had in his mouth at birth; and the other became the Rock from the Sky. The opposite Twin Scissors and Twin Bamboo Shoots peaks consititute a marvelous lanscape.
After the tour, take a cable car down the mountain. Back to downtown hotel or transfer to Huangshan Airport (or Railway Station). End of tour.
Mt.Huangshan is one of the most famous and beautiful mountains in China. It is said that if you have visited Mt.Huangshan, then you don't have to visit other mountains. So to speak, Mt. Huangshan has almost all the unique features that a mountain could have. The steep cliffs, dense pine trees, stones of odd shapes, amazing cloud sea, high peaks, deep valleys and hot springs describe the secret workings of nature.
Note: It is advised that you take a light backpack when climbing the mountain. You will need to take your pack with you before check in on the mountain. You may leave your luggage at the hotel in downtown and get it back after the tour(usually free of charge). Our tour guide may also help you to store at the foot of the mountain(usually CNY20).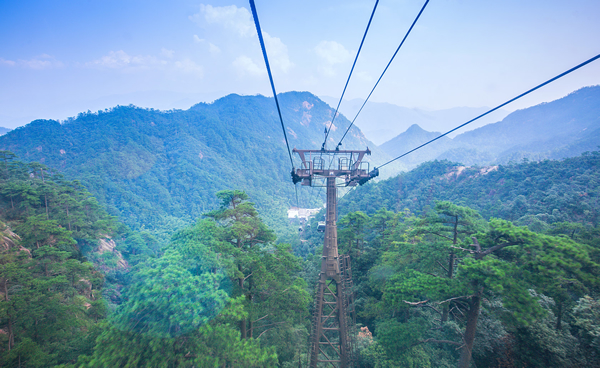 Yungu Cable Car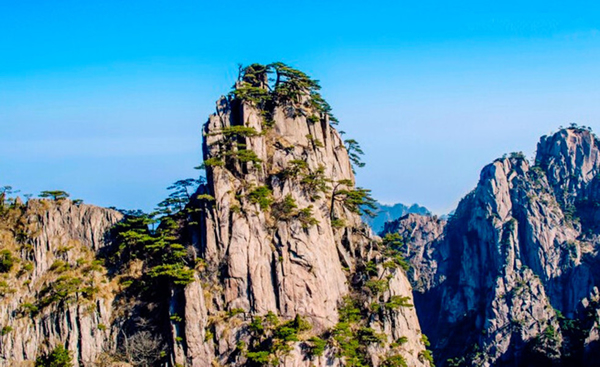 Beginning to Believe Peak
Price Per Person in US Dollars