Nanjing Road
Introduction
Nanjing Road is the world's longest shopping district, around 6 km long, and attracts over 1 million visitors daily.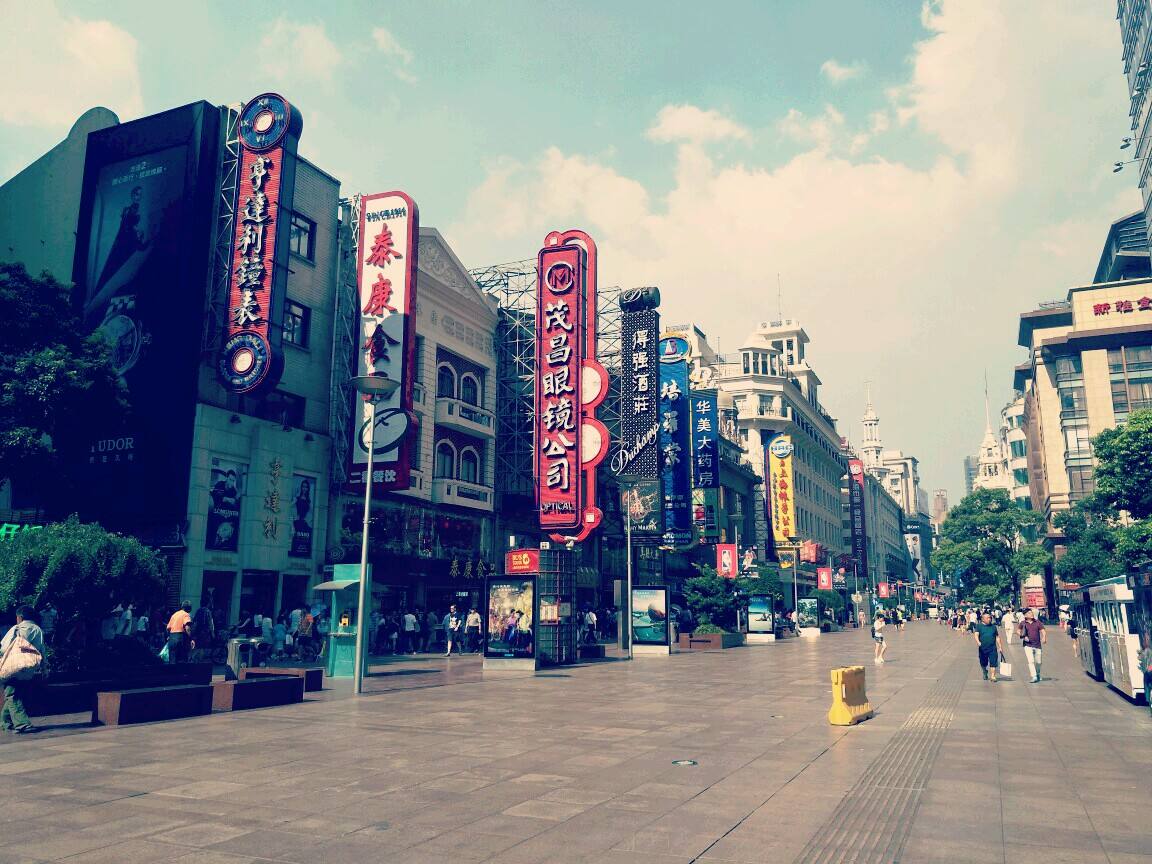 East Nanjing Road
East Nanjing Road is a dedicated commercial zone in Shanghai. At its eastern end is the central section of the Bund, featuring the Peace Hotel. Immediately west of the Bund precinct was traditionally the hub of European-style restaurants and cafes, although in recent years these have become less of a feature as the demographics of visitors to Nanjing Road have shifted from affluent local residents to visitors from around the country. Further west is the Nanjing Road pedestrian mall. Along the Nanjing Road, you can find a plenty of Shanghai's oldest and largest department stores, as well as a variety of domestic retail outlets, and some traditional eateries with a long history.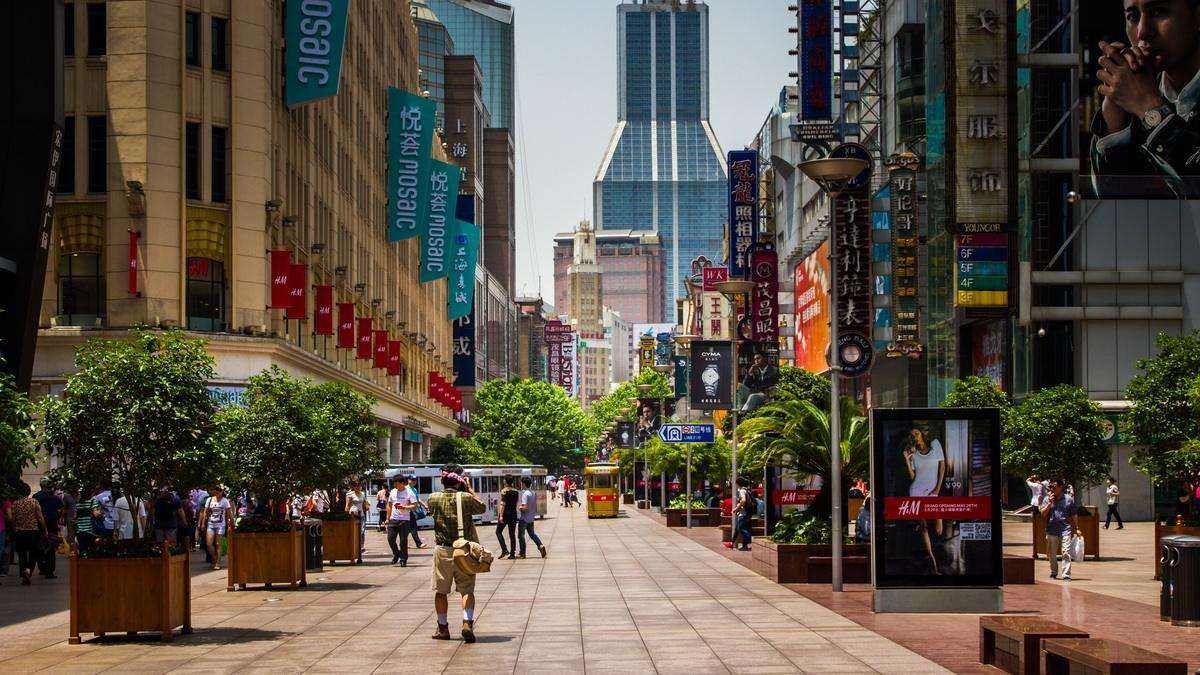 Nanjing Road West
The pedestrian mall, and East Nanjing Road, ends at People's Park, formerly the Shanghai Race Course. Opposite the park are some of Shanghai's prestigious historic hotels, including Park Hotel. West Nanjing Road begins here, and features a number of upmarket malls, office buildings, the Shanghai Exhibition Centre, and shops. This area also previously featured a number of large mansions and estates, most of which are today either demolished or used by the government.
The opening hours of most stores are from about 10:00 to 22:00. You can pay in cash or by credit cards including Chinese cards issued by China UnionPay and some foreign cards such as Visa, MasterCard and American Express.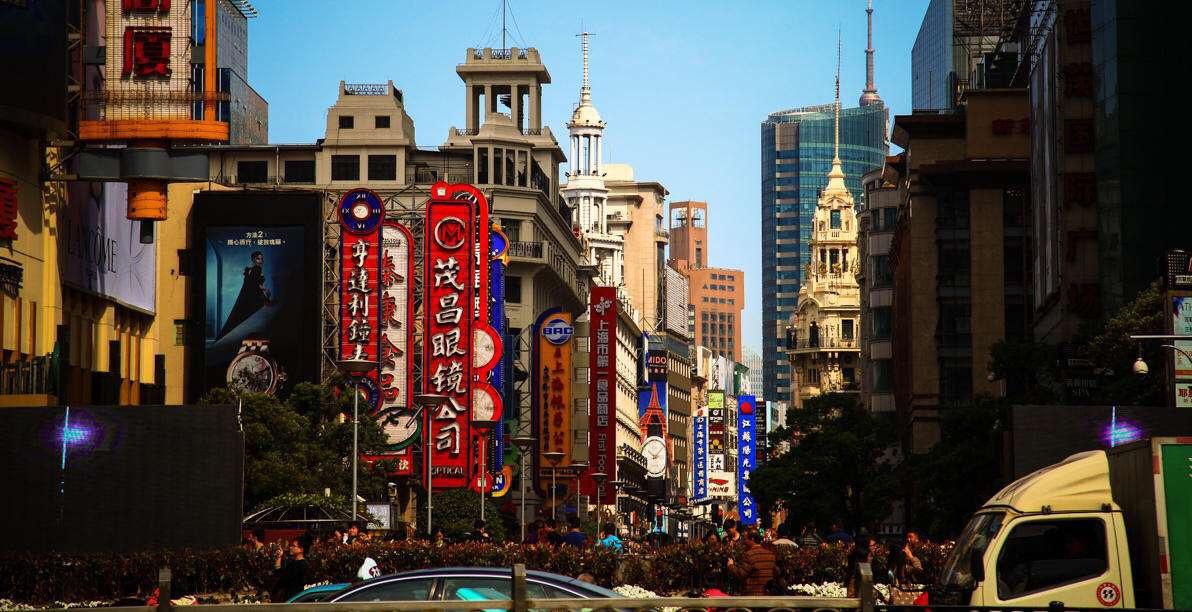 History of the Nanjing Road
After the first Opium War (1840-1842), Shanghai became a treaty port. The present Nanjing Road was first the British Concession, and then an international settlement. Started from vendors, the road became the earliest shopping street in the city with imported large quantities of foreign goods. To cater for the increasing recreational requirements of foreigners, the street was constantly expanded with department stores, restaurants, shops, and hotels. Over time, the road was restructured and underwent significant changes, and today, modern shopping malls, theatres, specialty stores, cafes and international hotels have flourished on the street.
Shopping in Nanjing Road
A traffic free zone, Nanjing East Road stretches from People's Square to the Bund Waterfront. This street is usually overcrowded, especially late in the afternoon and during weekends. Shops, malls, restaurants and cafés attract locals and visitors alike.
The western section of Nanjing Road is reputed as a famous luxurious shopping center and has many high end boutiques catering for those with money to spend. Prices in these shops are not much different than in shops in Europe or America. If you want to get good deals, look for small shops in the adjacent streets, where you can find real bargains.
Nanjing Road Pedestrian Street, the car-free central section between People's Park and Henan Zhonglu, is known for its stationery and book stores. One of the largest is the Shanghai Book City which is all Chinese language, or the the Foreign Book Store just down the street which caters to Western tastes.
Review & Tips
Walking on the Nanjing Street, do not forget to see the four ancient famous companies, Daxin Company, Yong'an Company, Xianshi Company, and Xinxin Company.
The road also offers things for the not quite so wealthy such as exquisite porcelains, beautiful art supplies that are as beautiful as the artworks they are capable of creating, knick knacks, fast food, and fine dining.
Take care of your belongings.

Information
Chinese name: 南京路 (Nan Jing Lu)
Location: in the city center starts at the Bund in the east and ends in the west at the junction of Jing'an Temple and Yan'an West Road, neighboring People's Square and spanning two districts of Jing'an and Huangpu.
Length: 5.5km for an overall length; 1599m for Nanjing East Road, 1033m of which is the pedestrian street; and 2933m for Nanjing West Road.
Admission Fee: free
Opening time: all day long(Most shops are open from 10am to 9pm (10pm on weekends)
Transportation
Bus Routes:
East Nanjing Road: 37, 65, 66, 108, 123, 135, 220, 251, 305, 306, 307, 314, 317, 330, 868, 910, 928, 929, 940, Tourist Bus Line 8
Subway Line 2 and get off at East Nanjing Rd. Station.
West Nanjing Road: 36, 57, 76, 128, 148, 206, 304, 323, 451, 738 or Subway Line 2 and get off at West Nanjing Road Station.
Tour Nanjing Road with Shanghai Private Tour
We will provide a private & spacious car and a local professional tour guide with over 5 years guiding experience only work for you or your group. You will be escorted during your tour. Transport, ticket, and dining (At some local restaurants popular with locals) all we will arrange for you according your requirements. Please check our most popular Shanghai Tours including Nanjing Road as below:


Are the above sample tour programs not suitable for you? We have more Shanghai tours. Our tours can be tailor-made based on your requirements and budget to create unique Shanghai experiences that allow you to interact with the local people and culture. Our enthusiastic tour expert will promptly reply you in details within 24 hours.