Tour Itinerary
Place&Transport: Shanghai
Today's Activities: The hangzhou Westlake(includingThree Ponds Mirroring the Moon), Fish Viewing at the Flower Pond, Guo Garden, Drangon Well Tea Plantation, Bamboo lined path at Yunqi
Accommondation: N/A
Meal: No Meal
Our Shanghai driver will pick you up at your hotel lobby holding with a welcome sign" Hangzhou Private Tour", then transfer from Shanghai to Hangzhou, upon arrival our Hangzhou tour guide will meet you at the designal place and starts the Hangzhou day tour as below:

Our pick up sign" Hangzhou Private Tour"
First, with your personal tour guide, you will take a West lake boat cruise to explore the famous Hangzhou West Lake-which is one of world UNESCO Sites. West Lake Cruise West Lake is just like an ancient traditional Chinese painting inviting you to step in. Cruising West Lake leisurely, not only enables you to enjoy the beautiful view of West Lake from a difference angle, but also help you fully sense the feelings of ancient Chinese and get a glimpse of modern Hangzhounese.
After that, visit the Fish Viewing at the Flower Pond(Huagang Park). This gorgeous site is located in Huagang (Flower Pond) Park, which lies between Western Hill and Su Causeway. According to local history, there used to be a tiny creek that flowed from the nearby Flower Hill into West Lake, hence the name Flower Pond. Huagang Park used to be a private garden of Lu Yunsheng (a palace eunuch in the Southern Song Dynasty). The garden's fame rose in the Qing Dynasty when Emperor Kangxi personally wrote an inscription of the garden's name for engraving on a stone tablet erected by the fish pond.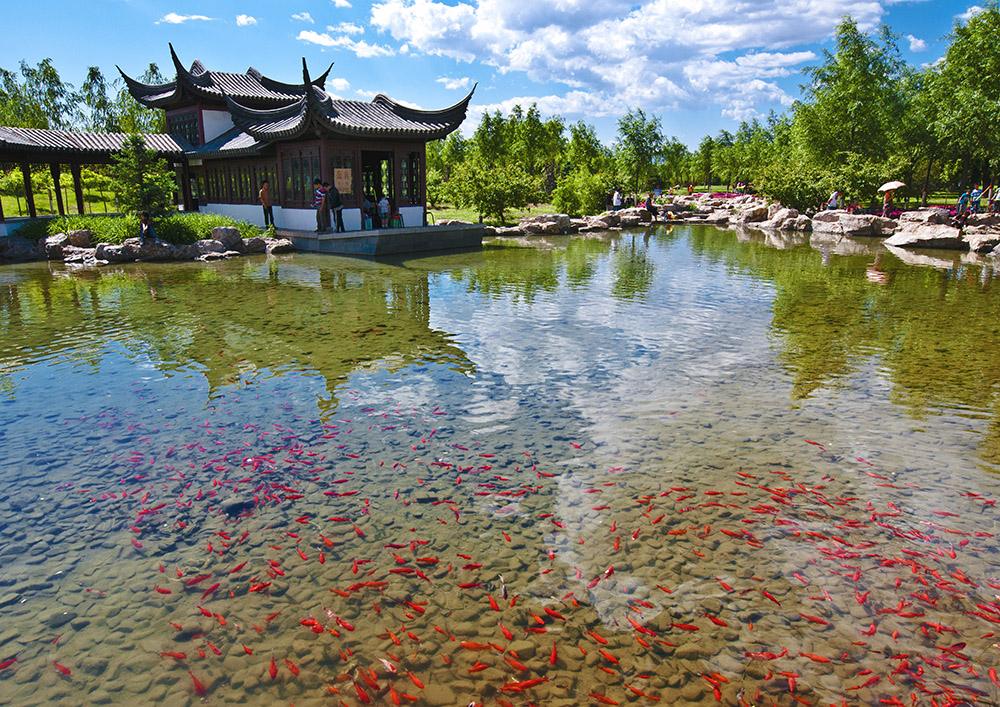 Later, drive to the Guo's Villa (Guo Zhuang). It is the best existing traditional private residence in Hangzhou, built in late Qing Dynasty. With a mountain in the back and the west lake in the front, the garden is known as "Number One Garden of the West Lake" thanks to its tranquil environment, well-preserved buildings, and tasteful landscaping layout.
After visiting the Guo's villa, drive to a village in the mountain side, our guide will pick a nice place for you for lunch!

Lunch at the local Tea Farmer's House to try the local delicacies

Lunch at the local Tea Farmer's House to try the local delicacies
Have your Lunch at the restaurant popular with the local people to stay away from the tourists' meals.( In china, do not go to the tourists's restaurants when you are on a tour. You shold go to the right place to have the meals, then you are in real china ). We give you the meal options as below:
1) Lunch at Local Tea Farmer's Tea House to know the real life of the local people:And we also can organize tea farmers teach you how to prepare, cook local delicaies if you want to. You can learn how to cook: Beger's Chicken, Westlake carp in vinegar source(Do not be scared, no bones!!! Aha), Lotus root, bamboo shoot...and other many tasty vegetables )
2) At the local restaurants which are popular with local people, such as Grandma's Kitchen, Green Tea Restaurants...And also fancy ones as well, 28 Hubin Road(Top 50 Best in Asia, Jinsha Restaurant in Four Seasons Hotel. We are the local, we are the sources. We know many excellent restaurants even not listed on Lonely Planet and some other travel guides.
After lunch, you can take a short walk in the tea village and taste a cup of real Longjing Green Tea. As an important and the largest production base of Longjing Tea in Hangzhou, Meijiawu Tea Village is the best place for sightseeing, combining farmhouses and tea culture for locals, it is features Quiet, relaxing and refreshing place, full of tea plantation.
After tea testing, move to Bamboo Lined-Path at Yunqi. Located in the southeast side of downtown Hangzhou, next to the Qiantang River. It is 4.5 km away from the West Lake Scenic Spot. The central area of the Hangzhou CBD (total area 3.29 km2) will serve as Hangzhou's future business, political and cultural center. Overall development plans include 650m2 of Grade-A offices, hotels, shopping malls and luxury residences. This place will give you a different impression about Hangzhou and show you the future of Hangzhou.
Drive back to your hotel in Shanghai downtown.
Price Per Person in US Dollars