Day 1. Arrive in Xian
Place&Transport: Xi'an
Today's Activities: Arrive in Xian
Accommondation: Four star hotel in Xi'an
Meal: N/A
Upon arrival, our local Xi'an tour guide will pick you up at the exit of Xi'an airport or Xi'an train station, you will find a welcome signage "Xi'an Private Tour".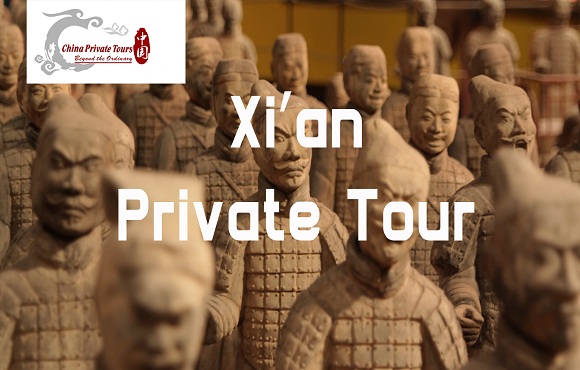 You will be escorted to your hotel directly, and the rest of the day is for you to recover your jetlag.
Day 2. Xi'an Day Tour
Place&Transport: Xi'an
Today's Activities: Terra-cotta Warriors and Horses Museum, Big Wild Goose Pagoda, Tang Dynasty Show, Dumpling Banquet
Accommondation: Four star hotel in Xi'an
Meal: B,L,D
Firstly, drive you to Terra-cotta Warriors and Horses Museum, it known as "the eighth Wonders of the world", the museum shows a surprisingly high level in sculpture which is listed as the most significant discovery of the 20th century. Up to now, there has discovered a total of 179 accompanying burial pits of different connotations and various shapes in Qinshihuang's Mausoleum area. The discovery of these pits has provided all important significance in the research of the burial system of the Qinshihuang's Mausoleum, the characteristics structures and characteristics of the burial pits. However, what makes people feel amazing is that of all the burial pits, none has been found survived from being burnt down.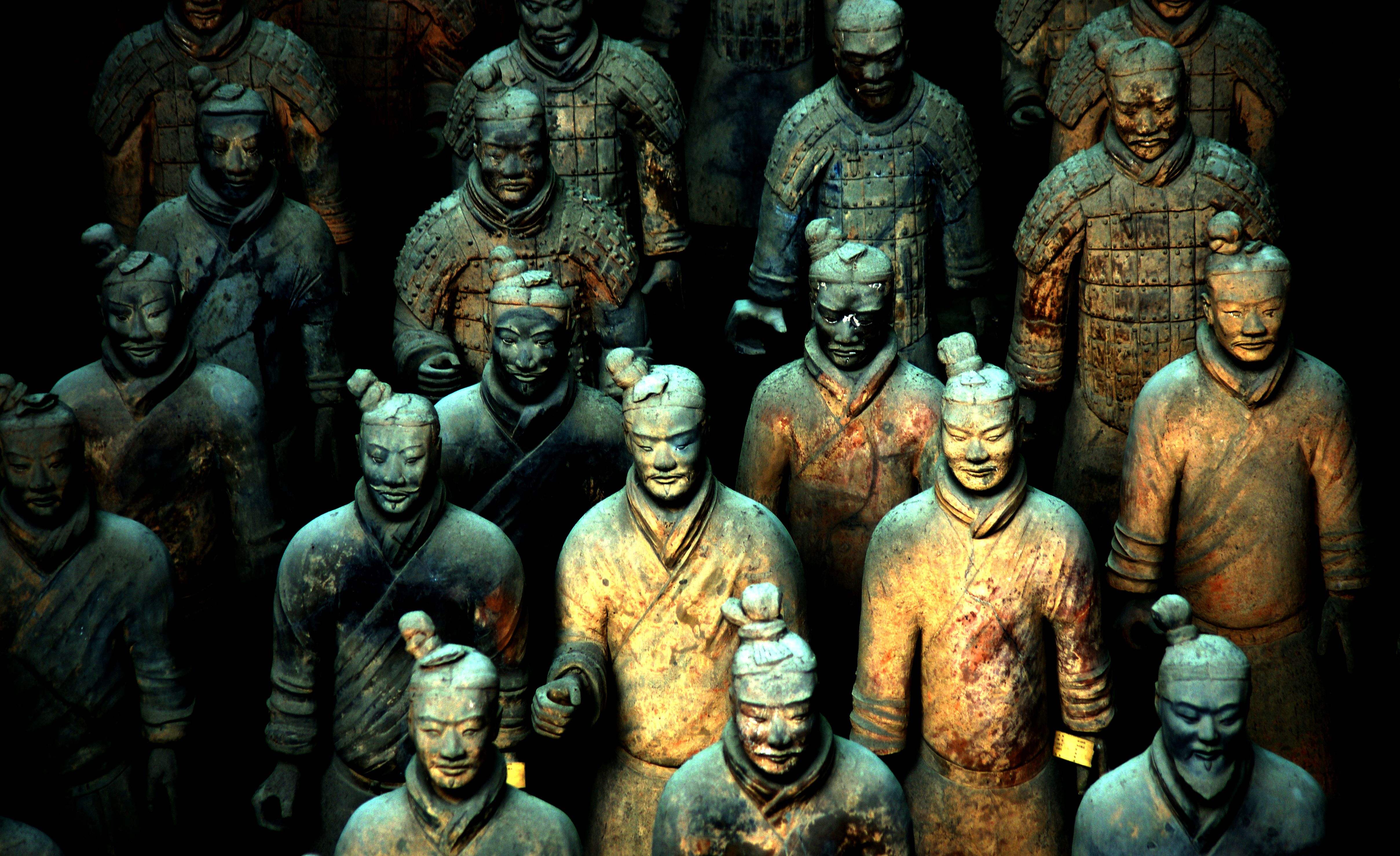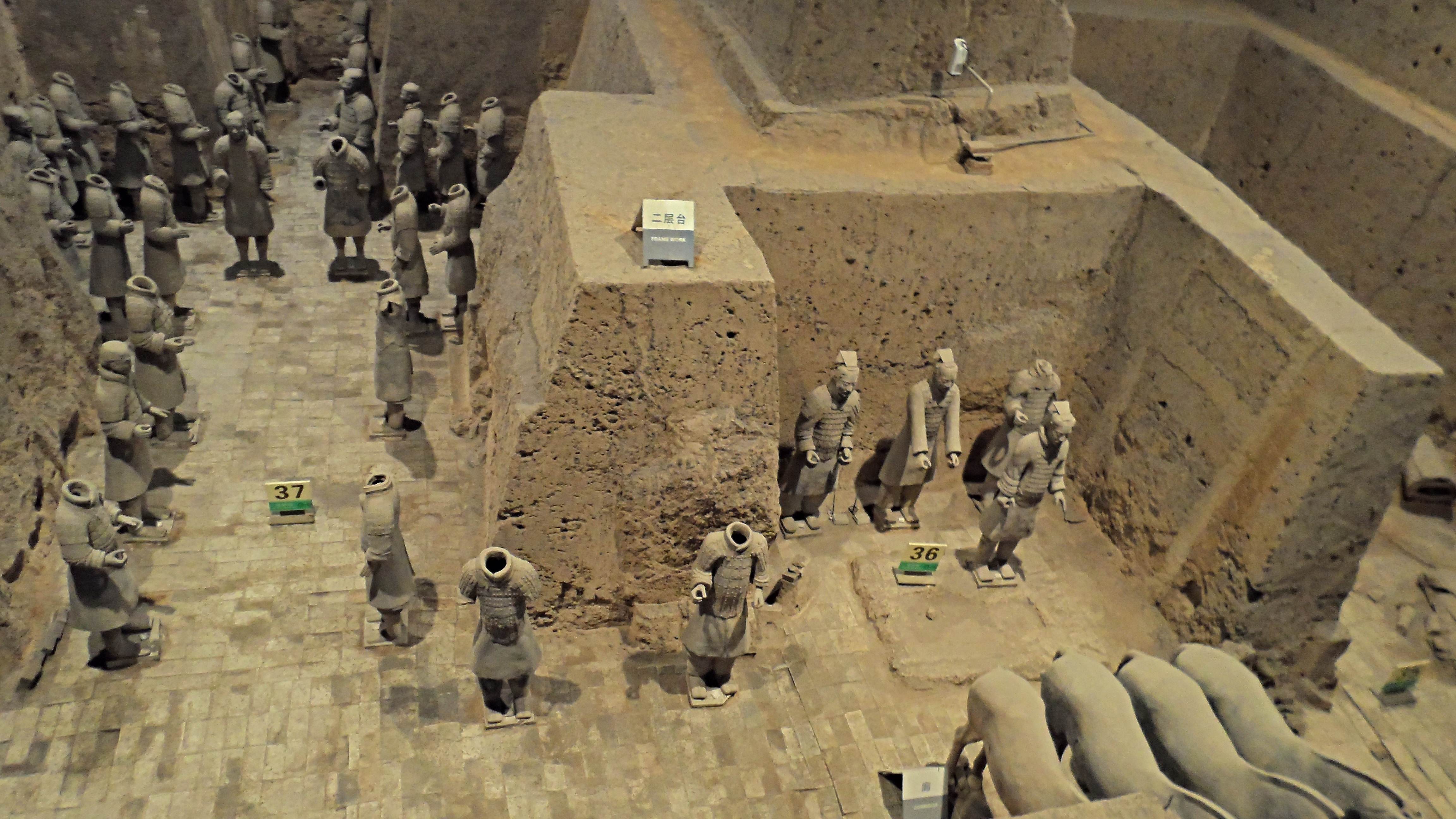 Your lunch is arranged at local restaurant with tasting local cuisine. Such as Liangpi, it is made from rice, this cold noodle dish is a summer favourite through Shaanxi province as well as other places around China. These rice noodles are covered with vinegar, chili, salt, garlic, bean sprouts and small lumps of tofu.Roujiamo,this is the Chinese hamburger. Basically it's a small oven baked bread bun that is sliced open and filled with slowly braised shredded pork and small pieces of fat. I personally prefer to ask for the 'Chun Shou Rou Jia Mo' which is the same thing only this time they use lean meat and it'll probably only cost you about one or two yuan more. Clearly this is one dish you can't buy at Muslim street. It will be a Sample but typical and local.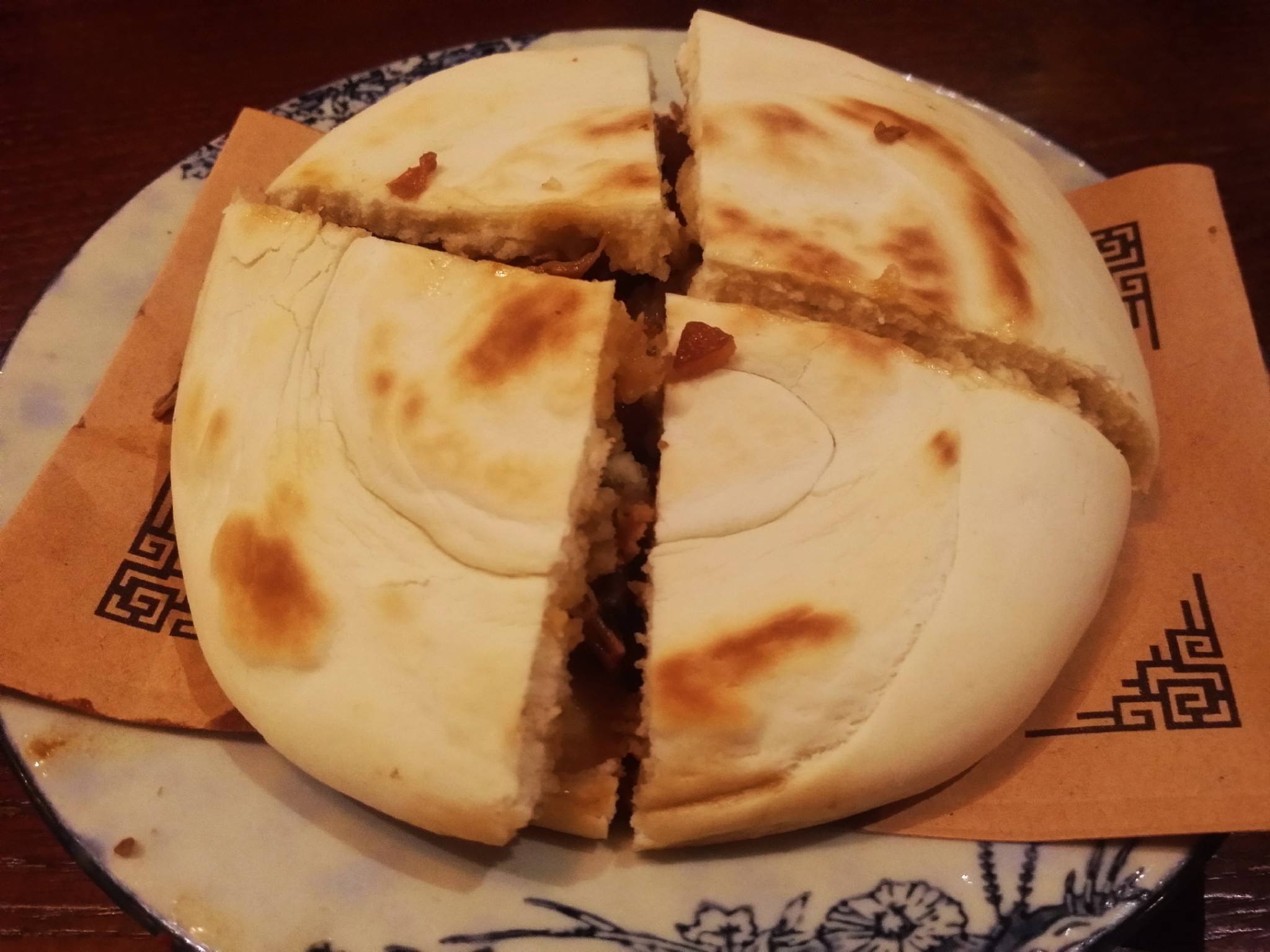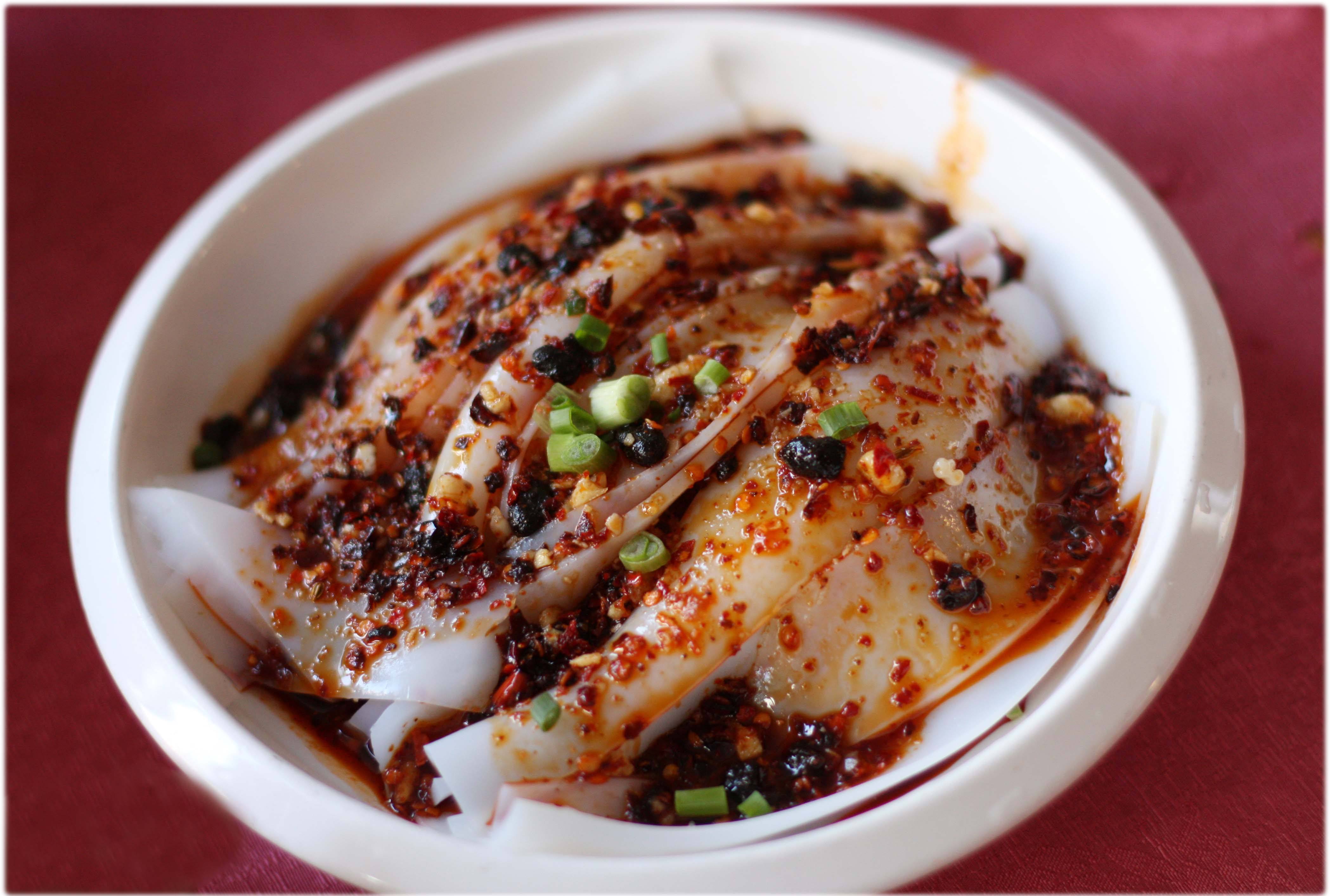 After lunch, you will visit Big Wild Goose Pagoda, also named Giant Wild Goose Pagoda. It is a Buddhist pagoda located in southern Xi'and became the symbol of the old-line Xi'an. It was built in 652 during the Tang dynasty and originally had five stories. The structure was rebuilt in 704 during the reign of Empress Wu Zetian, and its exterior brick facade was renovated during the Ming dynasty. The Big Wild Goose Pagoda attracts numerous visitors for its fame in the Buddhist religion and its simple but appealing style of construction. It is rated as a National Key Cultural Relic Preserve. One of the pagoda's many functions was to hold sutras and figurines of the Buddha that were brought to China from India by the Buddhist translator and traveler Xuanzang.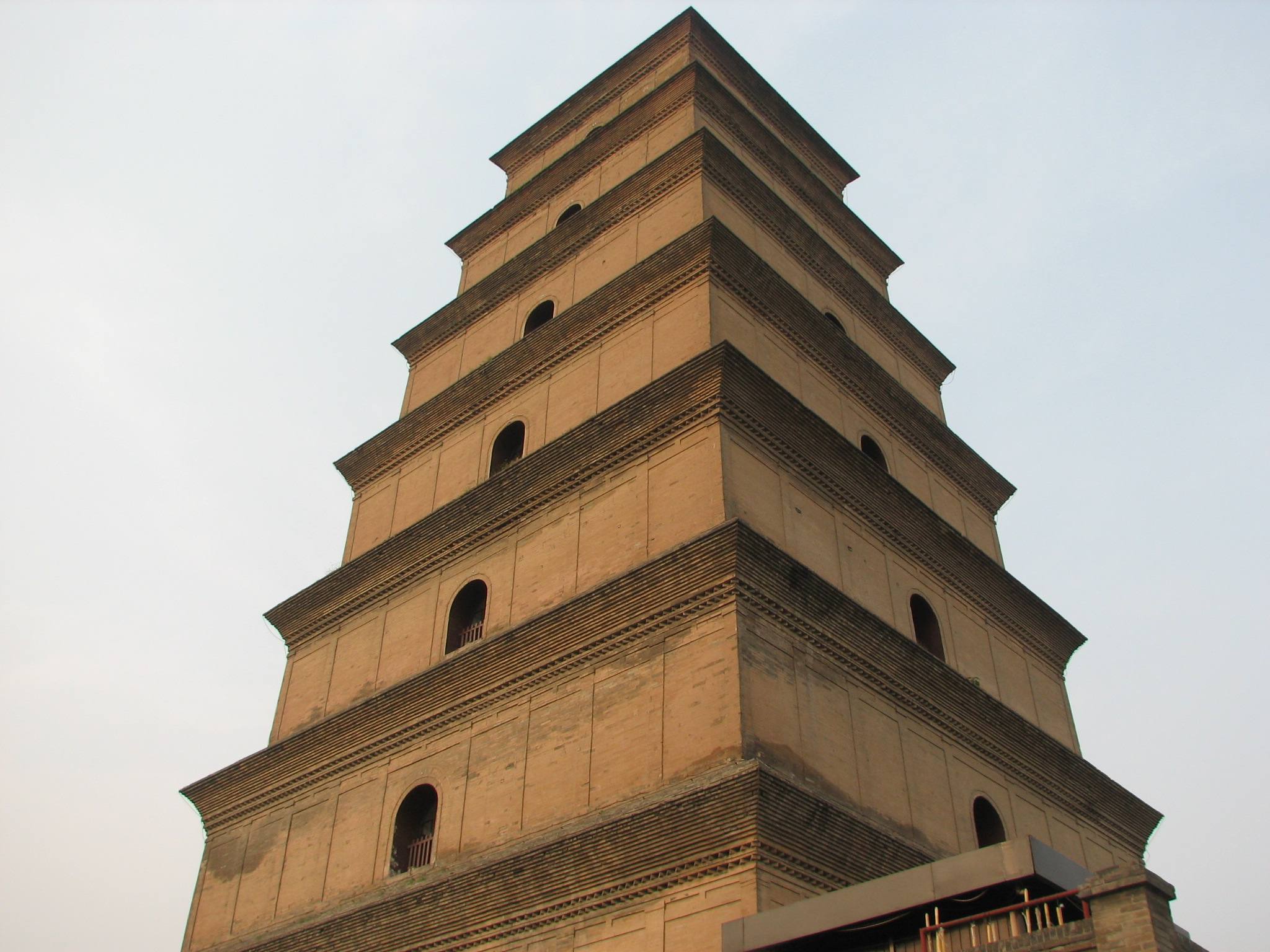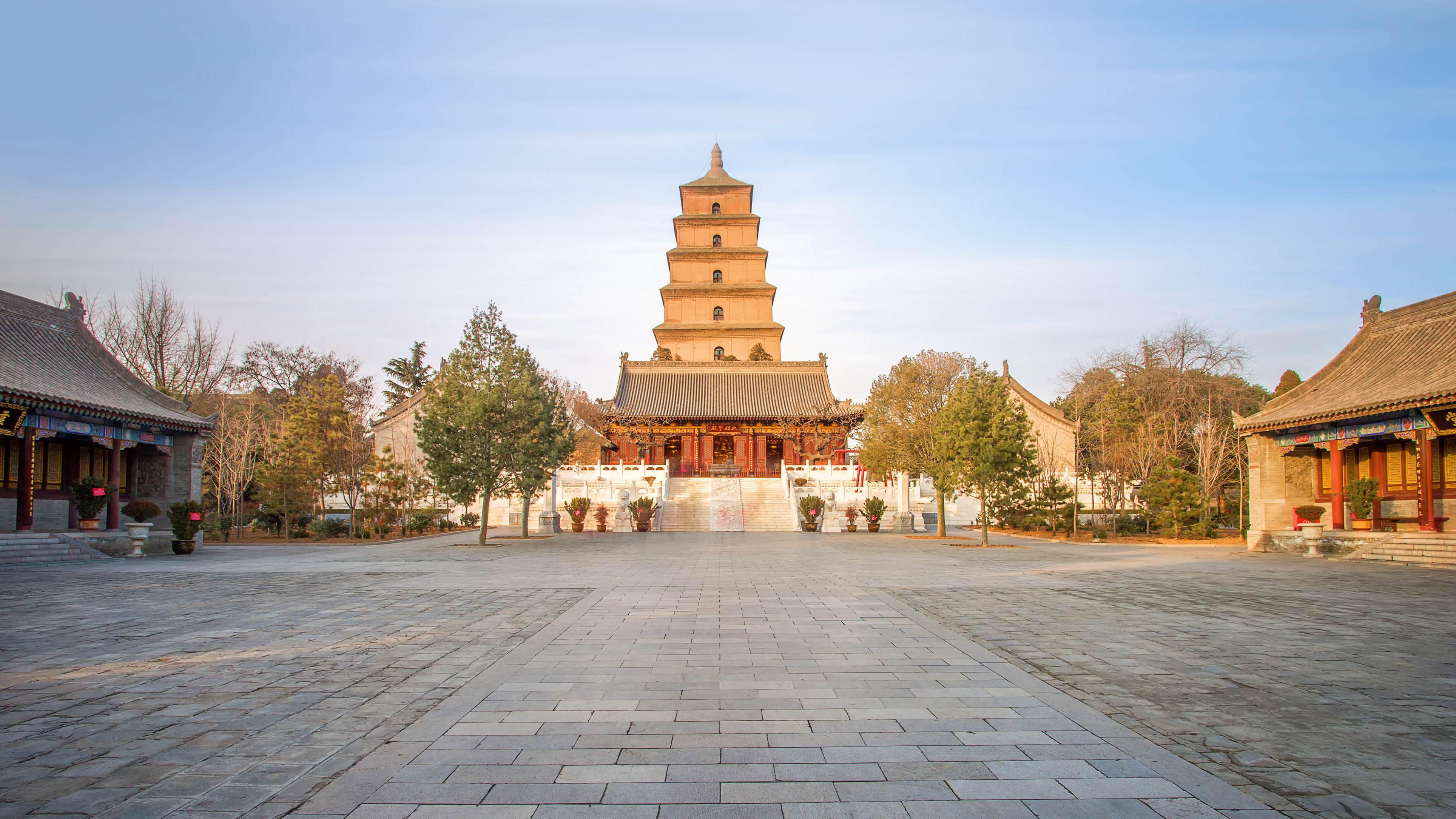 Today,you will have a Xi'an Dumpling Dinner, which is famous in Xi'an. Our guide will lead you to Shaanxi Grand Opera House and help you find your seat for the most famous Xi'an Dumpling Dinner within the Opera House.In Xian, a must for visitors to try is the delicious dumplings. While tasting those dumplings, customers will be astonished by the cooks' smart cooking methods include steaming, boiling, pan-frying, deep frying, and roasting. It seems that all of the indigenous meat and vegetables can be used for the dumplings' stuffing, such as pork, mutton, beef as well as celery, radish, cabbages, etc. Nowadays, by the cooks' continuously improving, the dumpling has been one of the local best foods to entertain visitors from home and abroad..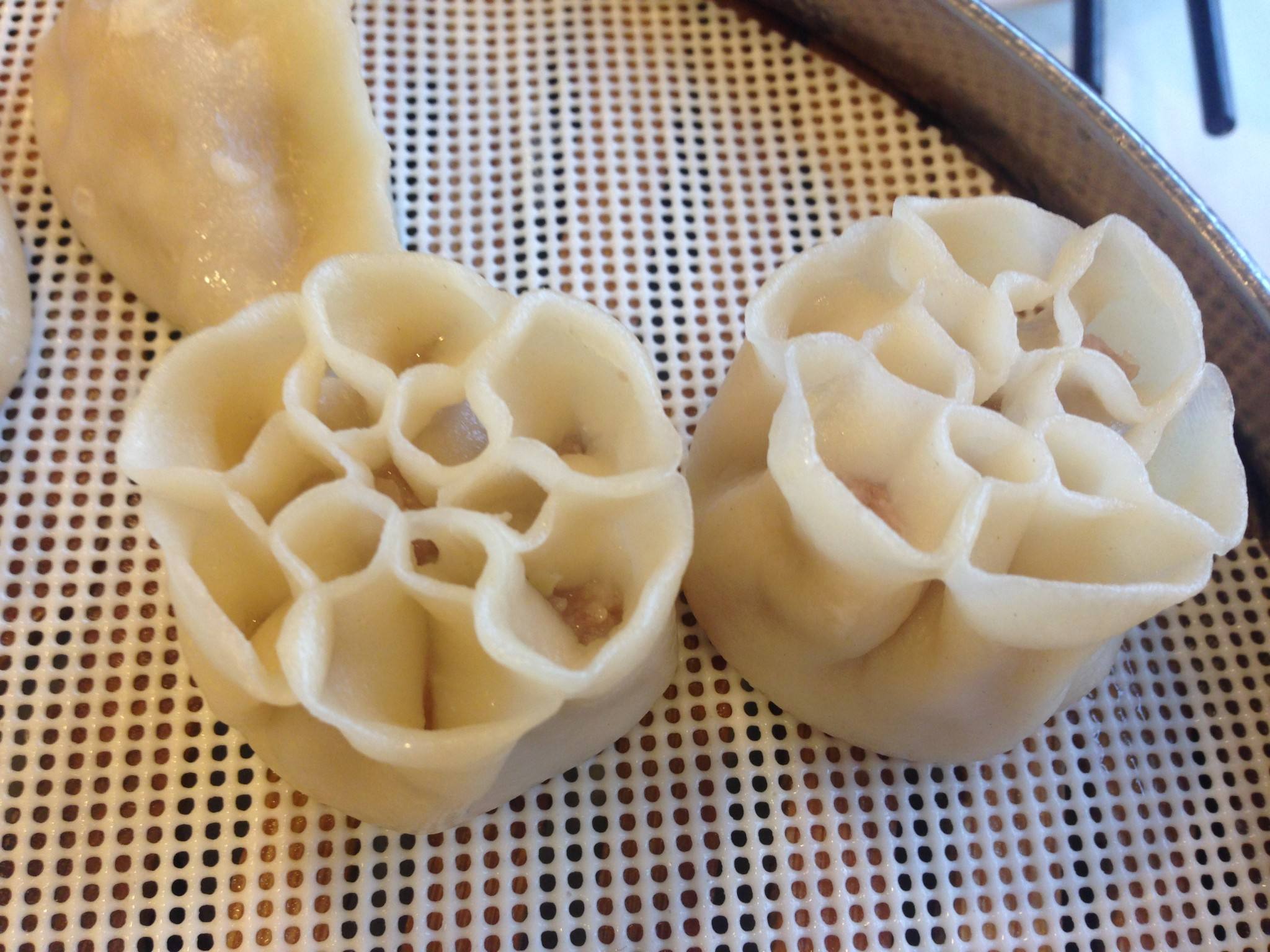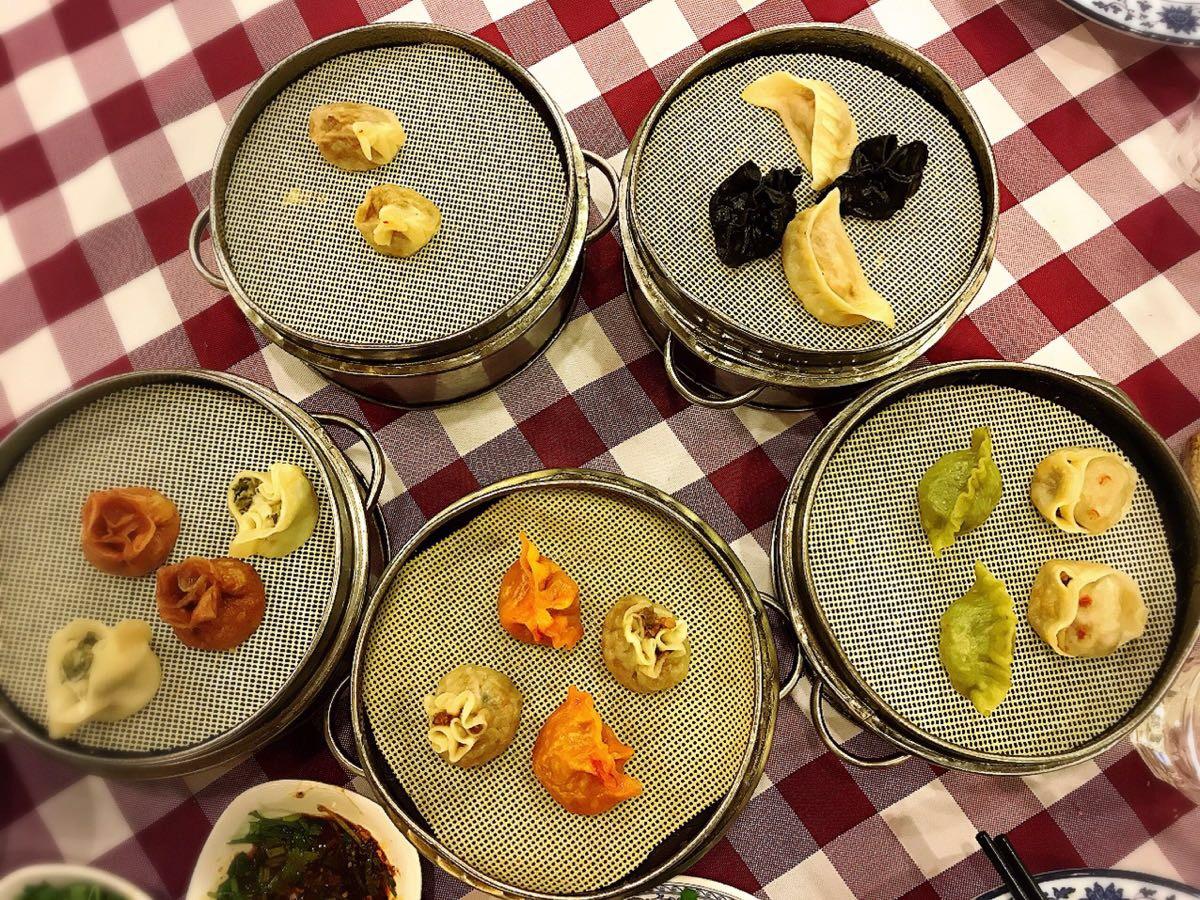 After dinner, you will enjoy the local colorful and splendid Tang Dynasty Dance Show, which is a performance of music and dance that imitate the Tang Dynasty over one thousand-year ago. The Tang Dynasty Music and Dance Show, a wonderful performance of the ancient music and dance, is a must when you visit Xian.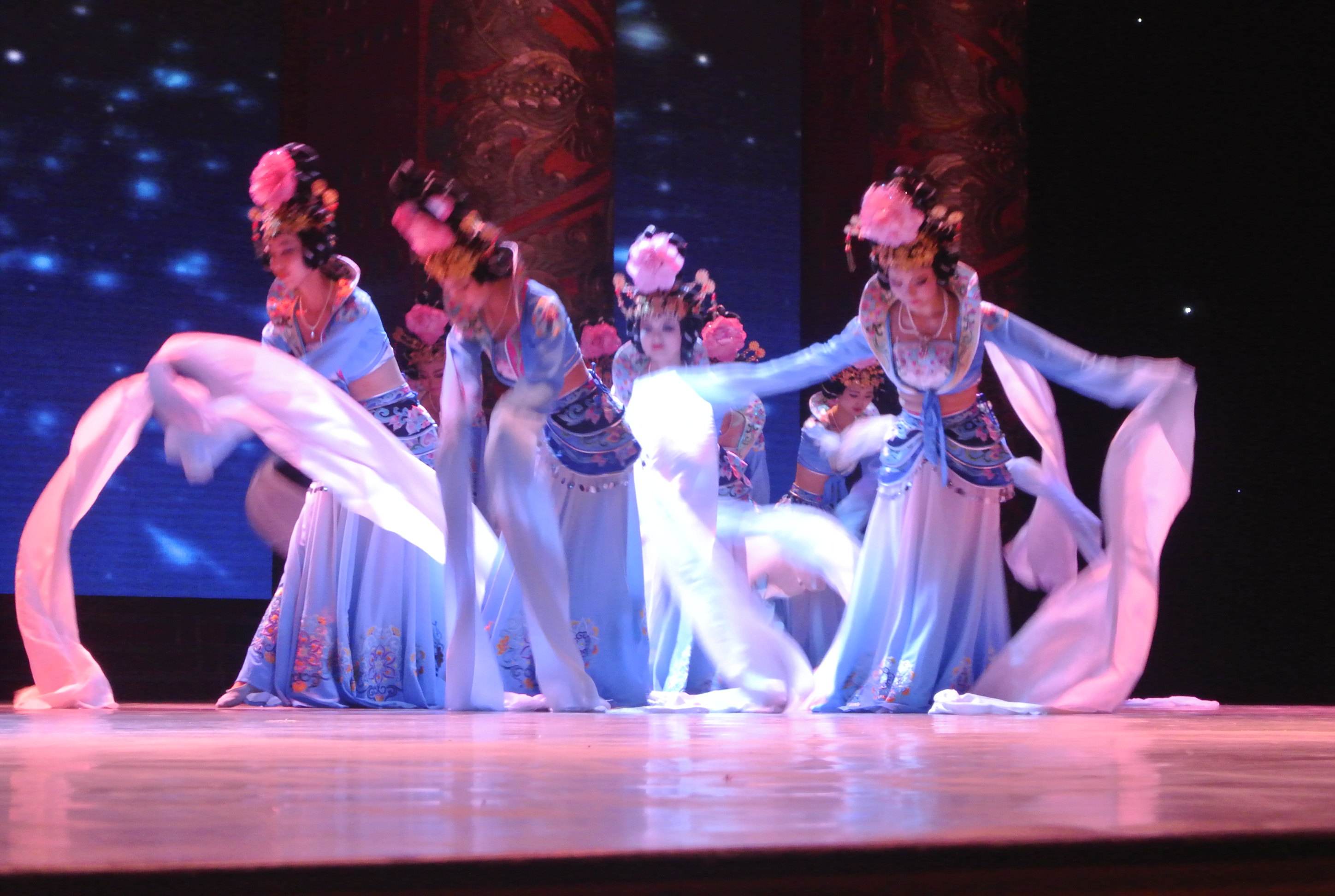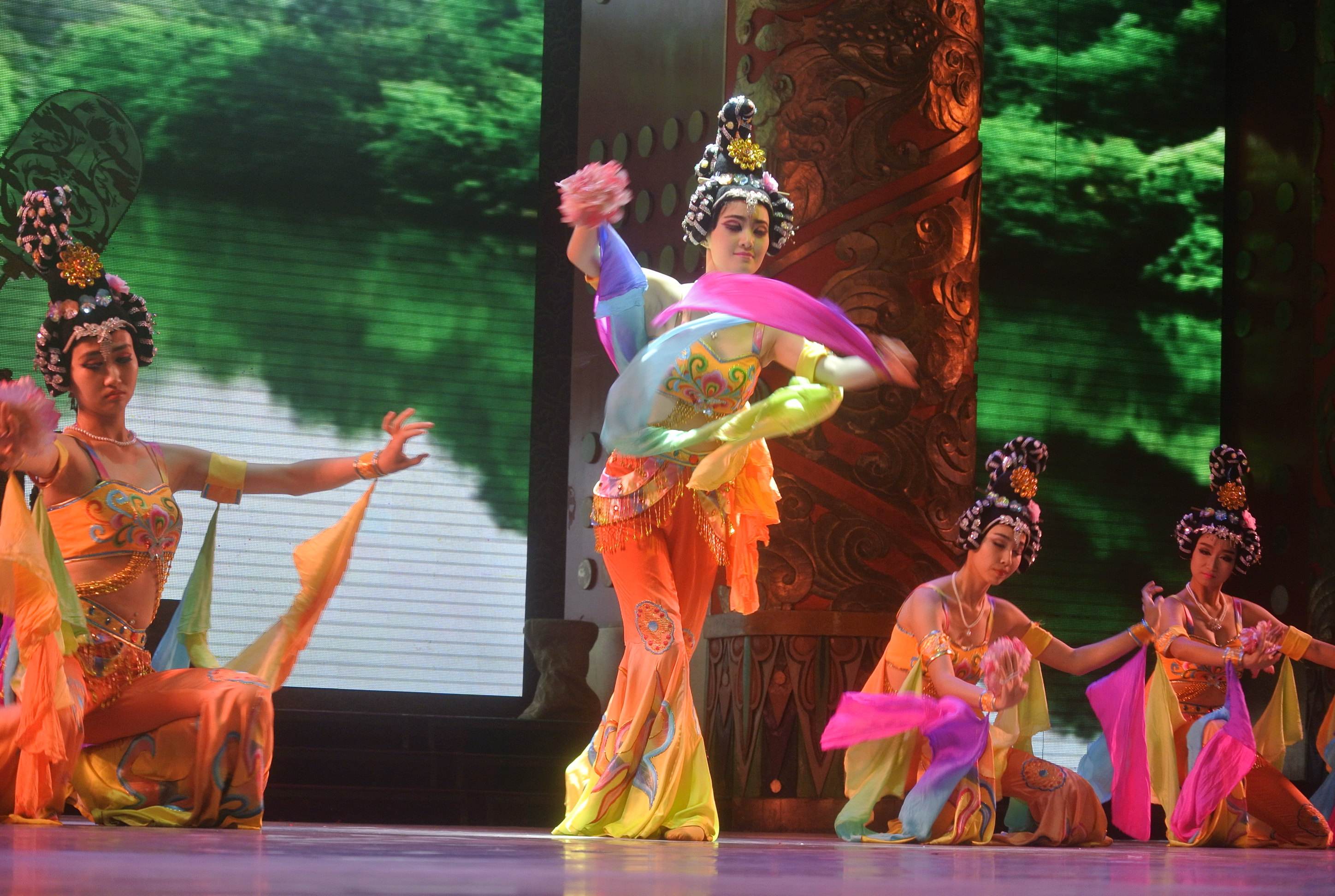 After the tour, you will be taken back to your hotel.
Day 3. Xi'an Day Tour, Xi'an-Luoyang
Place&Transport: Xi'an
Today's Activities: Xian Ancient City Wall, Bell Tower, Muslim Quarter, Xi'an to Luoyang By train
Accommondation: Four star hotel in Luoyang
Meal: B,L
After breakfast, our tour guide will meet you at your hotel lobby and your tour start.
Today your first destination is the Ancient City Wall. As one of the UNESCO's world Heritage Site, Xi'an Ancient City Wall was built in the 14th century, under the regime of Emperor Zhuyuanzhang in Ming dynasty, had the function of protecting the cities or towns as military defense systems in ancient China. Xi'an Ancient City Wall is one of the oldest, largest and best preserved Chinese city walls, exhibits the "complete features of the rampart architecture of feudal society". Xi'an City Wall is a heritage National Historical and Cultural Town since 1961, it is about 14km in length, 12meters in height. The current city wall is an enhancement of the old Tang Dynasty structure, as a result of the emperor's wall building campaign.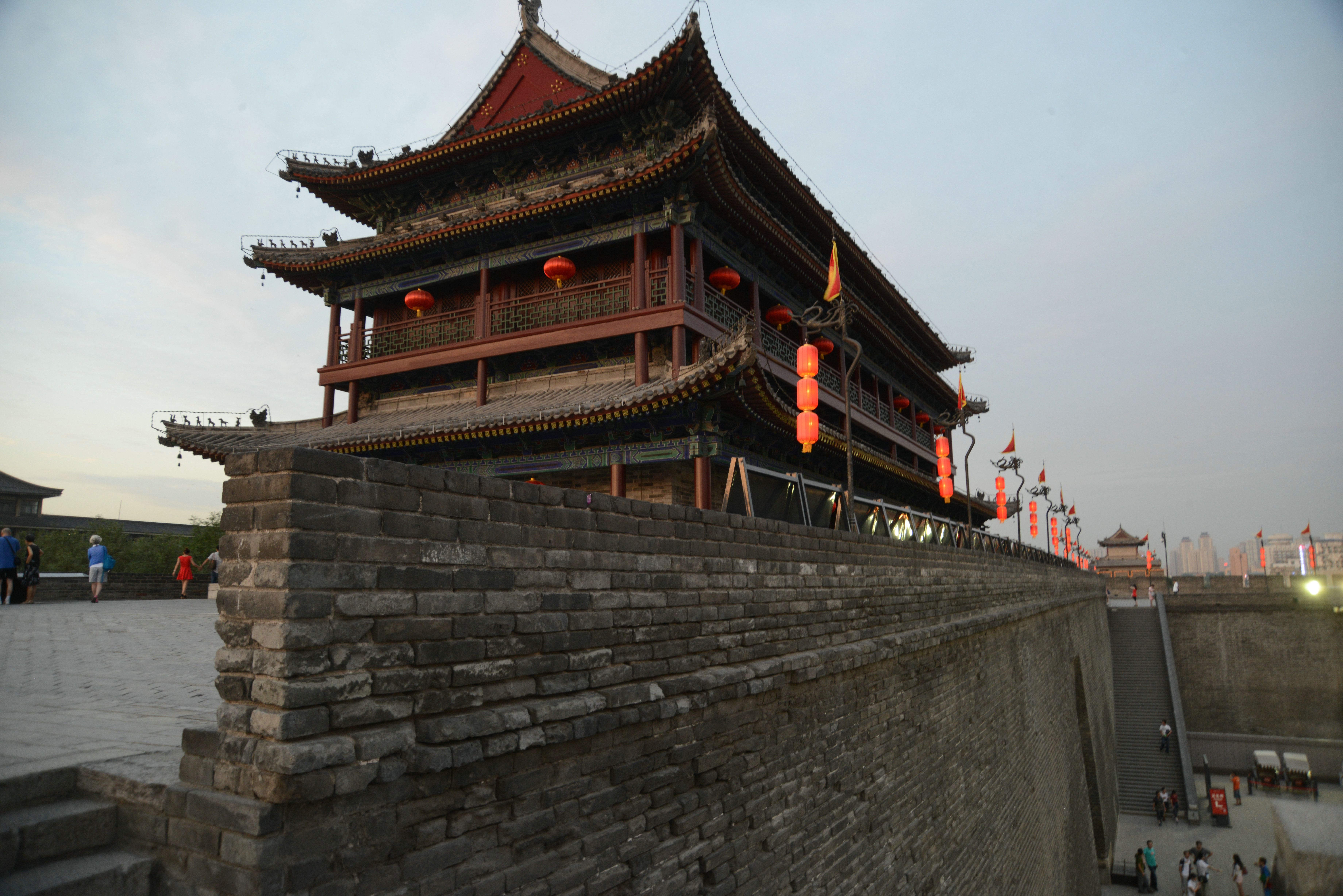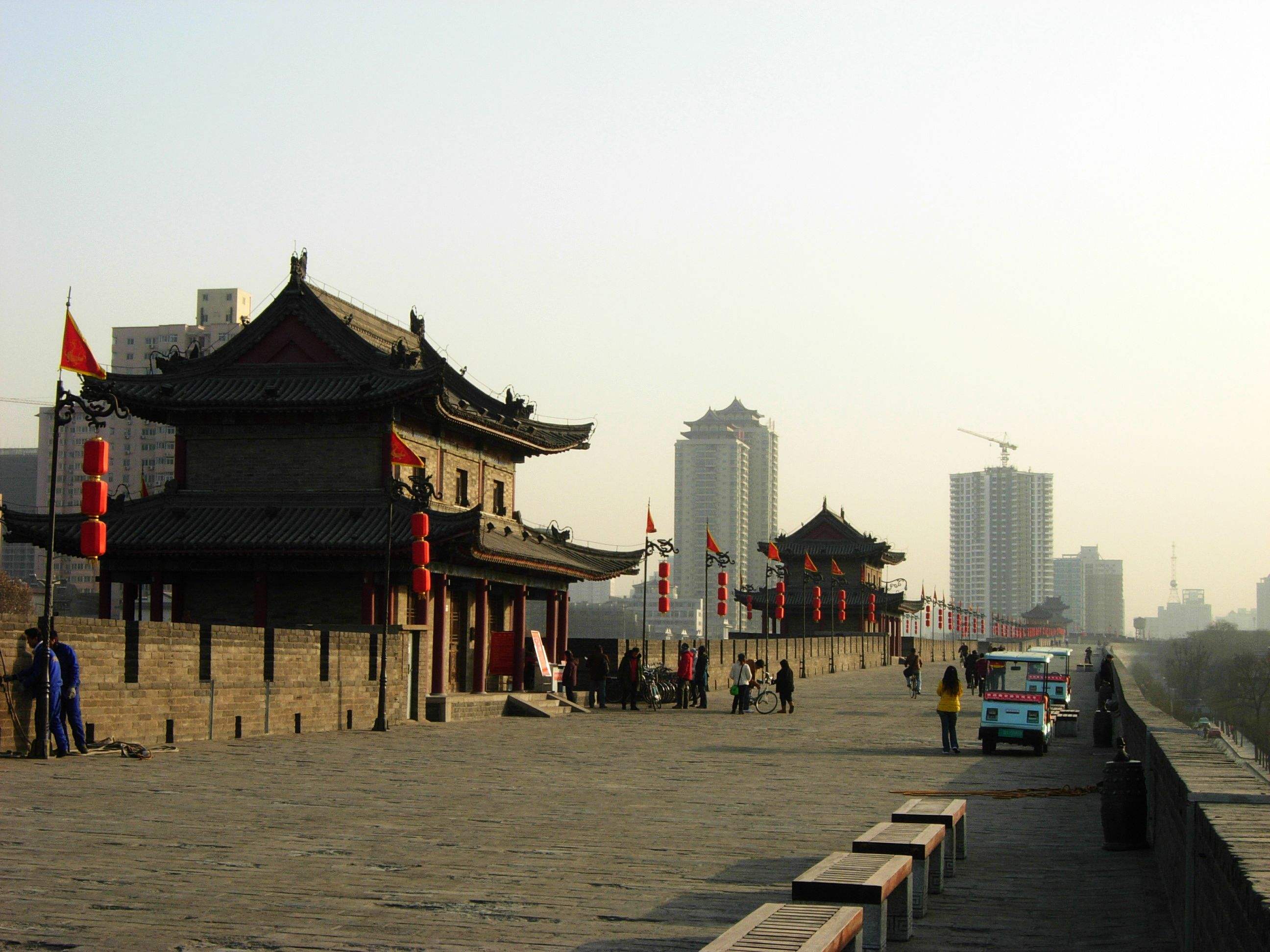 Continue your tour to Bell Tower, which located in south east of the Drum Tower. In Chinese history from Ming Dynasty, each city had a bell tower and a drum tower. The bell was sounded at dawn and the drum at dusk each day in ancient time, a means of telling time. Xian was not exception. The Bell Tower and Drum Tower of Xi'an date back to the Ming dynasty (1368-1644). The two are located in the center of the Xian city connecting the four roads from east, south, west and north within the city wall. Atop the Bell Tower you will have a panoramic view of the Xian City. A number of highlighted cultural relics are exhibited in Xi'an Bell Tower, including a huge bell, inscribed steles and couplets hung on the column, all of which are of high historical and cultural values. Between the Drum Tower and the Bell Tower, there is a square with grass, dotted with greenbelt beautiful acouto-optic fountain, which is a good place for leisure and entertainment for citizens.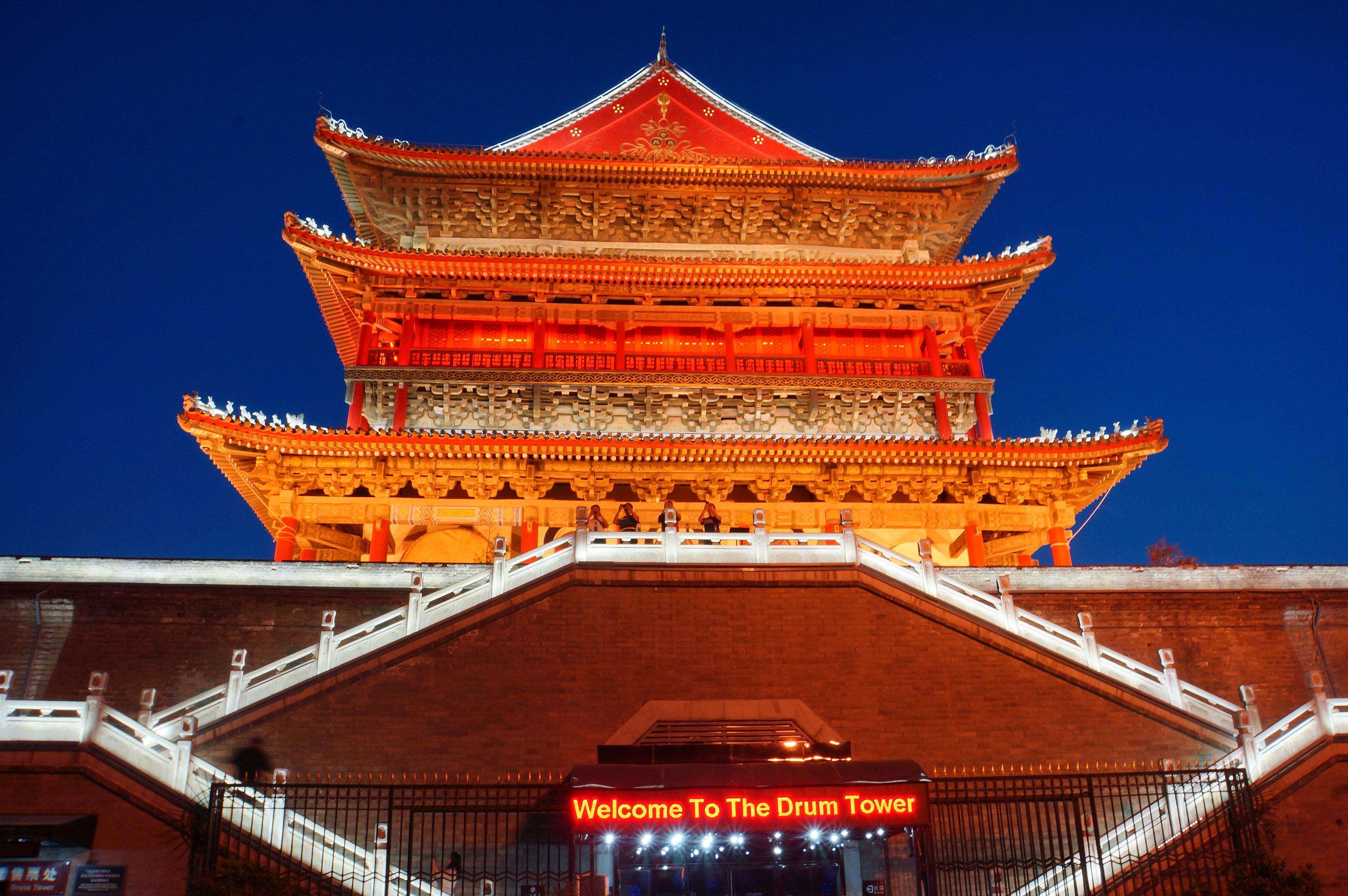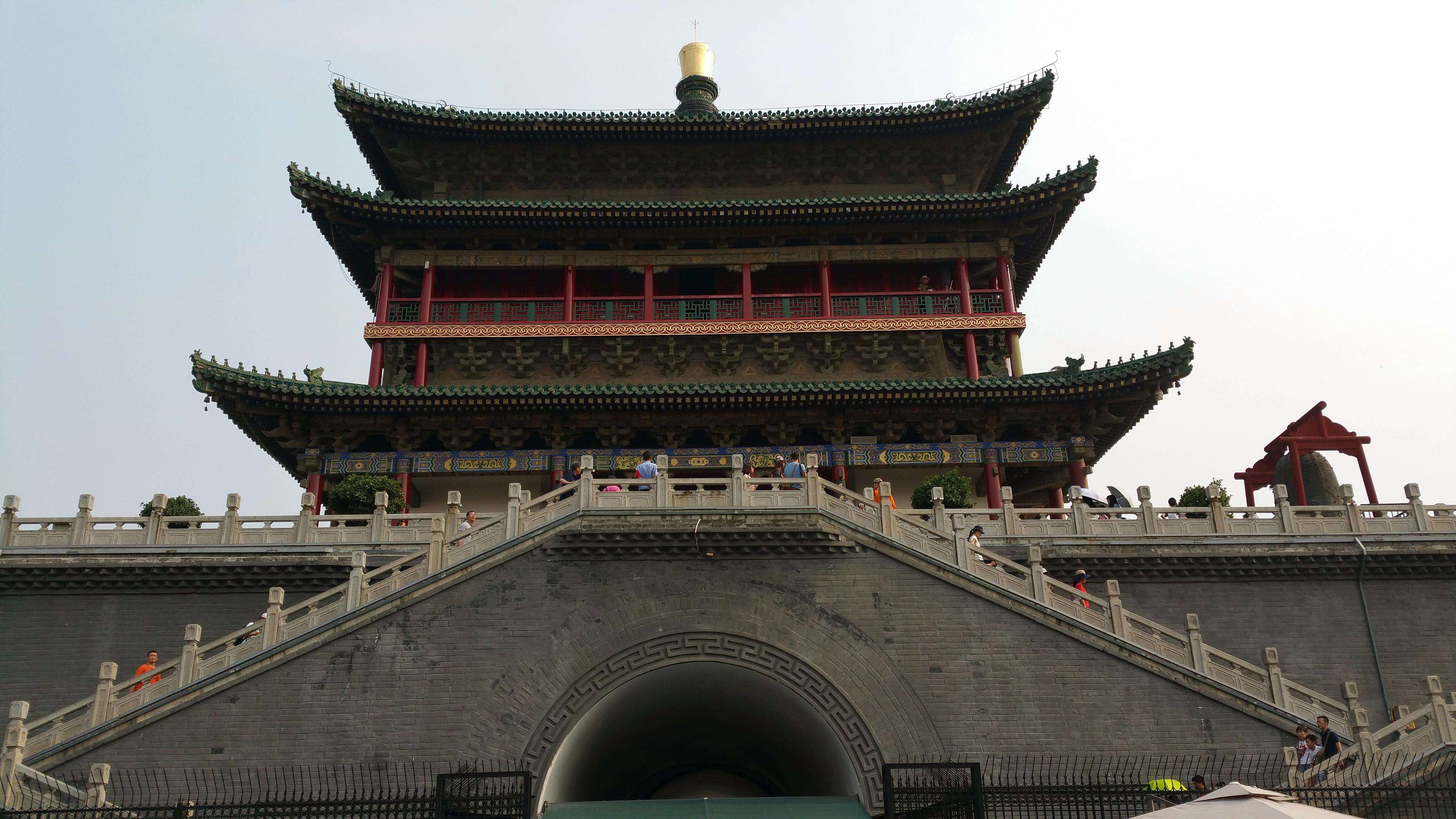 Today, you will have a lunch at Xian Fanzhuang. This time-honored restaurant should be your ideal choice to enjoy authentic Shaanxi food. Not only for Xi'an cuisine but also serve some typical local snacks.
The last stop is Muslim Quarter. The Muslim Quarter is the largest of the old city's neighborhoods. It's a confusing array of narrow alleys that are wonderful to wander in, get lost, and stumble upon surprising discoveries. Muslim Quarter houses a large number of important Christian institutions. The Muslim quarter begins at the northern city wall, goes south to the northern and western walls of the Temple Mount, to Hashalshelet Street, where the Jewish Quarter begins. To the West, it runs to Beit Chabad Street, which runs between it and the Christian Quarter.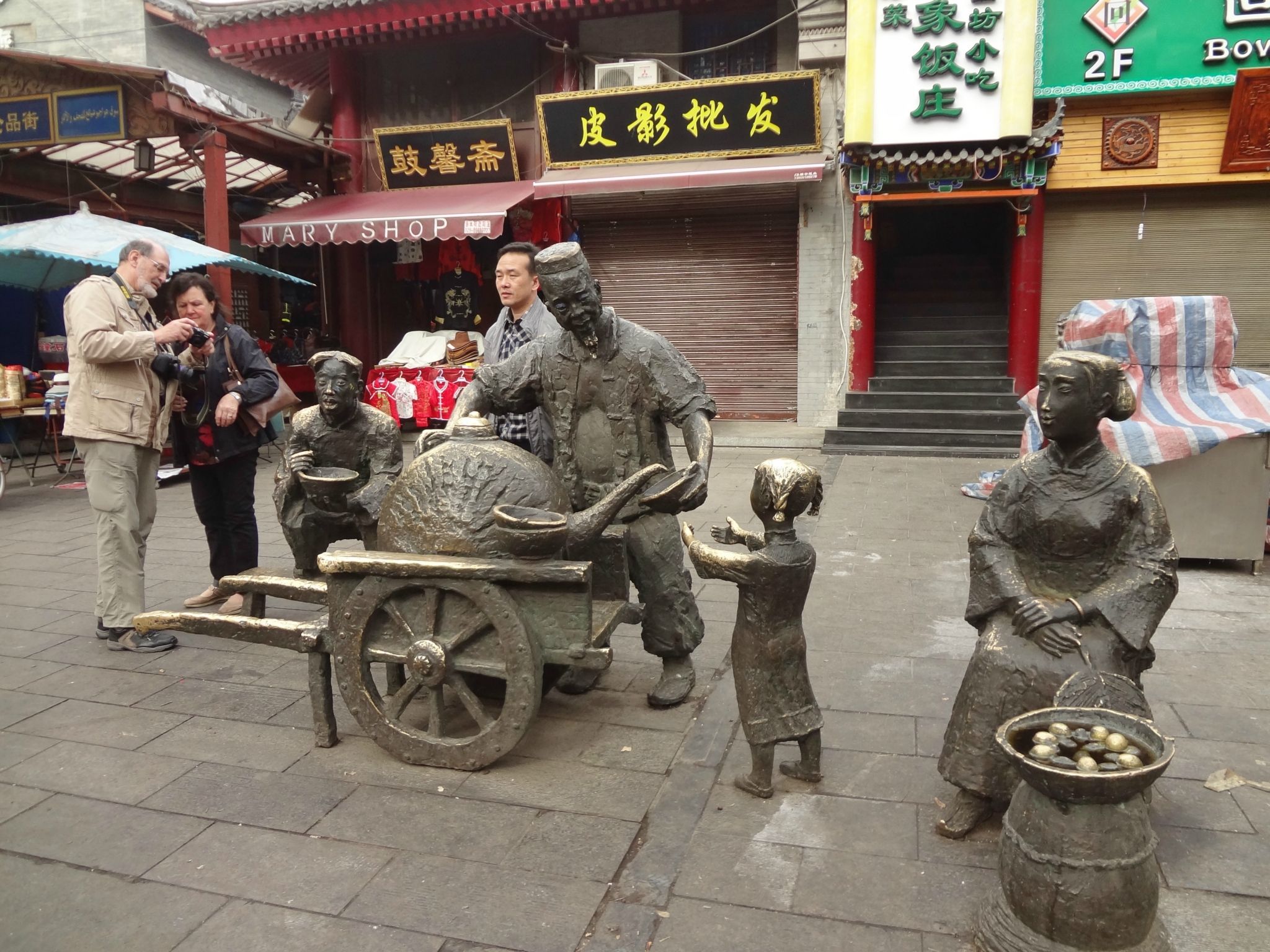 This only 500-meter-long cobbled street was renovated in Tang Dynasty architecture style and on both sides is full of snack or souvenir stalls with bright-colored signs. The eye-dizzying snack variety can give a great workout to your eyes, taste buds and stomach: delicately-wrinkled juicy steamed dumplings, yummy lamb sandwiches, sleek grilled mutton, crumbs in mutton broth, stuffed persimmon cakes, dried fruit and nuts, etc.
After finished Muslim Quarter, you will be taken to the Xi'an train station and take the high-speed train to Luoyang.
You will be greeted by our local Luoyang tour guide once arrived, drive you back to your hotel in Luoyang.
Day 4. Luoyang Day Tour
Place&Transport: Luoyang
Today's Activities: Longmen Grotto,Luoyang Museum
Accommondation: Four star hotel in Luoyang
Meal: B,L
Today you will start your tour with Longmen Grotto, the Longmen Grottoes are some of the finest examples of Chinese Buddhist art. Housing tens of thousands of statues of Buddha and his disciples. There are as many as 100,000 statues within the 2,345 caves, ranging from an 1 inch (25 mm) to 57 feet (17 m) in height. The area also contains nearly 2,500 stelae and inscriptions, whence the name "Forest of Ancient Stelae", as well as over sixty Buddhist pagodas. Situated in a scenic natural environment, the caves were dug from a 1 kilometre (0.62 mi) stretch of cliff running along both banks of the river.
Starting with the Northern Wei Dynasty in 493 AD, patrons and donors included emperors, Wu Zetian of the Second Zhou Dynasty, members of the royal family, other rich families, generals, and religious groups. Longmen Grotto is regarded as "an outstanding manifestation of human artistic creativity," for its perfection of an art form, and for its encapsulation of the cultural sophistication of Tang China.
Then head to Luoyang Museum, which is a local historical museum in Luoyang. Situated in the Yellow River valley. It offers exhibits of the rich cultural heritage of Luoyang, a major Chinese cultural centre, which was the capital of more than a dozen ancient dynasties of the Xia and the East Zhou.
It houses relics from excavation sites on the outskirts of Luoyang, in the city's old section. They include antiquaries from palaces and temples. These artifacts establish the historical past of Luoyang, representing elements of the ancient city of nine capitals, from Neolithic times up to 937 AD. The Luoyang Ancient Tombs Museum also contains archaeological finds, but it specializes in tombs as more than 10,000 have been found in the local area.
After the tour ends, drive you back to your hotel.
Day 5. Luoyang Day Tour, Luoyang to Beijing
Place&Transport: Xi'an
Today's Activities: White Horse Temple,Shaolin Temple
Accommondation: Four star hotel in Beijing
Meal: B,L
In the morning,our guide will meet you at your hotel lobby and drive you to visit White Horse Temple. White Horse Temple is the first Buddhist temple in China, established in 68 AD under the patronage of Emperor Ming in the Eastern Han dynasty capital Luoyang. The site is just outside the walls of the ancient Eastern Han capital, east of Luoyang in Henan Province. It is considered by most believers as "the cradle of Chinese Buddhism". The geographical landmarks to the south are Manghan Mountain and Lucoche River.
Your lunch is arranged at Shaolin Temple, to learn the temple diet and try some food in temple. Lunch at the Shaolin temple is served at 11:30 a.m. and consists of tofu and rice paired with a mixture of five or six different types of raw or cooked vegetables. The monks do not use garlic, ginger, onions or any type of spice when preparing their meals, believing that spicy, hot or strong-smelling foods excite emotion. Water and tea is not served with meals in order to improve digestion, says Bo. If you are trying to replicate a Shaolin-style lunch at home, choose brown rice for additional fiber and avoid deep-frying the vegetables and tofu in favor of steaming or stir-frying with minimal oil.
Next, you will visit Shaolin Temple, also known as the Shaolin Monastery, which is a Buddhist temple in Dengfeng County, Luoyang. Dating back 1,500 years when founded by Fang Lu-Hao, Shaolin Temple is the main temple of the Shaolin school of Buddhism to this day. Shaolin Monastery and its Pagoda Forest is a UNESCO World Heritage Site as part of the "Historic Monuments of Dengfeng".
At end of the tour,you will be taken to Luoyang train station for the train to Beijing. Upon on your arrival, our Beijing local guide will meet you at the train station with a welcome sign "Beijing Private Tour". Drive you back to your hotel in Beijing. Overnight in Beijing.
Day 6. Beijing Day Tour
Place&Transport: Beijing
Today's Activities: Tiananmen Square, Forbidden City, Temple of Heaven,Nanluoguxiang
Accommondation: Four star hotel in Beijing
Meal: B,L
Today, firstly start to explore the historical face of Beijing with a brief visit to Tiananmen Square which is now the largest city plaza in the world. Tiananmen Square is the geographical center of Beijing City. It is the largest city square in the world, occupying an area of 440,000 square meters (about 109 acres), and able to accommodate 1,000,000 people at one time. Tiananmen Gate on the northern square was the site where the Chairman Mao announced the establishment of the People's Republic of China. The square is a conglomeration of splendid and beautiful flowers and the red national flag which flutters in the wind. The raising of the national flag is something which should not be missed by visitors to Tiananmen Square.
After sightseeing, walk into the Tiananmen you will meet the one of the world's 5 most important palaces – Forbidden City, the Forbidden City, also named the Palace Museum, shares the honor of being one of five world-famous palaces with the Palace of Versailles in France, Buckingham Palace in England, the White House in the U.S. and the Kremlin in Russia.The palace, the most magnificent and splendid palace complex in China, was listed as a World Cultural Heritage Building in 1987. It was built in the Ming Dynasty (1368-1644) and the construction of this group of buildings took fourteen years from 1406 to 1420.
Have lunch at the local restaurant where provide excellent service in a comfortable atmosphere, You can relaxe yourselves and to taste the local cuisine in Beijing. Speical offers: Mongolian Beef,Kung Pao Chicken, Chicken in Brown Sauce,Flash Sauteed Chicken,Mushroom Chicken and some simple vegetables.
In the afternoon, drive about 6km to next imperial site - Temple of Heaven. The temple was constructed in 1420 during the Ming Dynasty (1368-1644), and was enlarged during the Qing Dynasty (1644-1911). It is the grandest cult architecture complex in the world and a masterpiece of the Chinese people created in ancient times. It covers 2,700,000 square meters (667 acres). Emperors of the two dynasties used to worship the heaven and pray for rich harvests, as the feudal emperors thought they were the son of the heaven.It is also one of the most brilliant ancient architectural masterpieces in China. Today, it is a pleasant place for leisure stay of walking or sightseeing, also for exploration of local culture.
Next, you will visit Nanluoguxiang, it's one of the best preserved historical areas in downtown Beijing, is famous for its hutong and siheyuan courtyards. Recently the popularity of Nanluoguxiang has increased noticeably with tourist numbers on the rise after 2008 Olympic Games. You will do a short walking along the authentic Beijing Hutong. will give you a deep impression of the local residents' live.
After the tour, You will be taken back to your hotel in Beijing.
Day 7. Beijing Day Tour
Place&Transport: Beijing
Today's Activities: Mutianyu Great wall, Ming Tombs
Accommondation: Four star hotel in Beijing
Meal: B,L
In the morning, after breakfast in the hotel your local guide and driver will meet you at your hotel lobby and keep going your Beijing highlight tour.
Firstly, drive about 70km (1.5 h) to witness one of the Seven Wonders of the World – Great Wall. The less-crowded Mutianyu. "If you haven't climbed the Great Wall, you haven't seen China." Many of your friends who visited China before might have told you this. It is indeed an experience of life. As one of the best-preserved parts of the Great Wall, Mutianyu section of Great Wall used to serve as the northern barrier defending the capital and the imperial tombs. It's known for its beautiful surroundings - dense woods and rich pastures changing colors with the seasons of a year. Good sightseeing with nature, take photos from different places and angles so you'll have plenty of memories you can share with your friends when going back home.
Your lunch is offered near the Great Wall in a local Chinese restaurant.
In the afternoon, the Sacred Way, affiliated with the Ming Tombs, is a main attractions arranged for you. The Ming Tombs lie in Changping County, about 50 kilometers (31 miles) northwest from the urban area of Beijing. It is actually a tomb cluster of the Ming Dynasty (1368-1644), including thirteen emperor's mausoleums, seven tombs for concubines and one grave for eunuchs. It was listed in the World Heritage List in 2003. Each emperor's tomb was constructed at the foot of a separate small hill, but they all share a main road called the Sacred Way.
Drive you back to Beijing city for a special dinner in Beijing. You will have dinner Have at the local famous Peking Roast Duck restaurant-Quanjude,to taste the most famous duck in Beijing and try some local cuisine in Beijing.Roast duck — or Peking Duck, as it's often known — has been served in Beijing for around 600 years, according to Liu. First served by palace chefs during the Ming dynasty, it has royal pedigree.
After dinner, you will be taken back to your hotel in Beijing.
Day 8. Beijing Departure
Place&Transport: Beijing
Today's Activities: Beijing Departure
Accommondation: N/A
Meal: B
Today is free on your own until our tour guide and driver transfer you to Beijing airport or Beijing train station for your next destination. And your 8 days trip in Xian, Luoyang and Beijing come to the end! Have a pleasant trip!
Price Per Person in US Dollars